Minted Pea and Potato Barbecue Salad
This minted pea and potato barbecue salad works perfectly with any BBQ lamb recipe. It is an accompaniment so you don't actually need a barbecue grill to enjoy this one, in fact it'll do nicely with a simple lamb chop.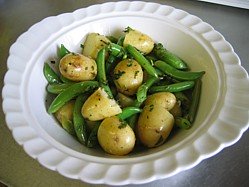 Fresh new potatoes are required for this recipe, I usually go for the Charlotte variety but so long as they're small and waxy you'll be able to get away with whatever you get locally.
In addition to new potatoes, good examples of waxy varieties include Nicola & Maris Peer. You can tell a waxy potato by the skin (which will be shiny) and the flesh which will be clammy wet and slightly translucent.
It's really easy to prepare, I like to serve it semi warm so it's something that you can throw together before going outside to enjoy the barbecue cookout.
TIP - Make plenty! It's absolutely delicious cold too.
Serves:- 4 people

Preparation Time:- 10 minutes
Cooking Time:- 20 minutes

Total Time:- 30 minutes

Ingredients:-
450g or 1 lb baby new potatoes
150g or 5oz sugar snap peas or freshly shelled peas
Handful of fresh mint finely chopped
Extra virgin olive oil
Lemon juice (a squeeze)
Salt and freshly ground black pepper
Method:-
Boil the potatoes until almost tender (circa 15 minutes depending on size) and check using the point of a knife that they are soft. It's impoertant to get this timing right because if you go over, the potatoes will start to shed their skin and it doesn't look so pretty.
When you are happy that the potatoes are cooked more or less to perfection, add the peas and boil for a further minute.
Drain into a collander to remove all excess water (the steam will evaporate most in about 30 secs) then transfer to your salad bowl and immediately toss in the olive oil and a squeeze of lemon juice.
Sprinkle generously with salt and freshly ground black pepper. Flake the chopped fresh mint over the top and a final drizzle of oilve oil just to give it that shiny finish.
See Also:-
Grilled Potato Salad Recipe

The Foundation For All Grilled Potato Recipes

More Delicious Salad Recipes

Share Your Salad Creations

Great Tasting Vegetarian Options

Healthy Barbecue Recipes
Return to Home Page from my Minted Pea and Potato Barbecue Salad