Thanksgiving BBQ Turkey Recipe
Is this the perfect Thanksgiving BBQ Turkey Recipe? Well if you're an enthusiastic owner of a kamado style barbecue then it's certainly well worth having a go at this one! I've chosen maple wood chips for the smoke.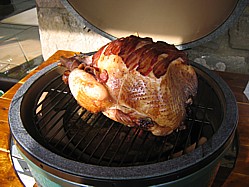 I've specifically written this recipe for the kamado style BBQ but provided you've got a thermometer to check the temperature of the bird you can always adapt for a traditional smoker because it's a indirect cooking process.
Before we go any further, you can really delivery the best Thanksgiving meal if you choose either a wild or organic turkey. It's only once a year so make that extra effort.
The first thing to do is to rub the Turkey all over with your favourite barbecue rub or maybe you'd like to try this one:-
Preparation Time:- 10 mins


Ingredients:-
100g or ½ cup salt
100g or ½ cup brown sugar
2 tablespoons freshly ground black pepper
1 tablespoon garlic salt
1 tablespoon onion salt
1 tablespoon cumin
2 teaspoons cayenne pepper
2 teaspoons chilli powder
Method:-
Just mix all the ingredients together and you're there and because this is a dry rub mix, you can store the mix in an airtight container until ready for use. Now for your Thanksgiving turkey
Serves:- 8 to 10 people
Preparation Time:- 10 mins
Cooking Time:- 2 to 3 hours depending on size
Resting Time:- 2 hours
Total Time:- 4 to 5 hours

Ingredients:-
The turkey of your choice (preferably organic)
1 carrot (no need to peel)
1 onion cut in half
1 handful of celery tops
½ bottle of dry white wine
Method:-
Rub the turkey all over with the spice mix and load the bird onto the roaster and place the drip tray underneath. In the drip tray place the white wine and the other vegetables.
Set your kamado style barbecue up for indirect cooking, get the temperature up to 170°C or 350°F and smoke the Turkey over the maple wood chips for approximately 12 minutes per pound. Use a temperature probe to check the temperature of the bird in both the breast and the thigh, you need a reading of 60°C or 165°F.
Now let your turkey rest for a couple of hours. This will allow the juices to cool and solidify in the flesh of the bird.
Use the contents of the drip tray to make the gravy, squash the vegetables though a sieve with the back of a spoon for added flavour. Serve your turkey on hot plates with piping hot gravy..
…….and most of all, ENJOY YOUR THANKSGIVING BBQ TURKEY!
Related Pages:-
More Great Turkey Recipes For The Barbecue

Top Notch BBQ Rubs

What Is A Kamado Style BBQ?

Return to Home Page from Thanksgiving BBQ Turkey