Barbecue Chuck Roast Recipes Need A Marinade
The secret for all barbecue chuck roast recipes is that it's essential to marinade the beef before it hits the BBQ smoker or grill.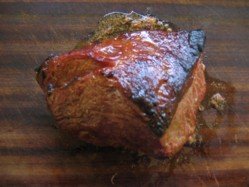 The chuck section comes from the shoulder and neck of the cow, it's really tasty and yet still one of the most economical cuts of meat so it's definitely worth cooking.
Chuck beef cuts however tend to be fatty and a little on the tough side so it's generally recommended to cook in some liquid rather than to apply direct heat. On this basis braising, a casserole or Dutch oven cooking is well recognized and most barbecue chuck roast recipes are for indirect cooking.
There are however ways to grill chuck roast over direct heat and achieve some great results and this is where you find out the tips and techniques for both grilling and indirect cooking.
Choose The Cut Best Suited To Your Cooking Method

Chuck steaks come from the shoulder of the cow, a muscle that works really hard as the animal moves around the pasture, essentially the beef equivalent of the pork butt.
If you're in the supermarket, look for chuck steak that is at least 2.5cm (1") thick and choose a piece that has a round hunk of flesh in the middle. This round hunk is the chuck eye and is literally the same muscle as the rib eye but further up to the front of the animal.
If in the butcher go straight for the jugular and ask him / her for chuck eye steak especially if you want to grill directly.
So the bottom line:-
If cooking indirectly low and slow use the whole chuck steak
If grilling over direct heat use the chuck eye
The Marinade

Whether grilling or smoking, a marinade will help add flavour and tenderize the surface of the chuck steak.After the basic marinade recipe I'll separate out into two barbecue chuck roast recipes, one for grilling and one for smoking.

Preparation Time:- 15 mins

Allergens:
There is gluten in soy sauce, use Tamari as an alternative if you need to avoid gluten. Mustard contains mustard!

Ingredients:-
5 cloves garlic crushed
75ml or 3 fl oz dry sherry (fino or amontillado is good)
50ml or 2 fl oz red wine vinegar
50ml or 2 fl oz extra virgin olive oil
2 tablespoons soy sauce
2 tablespoons tomato purée
2 teaspoons sugar
1 teaspoon mustard powder
1 fresh red chili seeded and chopped
Method:-
Mix all the ingredients together you may need to warm it up slightly to get the sugar to dissolve, cool the liquid and then your marinade is ready to use.
Barbecue Chuck Roast Recipe

Marinade Time:- up to 24 hours
Cooking Time:- 3 - 4 hours
Total Time:- 1 day

This recipe is based on using a chuck steak of between 1Kg - 1,5Kg (2.2 - 3lb).

Place your chuck steak in a zip lock bag and pour in the marinade. Keep the bag in the refrigerator and turn every so often for up to 24 hours. The marinade is only going to penetrate the surface of the steak so if you want to add more flavour then you'll need to inject.
Note: Read my barbecue marinades section to see why I don't often recommend marinating for more than 30 minutes because it has little additional effect and can turn the surface of the meat mushy. In this case however the meat is still going to be cooked for a long period of time so any "mushiness" will dry out and firm up.

When ready to cook, remove the chuck roast from the bag but don't discard the marinade.

Slow roast over indirect heat at approximately 120°C (250°F) for a couple of hours and throw as few wood chips of your choice on the coals.
When two hours is up, double wrap the chuck roast in strong foil and pour in the remainder of the marinade. You can also place the foil wrapped steak in a roasting tin to ensure that you don't lose the marinade jus. Now cook for a further two hours or until the core temperature reaches 90°C (195°F)
Allow the roast to rest for 20 minutes and then slice / shred as you wish and serve with mashed potato and the remaining jus that's in the bottom of the foil.
Grilled Chuck Steak Recipe

Marinade Time:- up to 1 hour
Cooking Time:- 20 minutes
Total Time:- 1 hour 20 minutes
Choice of cut is critical and it's got to be the chuck eye steak for direct grilling. Try and get one that's about 2.5cm (1") thick. The marinade you is enough to cover 4 chuck eye steaks.

Trim any excess fat and sinew from the steak. Score it with a sharp knife (the same technique you'd use on a fish fillet to cook it quicker and stop it drying out) and this will help to get that marinade flavour into the meat and create a greater surface area for cooking.

Place the steak & marinade in a zip lock bag and leave for an hour and turn them occasionally. You won't need to refrigerate during this time.

Place the steak over medium hot coals and cook for about 10 minutes on each side. Use a temperature probe to get the exact texture that you prefer.

Rest your grilled chuck steak for 5 minutes and season with salt and pepper.
Most importantly to serve, carve the steak across the grain into quarter inch slices and lay out on a serving plate.

See Also:-
More Great BBQ Beef Recipes
The Essential BBQ Marinades
Smoked Tri Tip Recipe
Top Tip For Peeling Garlic
Grill Islands
Barbecue Grill Comparisons