Barbecue Roast Beef Salad
Barbecue Roast Beef Salad
It's the wonderful array of ingredients that make this barbecue roast beef salad so tasty and yet it's still a really healthy barbecue recipe.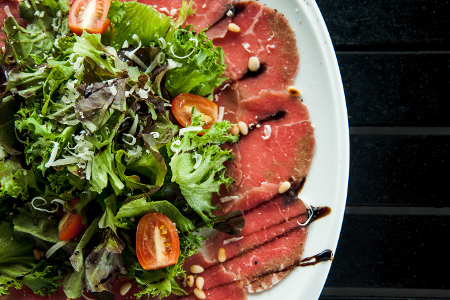 In effect this recipe is a carpaccio, quickly seared on all sides over high heat and the centre still raw (and cold) in the middle.
Note:- A single solid hunk of beef is safe to eat provided the outside has been cooked because any nasties grow on the surface of the meat, they don't actually penetrate the flesh. Do not apply this rule to anything made from ground beef.

The best cut of beef to use is fillet for two reasons:-
You want beef that's going to melt in the mouth, you don't want to be chewing it.
Fillet can be cut into a nice cuboid shape so its really easy to cook the outside completely without too much effort.
Fillet is the muscle close to the spine of the cow / steer. It doesn't get much activity as the animal is grazing so it remains tender with little fat and connective tissue.
That said, it doesn't have the strongest flavour so a good dose of seasoning always helps.

Here's my pitch, my coals are not yet ready (too much smoke) but I'm ready to show the Italians how to do it!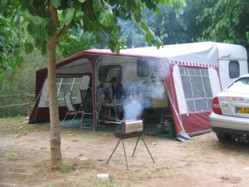 Picture yourself in the Italian quarter or if possible right there in the heart of Tuscany. A town market full of sun dried produce, garlic and olive oil...my mouth is watering just writing about it!
Next best thing, get down the deli and make up this salad, you won't be disappointed. There's enough here for four good healthy barbecue roast beef salad platters.
Serves:- 8 people

Preparation Time:- 10 minutes
Cooking Time:- 18 minutes

Total Time:- 28 minutes

Allergens:
All fresh ingredients so no allergens to worry about in my barbecue roast beef salad.

Ingredients:-
1 thick fillet steak (2" - 3" thick) of about 450g or 1lb
1 lollo rosso lettuce
Half a cucumber
8 plum tomatoes
4 gherkins
16 olives
4 canned artichoke hearts
8 sun blushed tomatoes
Salt and freshly ground black pepper
For the Balsamic Vinaigrette
1 tablespoon balsamic vinegar
4 tablespoon extra virgin olive oil
1 garlic clove crushed
1 teaspoon honey
Method:-
Cut the salad to your fancy and build a good leaf & tomato base. Next mix up the ingredients for the balsamic vinaigrette in a jug.
If you've got a good thick steak you'll note that you've got six sides to sear. Make sure that your coals are good and hot and grill each side of the beef giving it about 3 minutes on each side.
Once the side has been cooked you can then season it with salt and black pepper. I always do this after the sear because adding salt prior to searing can toughen the meat slightly. Similarly scorched pepper tastes bitter.

When all the sides have been seared, allow the beef to cool for 30 minutes and then slice thinly.
Note: To get the most tender texture always slice across the grain. If you're not sure or just want to double check that you get it right then use this video for a quick reminder.

Layer a few slices over your salad base, season again and drizzle the vinaigrette over to leave a glossy sheen.
Imagination still in Tuscany? What better way to complement my barbecue roast beef salad than with a glass of Chianti!
See Also:-
More Deliciously Healthy Barbecue Salads
Thai Roast Beef Salad
Great Barbecue Beef Recipes