Grilled Watermelon Salad
Grilled watermelon salad is perfect for those hot summer days. It makes for a great appetizer, the colors are vibrant and it has a distinctive flavor too.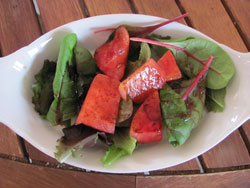 Watermelon has a really subtle flavor and I find it very refreshing, it's something that I eat a lot of when on holiday each summer, especially for breakfast - the perfect way to re-hydrate after a few beers the night before! Let's face it though, you have to eat a lot of it, they're so big so you've either got to eat a whole one or not at all.
But even eating a load of it isn't going to do you any harm because a watermelon is approximately 92% water and certainly there's no fat there at all.
I have to say that grilled watermelon really isn't my cup of tea but then you can't please everyone can you? I'm not going to deny that the colors look really awesome in this picture but for me the taste just isn't there and I can't see why anyone would want to grill it. 
If grilled watermelon is your thing thing then try this recipe, just go easy on the salt. Yes, salt with sweet things. A little salt is a great way to bring the sweetness out.
I guess it's a bit like salted caramel. You're not actually cooking the watermelon, it's more a case of caramelizing the honey on the outside.

Serves:- 8 people

Preparation Time:- 25 minutes
Cooking Time:- 2 minutes

Total Time:- 30 minutes

Allergens:
All fresh base ingredients here so not an allergen in sight.

Ingredients:-
Watermelon, cut into cubes
A little salt
1 teaspoon balsamic vinegar
4 teaspoons olive oil
2 tablespoons + 1 teaspoon honey
Salad leaves of your choice
Method:-
Sprinkle a little salt on the watermelon cubes and then pour over the 2 tablespoons of honey making sure that all of the cubes get covered in the honey.
When the cubes are coated and the grill is nice and hot place the cubes on the grill plate. Grill for 2 minutes on each side and then you're done.
Mix the vinegar, olive oil and the final teaspoon of honey together to make a basic sweet balsamic vinaigrette.
Place the leaves on your plate, structure the watermelon cubes on top and drizzle over with the vinaigrette.
See Also:-