Natural Gas Or LPG Barbecue?
If you've made your choice that a gas BBQ is for you then the next decision you'll be asked to make is whether you want natural gas or LPG to fuel your barbecue. It's a simple choice and by the time you've read this page you'll have a very clear idea about what is the best solution for you.
What's The Difference Between Natural Gas Or LPG?

Gas is gas right? Well chemically it is a different gas, natural gas is methane whereas lpg or bottled gas in propane. The difference is subtle and we will discuss it later but the fundamental difference between LPG (liquid propane gas) and natural gas is the fact that LPG is supplied in a bottle or tank.
Natural Gas
Natural gas is essentially that which is supplied by your local utility company. It's the same stuff that's used to fire your boiler or indoor cooker piped directly into your house. So for your BBQ it's simply just a matter of directing a pipe to your outdoor kitchen and connecting it up. The negative is that once your barbecue is plumbed in, that's it, you can't move it.
LPG (Liquid Propane Gas)
Because liquid propane gas is supplied in a tank, the clear difference is that this means you can move your barbecue around the patio or garden to suit your needs. Refill tanks are generally available at your gas station and are connected to your barbecue via a regulator and a rubber pipe.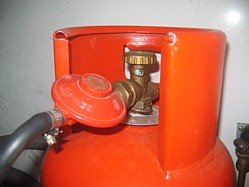 There are a number of different suppliers of LPG and each will have a custom connection so when getting yourself set up, take care always to buy from the same gas supplier.
Note also that fittings are not uniform between each gas tanks so if you find a tank that fits your regulator, don't exchange it, get it refilled and hang onto it.
The obvious disadvantage of LPG is that the tank can run out. Always have a full spare otherwise it could ruin your weekend.
Flame Temperature
When considering natural gas or lpg many people will tell you that propane has a higher flame temperature than natural gas (methane) and they'd be right. Should it influence your buying decision?.....No.
Burned in air at an ambient 20ºC or 68ºF the burn temperature of propane is 1980ºC or 3596ºF whereas methane is 1957ºC or 3555ºF - a difference of 23ºC or 41ºF but at these sorts of temperatures is your steak really going to care?
Price
There's nothing here to influence your choice in terms of the cost of the barbecue it's just a matter of specifying which source of gas.

The cost of tank gas is certainly more expensive than mains gas and this may be a factor if you intend to use your gas grill frequently. This is more so the point if you use mains gas for other appliances in the house.
If you are already connected to the mains supply then you will have to pay a fixed standing charge so clearly the more gas you use, the lower the standing cost per unit of gas consumed. This may move you towards a mains connected grill.
If you use minimal gas for other appliances then tank LPG will be your preferred option.
Pressure
Mains gas and LPG operate at different pressures so it's important to note that you cannot simply connect an LPG gas grill to the mains and expect it to work.
The flow of gas to the burners is controlled through the valve jets (pictured here on the right) and if you look carefully you'll notice that the jets for a mains gas grill are slightly larger in diameter to that of a propane grill.
Technically you can bore out propane jets and adapt your grill for mains gas but I wouldn't recommend it and trying to adapt from mains to tank gas ie. make the jet holes smaller, is physically impossible.
For a small cost you should be able to by the jets as a replacement part. If there is a possibility that you might want to switch between natural gas or lpg then check with the manufacturer before you buy that this replacement kit is available.
Use this link to read more about changing from natural gas to propane.
Related Pages:-
Charcoal Or Gas
Barbecue Grills
Gas Grill Reviews