JensenGrill Outdoor BBQ Grill Review

Star Rating
★★★★★ - Design & build quality make the JensenGrill outdoor bbq grill absolutely peerless

Summary
The JensenGrill outdoor BBQ grill takes the humble gas grill to a new and different level. "Unique" is not too strong a word for this true combination gas and charcoal grill and with only a small number being hand built every year it's certainly exclusive too.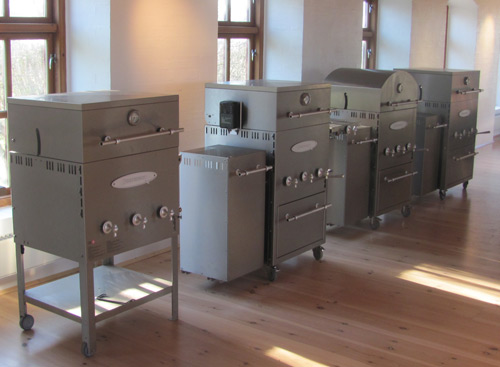 I was lucky enough to be invited to JensenGrill headquarters just a short drive outside Copenhagen in Denmark and to meet with its creator, Mads Jensen.
If you've read other articles on my site and from the grills that we make you'll know that I'm a charcoal man, always have been and I always thought I would be until my dying day...but then I met Mads...
For sure I know that gas grills have a place in our society, we don't all love playing with fire and many of us are happy to sacrifice some of the finer points of charcoal cooking for the instant heat and control-ability of gas. I discussed the pro's and con's in my article charcoal or gas but it wasn't until I met Mads that I realized that it didn't have to be an either / or decision, you can have the best of both worlds with a JensenGrill outdoor BBQ grill.
Attention to detail

No matter how luxurious and expensive a car you drive, it's the attention to detail that differentiates a Rolls Royce from a mass produced luxury car. Apply that same thought to a JensenGrill outdoor BBQ grill and you'll understand why it commands the same respect.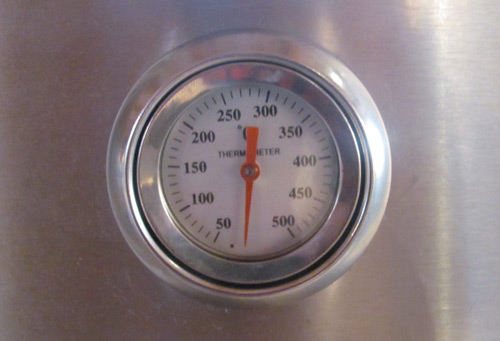 The lid thermometer is adjusted and calibrated to accurately record the temperature at the cooking grate rather than its higher position in the lid.
The super thick flame tamers are chamfered and angled to ensure even heat distribution throughout the grill, especially at the front where many gas grills suffer from cold spots.
All the stainless steel grill bars rotate so that cleaning can be done with the grill grate in situ.
The lid features a neat cover slide over the rotisserie location structure for heat conservation when not in use.

Construction Quality

As a manufacturer of stainless steel charcoal grills in the UK I was delighted to hear Mads explain that the JensenGrill is proudly made in Denmark to exacting quality standards. Justifiably expensive, it's only what you would expect of what many will regard to be the most exclusive outdoor bbq grill in the world.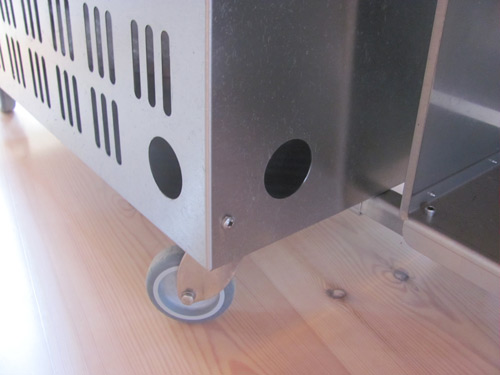 Your Jensen outdoor BBQ grill has a built in anti theft device. Just thread a padlock chain through the 2 holes.
Every internal component in a JensenGrill is made using professional grade type 304 stainless steel from cabinet, hood and grill grates, through the burners themselves and right down to the cottar pins used to position the burners. Welding is the the standard fixing method for non-removable parts and every weld is brushed to ensure clean lines throughout. Handles knobs and logo badge are aluminium so when you buy a JensenGrill the word "rust" is eliminated from your vocabulary.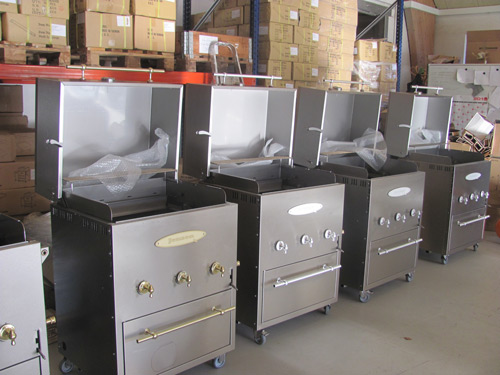 As you would expect, every JensenGrill is individually inspected and tested prior to packing a shipment. I asked Mads about warranty and he just smiled and said, "We don't have complaints and if a spare part is needed we just send it". So there's a man who has confidence in his build quality but is the cooking experience up to the same level?
The Best Of All Worlds

Open the lid, look inside and any outdoor BBQ grill enthusiast will marvel at the design. The JensenGrill has three powerful 4.5KW burners (5.1KW in the Estate 3.1) positioned 160mm below the hinged cooking grate providing direct heat convection heat that you are ready to cook in 10 minutes.
My hatred of gas grills has evolved by watching too many friends cooking in flames and serving at best a charred offering and at worst a health hazard but the JensenGrill has completely extinguished my argument by placing the burners lower in the belly of the grill. I reluctantly have to accept that there is now a gas grill that I can happily cook on but the JensenGrill doesn't stop there... it's now going to wow me!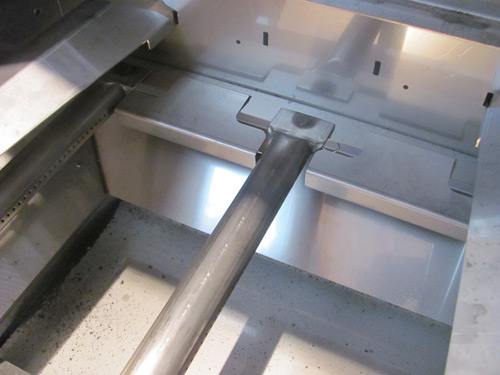 JensenGrill burners sit 160mm below the cooking grate
Between the burners and the cooking grate is an adjustable height rack that holds three heat deflector plates and two charcoal baskets (all type 304 stainless steel of course). With the burners on and all the plates and baskets in position and you now have a grill grate set up for indirect cooking, remove a proportion of the plates and you have the flexibility to cook both directly and indirectly at the same time. Adjust the burners and you have full control over the cooking temperature so the first point to make is that the Jensen outdoor BBQ grill is a versatile gas grill but there's more.
The Only True Gas And Charcoal Combination Grill In The World

What takes the JensenGrill to the next level in cookability are the two charcoal baskets which among other things provide the opportunity for radiant heat and (in my opinion) a little more smoky flavour but crucially without the dirt or preparation time associated with charcoal barbecues.

Using a special stainless steel tool you can lift the hinged cooking grate, remove the two charcoal baskets, fill them with charcoal and replace them in a combination of positions dependent on how you want to cook - and do it all without getting your hands dirty.
You can position the trays to the outside and roast...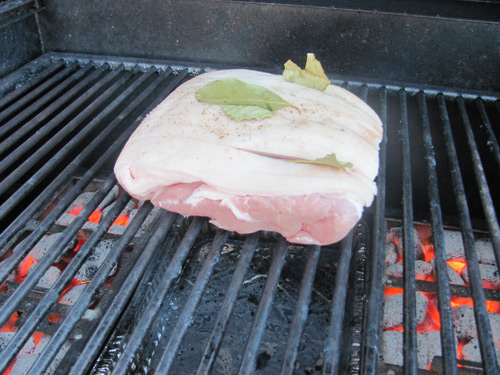 Use this setting for grilling...

Or like this for searing,,,

Continue with this setting, place your meat over the heat deflector plates and lower the coal height, throw some wood chips over the coals and you're all set for smoking.

However you choose to set up the JensenGrill simply place the full charcoal baskets in the rack, lower the rack to it's lowest position and turn on the burners (each burner has a mechanical ignition). In 15 minutes you have a fully lit charcoal grill, all coals evenly burned and ready to cook on without firelighters, gels charcoal chimney burners or associated dirt.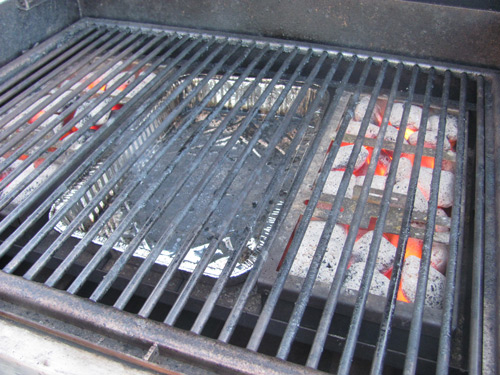 A Jensen outdoor BBQ grill prepares charcoal evenly to prevent flare ups
As a professional caterer I love this not just because of the cleanliness but also because I had absolute control over when the grill would be ready to cook on. Moreover I was amazed to find that there were no plumes of acrid smoke during the ignition phase.
For cooking the gas burners were then turned off and heat intensity was controlled using the three level height adjustment of the rack that holds the charcoal baskets and heat deflector plates. If extra heat was required at the end of the cookout then all I had to do was turn the gas burners on to supplement the radiant heat of the charcoal.
Cold Smoking

Yes, you can cold smoke too. Just fill one of the coal trays with sawdust, ignite a burner to get the dust to smoulder, close the lid and away you go.
This video shows the flexibility of JensenGrill and cold smoking in action:

Negatives?
I came away from my visit to JensenGrill like a giddy child just buzzing with ideas of what I wanted to cook next so it's hard to see any major downers.
If I was to be super critical then it would be the lack of ability to regulate air flow like I can on my Monolith kamado. Clearly to almost extinguish oxygen supply would be dangerous in a gas grill so I can understand why airflow necessary although it does mean that whatever charcoal has been lit will be consumed.
In addition the JensenGrill is relatively expensive so only a few will be able to afford it but then isn't that part of what we are buying into? No compromise on quality and a satisfaction of knowing that we have the best.

Specifications
There are three JensenGrills available, all benefit from the features that I have noted above, all are available to run on either bottled gas or natural gas and then:-
Estate 1.1

This is the entry level model and the smaller of the two sizes.
Grill grate dimensions are 430 x 520mm with 7mm bars
Burners: 3 x 4.5KW
Overall dimensions: 640mm (D) x 670mm (W) x 1120mm (H)
Weight: 54Kg excluding gas cylinder
The Estate 1.1 now features a four wheel chassis and an aluminium handle to aid manoeuvrability.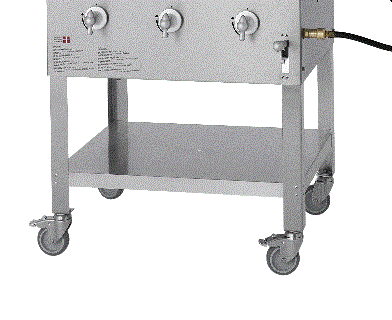 UK Price: £2,395 incl VAT & delivery

Estate 2.1

Key upgrades to the 2.1 include a full length warming cabinet, 2nd tier warming rack, charcoal tray tools and a gas canister cabinet. The chassis is set on 4 stainless steel casters.

Grill grate dimensions are 430 x 520mm with 7mm bars
Burners: 3 x 4.5KW
Overall dimensions: 640mm (D) x 1040mm (W) x 1140mm (H) (width includes the gas cylinder cabinet)

Weight: 77Kg excluding gas cylinder
UK Price: £3,095 incl VAT & delivery
Estate 3.1

The 3.1 offers a larger grill area, more powerful burners, larger capacity charcoal baskets and 2 more accessories over and above what you get with the 2.0.

Grill grate dimensions are 470 x 600mm with 7mm bars
Burners: 3 x 5.1KW
Overall dimensions: 710mm (D) x 1140mm (W) x 1150mm (H) (width includes the gas cylinder cabinet)

Weight: 80Kg excluding gas cylinder
Additional accessories include a detachable shelf in the warming cabinet that doubles as a serving tray and a stainless steel plancha hotplate.
UK Price: £3,795 incl VAT & delivery
Accessories
One might expect that an exclusive manufacturer like Jensen Grill would fall down with a lack of accessories but that's not the case. Whilst the range of accessories is admittedly small every item has clearly been properly thought through from both a technical and quality perspective. Accessories are available for all three models.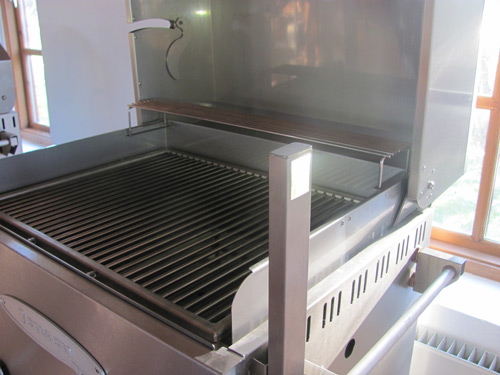 Jensen Grill LED Light
Grill Covers
Frying stone made from Sicilian lava rock
Side table
Side burner
LED light
Rotisserie Unit
New For 2018
I think it important no manufacturer should rest on their laurels and they should always strive to improve so it's good to see the JensenGrill are of that same frame of mind.
Up to 2017 we had the initial design but new for 2018 are the .1 upgrades:
The stainless steel quality is a new Duplo grind, that was originally made for catering use, and is much smoother and more cleaning friendly.
The new coal trays are open – and much easier to refill charcoal and empty the ashes
The coal trays now come with an additional solid smoking plate that makes it possible to use the grill as a smoker. The solid plate is used in the tray when smoking and the regular perforated plate is used when grilling (all models comes with 2 smoking plates + 2 perforated plates).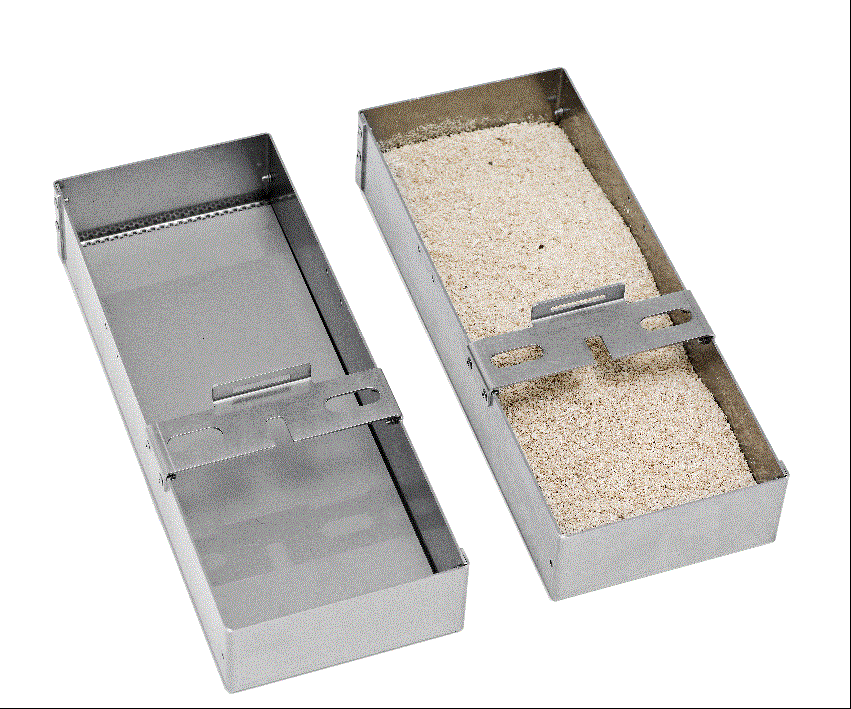 Lid up-line guidance, will control the lid always to stay in line-up position – to make the grill look nice.
The Estate 1.1 now comes with wheels as shown above.
Verdict
The JensenGrill outdoor BBQ grill is unique, there is no other grill in the world to my knowledge that genuinely combines gas and charcoal. Moreover it does it to such stunning effect.
The Danish design and manufacturing mentality accepts no compromise and the same can be said of the price too. 

That said with such a small annual production run an unrivaled level of exclusivity is guaranteed. I know that I'll have the bragging rights over my friends for a long time to come!

Where to buy a JensenGrill Outdoor BBQ Grill

JensenGrill is available in the UK from Que Fresco nr Preston, Lancashire.
For Scandinavia and The Rest Of The World then your best place to start is the JensenGrill website.

External Links

JensenGrill Outdoor BBQ Grills Danish Website
JensenGrill Outdoor BBQ Grill For Professional Catering



Return to Recipes from this most Exclusive Outdoor BBQ Grill