Pigs In Blankets (Sausage and Bacon)
Don't just reserve pigs in blankets for Xmas, although they are traditional, there's no reason why you can do them at any time of year. Having said that, here are mine with the Christmas turkey, so I guess that makes me a sheep rather than a pig?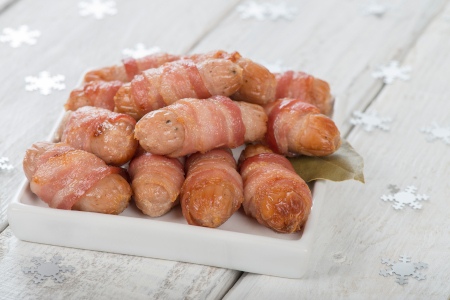 They're very simple to do, really tasty and because of the bacon wrapping you don't need to have a really expensive sausage. In fact it's better to have a sausage that's not very strong in flavor because there's so much else going on that you don't want to make the sausage the center of attention.
Please see note below if you were expecting a recipe involving pastry.
Where I come from we call these little cocktail sausages "chipolatas" but that can mean other things in other countries so just keep to a low cost short sausage. Each sausage is no more than 2 inches (5cm) in length.
Serves:- 4 people

Preparation Time:- 15 minutes
Cooking Time:- 30 minutes

Total Time:- 45 minutes

Allergens:
If you're using sausage bought from the butcher then the chances are that it will contain rusk and therefore gluten.

Ingredients:-
16 chipolata sausages
8 long rashers of streaky bacon
Method:-
Cut the streaky rashers in half and wrap them around the sausages. You don't need to fully encase the sausage, just wrap the bacon round so that you've got a little overlap and provided you lay them out neatly for the first stage of the cooking then the bacon will secure itself in position. (It's very tempting to secure the bacon with a cocktail stick but this will only serve to puncture the chipolata and so dry it out).
You can place them on the grill to cook in 30 minutes turning at half time or stick them in the smoker with some other things and you'll have the perfect pigs in a blanket after a couple of hours.
Note that if you are just going to do these in the oven in a more conventional way then try using smoked streaky bacon and just place them along side the bird for the final 45 minutes of cooking.
Note: It's only since writing this recipe that I realise that the term "pigs in blankets" means different things in different countries. The sausage and bacon concept here is typically British.
In the USA, the term refers to sausages wrapped in a short crust pastry - something that I'd probably refer to as a mini sausage roll. The sausage is usually a Frankfurter or Wienie, it is sometimes wrapped in bacon and occasionally cheese.
In Germany or the Netherlands, if you asked for the literal translation you would be served with sausage meat in a puff pastry - similar to the English sausage roll.
So my apologies if you were expecting something else from this recipe, that said, please still give it a try - you won't be disappointed!
See Also:-
Christmas Smoked Turkey Recipe
More Tasty Barbecue Turkey Recipes
Christmas Gift Ideas For The Barbecue Enthusiast


Return to Home Page from Pigs In Blankets (Sausage and Bacon)