My Christmas Smoked Turkey Recipe
Use my Christmas smoked turkey recipe to de-stress yourself this yuletide with an easy method that gives you juicy succulent results every time. Christmas day cooking is such pressure, all the family round and so much to do…..well not in my house!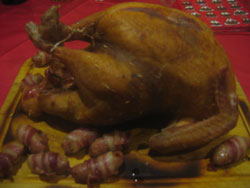 Smoking, or just plain slow roasting in your smoker is the perfect way to cook your turkey. I've got a few preparation tips for you that can be done in advance, then it's just throw the turkey in the smoker at 110°C or 225°F for 30 minutes per pound and sit back and relax.
A medium sized bird is always best. I generally go for something between 9 - 12lbs and certainly never more than 14lbs.
As with any low and slow smoked turkey recipe the skin will not crisp and if it doesn't crisp we're not going to eat it. So what we need to do is get some flavor in the flesh by getting under the skin and using a rub. In this instance I've used Cap'n Rons (because he sent me some to try – and marvelous it was too!) but you can make up your own or follow one of my barbecue rubs recipes.
Note that because I'm using a rub to add flavor I've chosen not to brine the turkey. It's again about the simplicity of the method and wanting to keep things stress free. Brining to get the right flavor for you takes time and practice, you don't want to be brining for the first time at such a big event as this.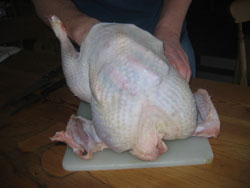 You can do this on Xmas eve, gently part the skin from the flesh and slip your hand under the skin, taking care not to puncture the skin. Work firmly but carefully to separate the skin with your hand taking care with the membrane over the breast bone, gently work the process with the legs and you'll be able to expose the thighs too.
Now throw in plenty of rub and spread it around. Be liberal, don't skimp.
TIP - Help keep the breast moist now that you have parted the skin by slipping some thin slices of butter under the skin and laying them on the breast.
To finish off and keep things looking tidy, use a cocktail stick or a bamboo skewer to keep the back end of the bird together as you can see in the picture below.


That's all there is to this smoked turkey recipe preparation, now it's 30 minutes per pound and you'll have the most succulent bird ever…….And a big thank you to Cap'n Ron.
The pigs in blankets go in for the last hour of cooking (or cook then when the bird is resting).
When the cooking time is complete, check with a BBQ thermometer that you've hit the requisite 165°F or 74°C by inserting the probe into the thigh and the breast. After that, set your turkey to one side and let it rest for at least two hours (ideally 3) so that the juices settle - cut into it any earlier and all the juice will run out of the bird, you might not notice it immediately but you certainly will do when it comes to the dry leftovers.
See Also:-
Barbecue Turkey Recipes
Christmas Barbeque Turkey Recipe
Tips For Cooking Smoked Turkey
Pigs In Blankets
Barbecue Rub Recipes