Grilled Pineapple Chicken Breast Recipe
Anything citric always goes well with chicken so this grilled pineapple chicken breast recipe is a match made in heaven. I've shamelessly stolen the idea from when I was preparing grilled Chicken Kiev and stuffed pineapple into the chicken breast rather than garlic butter. After all, why re-invent the wheel?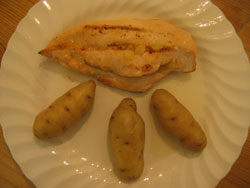 I actually prepared this recipe with some Chicken Kiev breasts having found that we'd run out of garlic, a quick improvisation and I have to say that despite the early protestations from my family that it wouldn't work with pineapple, there was only "mmm" noises at the dinner table and clean plates.
This recipe is so easy too. I used tinned crushed pineapple in pineapple juice to great effect but you can use a fresh pineapple if you have one lying around.
Another good reason for using pineapple is that it contains an enzyme (bromalein) which breaks down collagen protein and allows flavours to penetrate deeper into meats. That said, you do need to be careful not to leave bromalein in contact with the meat for too long otherwist it will create a mushy texture. See my section on barbecue marinades to learn more on this point.

Serves:- 4 people

Preparation Time:- 20 minutes
Cooking Time:- 20 minutes

Total Time:- 40 minutes

Allergens:
There are no allergens in my pineapple chicken breast recipe.

Ingredients:-
4 Skinless chicken breasts
1 small tin of crushed pineapple
1 tablespoon white granulated sugar
Salt and pepper
Method:-
Separate the crushed pineapple flesh from the juice by pouring the juice into a saucepan and put to one side for later.
Place your chicken breasts on a board and with a sharp knife carefully carve out a pocket inside the meat.
Stuff the crushed pineapple into the pocket and then seal the pocket using a cocktail stick. Season with salt and pepper and now you're ready to place them on the grill.
Grill your pineapple stuffed chicken breasts for 10 minutes on each side and while it's cooking return to the saucepan of pineapple juice.
Add the sugar and warm the juice so that the sugar dissolves to make a pineapple syrup. During the last few minutes of the grilling, brush some of the syrup onto each side of the breasts. Take care because the high sugar contents will easily burn, you're just looking for a mild caramelization.
When the chicken is ready serve with boiled new potatoes, pour over the remainder of the pineapple syrup and tuck in.
Related Pages:-
Barbecue Chicken Recipes
Barbecue Grilled Chicken With Lemon And Basil


Return to Home Page from Grilled Pineapple Chicken Breast Recipe