Plank Grilled Salmon Recipe With Japanese Yuzu BBQ Sauce
This plank grilled salmon recipe is supremely moist, the flesh simply flakes apart and the citrus notes of the Japanese Yuzu BBQ sauce subtly cut through the oiliness of the fish.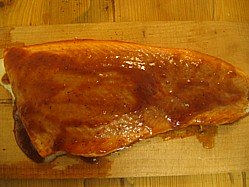 The Japanese Yuzu BBQ sauce that I've used for this recipe is store bought from my good friend Noel at Firefly BBQ so as such this isn't so much of a recipe of ingredients, more a process and method statement.
Noel (at Firefly BBQ) assures me that he ships all over the world so if you want to try this plank grilled salmon recipe exactly as I have done it then here's a link to his website. Of course you can also swap out the sauce and use one of my citrus based homemade barbecue sauce recipes.

Olive wood planks and easier to come by in the UK and are sustainably produced so I used these over the cedar alternative which would be imported from America.
What Is Yuzu?
Yuzu is a citrus fruit that is generally grown in the Far East although it is starting to be grown more locally as the global popularity of this fruit develops. In terms of looks, I'd describe it as a yellow satsuma and flavour-wise it's very much a cross too, like a sour satsuma or mandarin and way too sour to consider eating raw on it's own.
The Yuzu also has floral notes which is why it brings a distinctive flavour to a sauce over and above just using a simple lemon.
Serves:- 6 people

Preparation Time:- 30 minutes (to soak the planks)
Cooking Time:- 30 minutes

Total Time:- 1 hour
Allergens:
No surprises, salmon contains fish!
Whether you use Japanese Yuzu sauce or indeed any other sauce then this is where other allergens may come into the mix. For the record, the Firefly sauce that I used contained for allergens.

Ingredients:-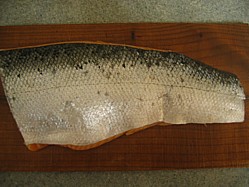 A side of salmon
Olive oil
Firefly BBQ Japanese Yuzu Barbecue Sauce
Method:-
Submerge the cooking planks in a bucket of water and go to your local fishmonger to buy the salmon. Ask your fishmonger to do the pin boning but leave the skin on.
When your cooking plank has had a good soak, lightly brush the flesh with olive oil and place fish on the soaked cooking plank flesh side down (skin side p). Now place the plank in your barbecue over indirect heat at about 110 - 120°C (225 - 250°F) and (optionally) add some orange wood chips to the coals and close the lid. 
As it heats up, the soaked cooking plank will start to steam and that wood scented steam will rise up and infuse into the fish adding another layer of flavour. The skin of the fish acts as a membrane to hinder the moisture from rising further (a bit like an umbrella in reverse) and so preventing the flesh of the fish from drying out.

After about 20 minutes (depending on thickness of your fish), take a pair of cooking tongs and try peeling back the skin from the fish. When the skin comes off easily then you know that the fish is cooked. If the skin does not come off easily and in one piece, give it another 5 minutes.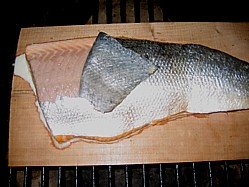 Once the skin has come off the fish, baste your plank grilled salmon with Japanese Yuzu BBQ sauce.

Cover or close the lid for a further 10 minutes to let everything warm up and you're good to go.
I served mine straight off the plank with herb and garlic new potatoes and grilled asparagus wrapped in Serrano ham.
Chill any salmon leftovers and serve over field greens with Balsamic vinaigrette and lemon squeezes.
Related Pages:-
Homemade Barbecue Sauce
Plank Cooking Recipes
Barbecue Fish Recipes

External Links