Barbecue Smoked Venison Roast Recipe
This smoked venison roast delivers tasty moist results that you'll find impossible to resist and it is all thanks to the covering of streaky bacon and one other special technique.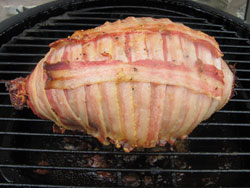 I've called this a roast because the recipe calls for your barbecue smoker to be at 300°F or or 150°C so it really is more of a roasting recipe than a typical low and slow barbecue. I did this one in a Big Green Egg kamado.
Why do it this way? Because venison is such a lean meat it dries out really quickly so a long cook out just results in shoe leather. You'll see that even with this faster method for roasting venison, I've still gone to a lot of trouble to keep the meat moist.

As far a wood chips are concerned, go for a fruity flavor like apple, lemon or orange because venison is a strong flavored meat and you don't want anything too overpowering.
I got this cut from my shooting friend Jay, a great guy who designs and builds kitchens but he can't cook to save his life so he does the hunting and shooting and I do the cooking. He brought me a haunch that had been rolled and strung.....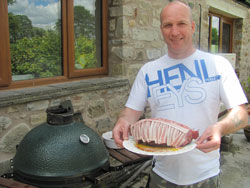 .......and this is the closest to cooking that Jay has come in a long while!
Serves:- 6-8 people

Preparation Time:- 40 mins
Cooking Time:- 70 mins

Total Time:- 1hr 50 mins

Allergens:
I'm using beaten eggs as a fixer for the bacon. If you have an allergy to hens egg then using a chia seed paste might be a good alternative.

Ingredients:-
3lb or 1.5kg venison haunch
4 cloves garlic
¼lb or 125g beef suet
1lb or 500g streaky bacon
2 egg yolks
Salt and pepper
Method:-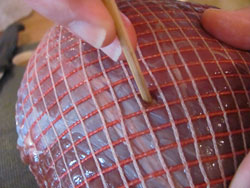 Peel and slice your garlic into pegs and make pegs out of the suet too. Using a sharp pointed knife, make incisions in the meat and and insert the pegs of garlic at regular intervals all over the meat, then repeat the process with the suet and season the meat all over with salt and pepper.
Now beat your egg yolks and brush them over the meat. Lay the bacon over the top (the fat from the suet and the bacon will help to keep the venison warm as well as moist).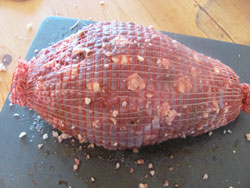 Make sure that your smoker is up to temperature (300°F or 150°C) and roast for 20 minutes per pound + 10 minutes. In other words, this three pound venison haunch is going to get 70 minutes cooking.
When the cooking is complete, remove your smoked venison roast and allow it to stand for 20 minutes before carving. This resting period will allow time for the muscle to relax and reabsorb any juices that have exuded from the meat - an additional technique to keep the venison succulent.
I enjoyed mine with dauphinoise potatoes and a nice glass of Shiraz (or was that two?)
See Also:-
Spit Roasted Venison
Grilled Venison Recipe
Kamado Cooking


Return to Home Page from Barbecue Smoked Venison Roast Recipe