Chorizo Grilled Burgers
After you've tasted these grilled burgers, things will never be the same again. Chorizo (a Spanish dry cured sausage) has such a distinctive flavor and makes for the perfect ingredient in many dishes because it adds a certain something.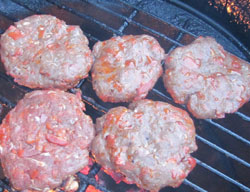 Dependent on which part of Spain you are in you'll find all sorts of different recipes for chorizo (pronounced cho-reeth-o), and the flavor will vary dependent on the level of heat (piquante), under what conditions it was dried etc etc.
Whatever type of chorizo you buy, one thing is for certain and that is that there's a significant fat content in it. Not only do you get the flavor of the chorizo in your burger but this fat content really helps keep the final results really moist and juicy.
And don't worry, you don't have to go to Spain to buy it, you should be able to buy it down at your local deli. If not click here
I absolutely adore it and up until today I'd never considered putting it in burgers but I'm so glad that I did.
Serves:- 6 people

Preparation Time:- 10 minutes
Cooking Time:- 20 minutes

Total Time:- 30 minutes

Ingredients:-
500g or 1 pound ground beef
150g or 6oz chorizo
1 teaspoon salt
3 cloves minced garlic
1 teaspoon black pepper
Method:-
With a sharp knife, slice the chorizo very thinly and the chop into small squares.
Now mix all the ingredients up in a bowl and form your patties. The the basic guide about making your own burgers click here for my tips for barbecue hamburger recipes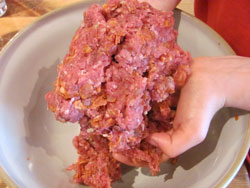 You'll get about 6 or 8 patties out of this amount of mix and now it's time to toss them onto a medium hot grill. After 10 minutes of cooking you'll start to see some of the orange chorizo oil come to the surface of the burger, this means there's plenty of heat in the center of the burger so it's time to flip and brown the other side for a further 10 minutes.
Do I really need to tell you how to serve your chorizo grilled burgers? Simply pop one in a bun and add some salad and mayo.
See Also:-
Gourmet Grilled Hamburger Recipe
Grilled Venison Burgers
Plank Cooked Hamburgers
Pork And Apple Burgers
Grilled Hamburger Recipes

Return to Gas Grill Recipes from Chorizo Grilled Burgers