Healthy Grilled Chicken Kiev Recipe
This healthy grilled chicken kiev recipe makes for a light alternative to the traditional cooking method and it looses none of the garlicky flavour.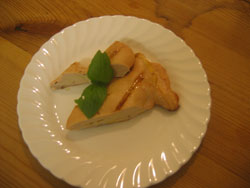 Essentially Chicken Kiev is a breast fillet that has been stuffed with garlic butter and this recipe is no different. The change is in the cooking method where rather than coating in breadcrumbs and deep frying, you're going to grill it over the coals - much more healthy and none the less tasty.
The process is the same whatever you stuff inside the chicken breast – click here for a fruity alternative using crushed pineapple .
Serves:- 4 people

Preparation Time:- 20 minutes
Cooking Time:- 20 minutes

Total Time:- 40 minutes

Ingredients:-
4 Chicken breasts
4 oz or 100g of butter
2 cloves garlic
4 sprigs fresh parsley for garnish
Method
Peel and chop the garlic cloves. Place the butter in a pot (soften in the microwave for 10 – 20 seconds if necessary) then add the chopped garlic and combine to make a paste.
Using a sharp knife make an incision in the side of the chicken breast to create a pocket and then stuff the chicken breast with the garlic butter paste. To keep all the butter in the pocket, truss the opening of the incision with a cocktail stick.
Grill for 10 minutes on each side over medium coals and there you have it. Remember when you turn the chicken, keep the side that has been open upright so that all the garlic butter remains in the chicken.
To serve, slice in half laying one half on top of the other and garnish with a sprig of parsley.
I've served mine with some boiled new potatoes, very simple but I just love the flavor of the garlic butter on them.
See Also:-
Pineapple Grilled Chicken

Barbecue Grilled Chicken With Lemon And Basil

KFC Grilled Chicken

More Barbecue Chicken Recipes

Share Your Favorite Grilled Recipe

Information About Barbecue Grills

Return to Home Page from Healthy Grilled Chicken Kiev Recipe