KFC Grilled Chicken Recipe
The original KFC grilled chicken recipe, just like the Kentucky fried spice mix is a closely guarded secret and I'm not claiming to have seen, copied or stolen the original. I just thought I'd give it a go and I'll let you be the judge of how close I've got.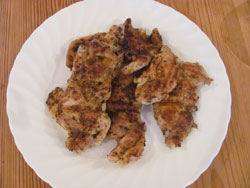 The herb and spice mix that I've worked together inevitably will have a different flavor because we're using fresh ingredients and won't be adding stabilizers or flavor enhancers such as MSG.
I like to use boned chicken thighs because I think that they are the most succulent, they also go well in a bun with a salad and dollop of ketchup!
So what we've got (whether it hits the KFC taste or not) is a great spice mix for grilled chicken. Try it out, see what you think, I'd really like to know if you think we've come close or better! To make a comment, please use my page info feedback form below.
Serves:- 4 people

Preparation Time:- 15 minutes
Cooking Time:- 20 minutes

Total Time:- 35 minutes

Ingredients:-
4 chicken pieces skinned and (preferably) boned.
2 tablespoons cooking oil

For the spice mix:-

1 teaspoon paprika
1 teaspoon dried oregano
1 teaspoon dried sage
1 teaspoon dried basil
1 teaspoon dried marjoram
1 teaspoon pepper
1 teaspoons salt
1 teaspoon onion salt
1 teaspoon garlic salt
Method:-
Mix up all the ingredients for the rub in a bowl and pour the 2 tablespoons of oil in a saucer. Place a chicken thigh in the oil to lightly coat it then sprinkle the spice mix over the chicken.
Let it soak in for a couple of minutes and then you are ready for the grill.
Lay each thigh onto a hot grill and cook for about 10 minutes on each side turning with tongs at the half way point.
Look for an internal temperature reading of 180°F or 82.2°C to double check that your chicken is cooked through.
Does it taste like the real KFC grilled chicken? I think it's pretty close. If you're on Facebook let me know by writing a comment below.
See Also:-
Barbecue Grilled Chicken With Lemon And Basil
Beer Can Grilled Chicken
Grilled Chicken Wings
Grilled Chicken Marinade
Pineapple Chicken Breast
More Barbecue Chicken Recipes

Return to Gas Grill Recipes from KFC Grilled Chicken Recipe