Primo Kamado Ceramic BBQ Grill
The Primo Kamado ceramic BBQ grill is regarded as one of the finest ways to cook outdoors and like all ceramic kamado barbecues it can operate as a high temperature grill or slow roasting smoker.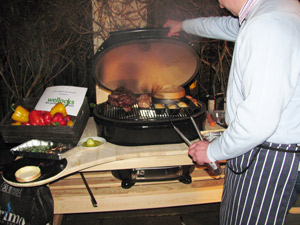 The fundamentals of ceramic BBQ grills are that when grilling, it heats up really quickly so you can be cooking on it 15 minutes after lighting it and you can hit sufficiently high temperatures for cooking pizza or use it like a tandoor.
With the introduction of a heat deflector stone between the fire and the cooking grate you can then cook indirectly and roast like in a traditional oven or smoke at low temperature for long periods of time.

It's a charcoal fueled unit that has fine temperature control using two variable dampers, one under the firebox and one on top of the unit.
Why Buy A Primo Kamado?

I was fortunate enough to get the opportunity to try a Primo recently and compare it to the Big Green Egg & Monolith grills that I have at home. Essentially all are ceramic barbecues and therefore you'd think that they all performed similarly, and you'd be right. You'd also then assume that the differential between them was price, and again you'd be partially right with the Primo beating the Egg and Monolith coming in cheaper by a short head.
What I wasn't prepared for was a couple of features of the Primo kamado that actually turned into key benefits:-
The largest Primo is oval in shape. Arguably not the traditional shape for a kamado but it's a feature that makes it more versatile for cooking large pieces of meat (as in the photo above) or indeed long skewered kebabs
It has a similar system to all other ceramic BBQ grills for indirect cooking. Big Green Egg call it the "plate setter" whereas Primo call it the "D plate" because of its shape and Monolith refer to it simply the heat deflector stone. The D plate also comes in two halves which means that you only have to use one half at once (if you wish) therefore allowing you to cook both directly and indirectly at the same time. See below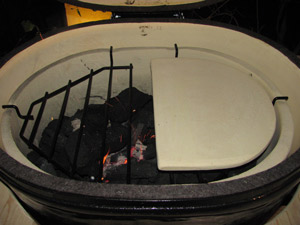 Primo also features a cast iron firebox divider so you can have a fire (heat source) in just one side of the kamado:
Ideal for vertical roasting skewers
True heat segregated grilling and smoking
Additional economy when cooking a small amount
So for me it's not just about price, Primo wins on versatility too. The range actually consists of two oval units, the junior and the XL together with a traditional circular kamado but given the advantages of the oval design I find it hard to understand who would want to buy the circular model.
To help you understand the value of the split heat deflector stone I've made a direct comparison of the Oval Primo versus Big Green Egg (Large).
The oval argument still stacks up but it has to be noted that the Monolith Le Chef and Kamado Joe also now have heat deflector stones in two halves but there still no cast iron firebox divider. So for me, what it boils down to now is "at what price the oval?"

Where Can You Buy A Primo Kamado?
Ceramic barbecues are renowned for being expensive to buy but the best bit about the Primo (unlike it's stablemate the Big Green Egg®) is that you can buy it on-line. The benefit to you and me is that this means you can be assured of getting a good price and have it delivered to your door.
To Buy A Primo In The UK
Kamado barbecues in general have never been big in the UK but the good news is that it now appears to be changing.
Sadly the agent for Primo in the UK has changed three times in as many years but that said it appears now that we have some stability. The new agent is now up and running and they have at least one outlet in the UK. This link will take you through to the Primo Grills UK retailer site.
Note: This retailer also stocks Monolith ceramic grills leaving you free to compare and contrast.

See Also:-

Kamado Joe
Big Green Egg
Changing A Kamado Felt Gasket
Traditional Smokers
Traditional Grills
BBQ Accessories
Patio Furniture