Ceramic Kamado Joe Grill Review

The Kamado Joe grill is a well established brand within the growth market of ceramic barbecues and smokers.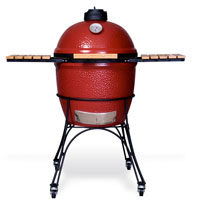 Star Rating
★★★★☆ - In terms of cooking quality the Kamado Joe is right up there compared to the other top brands (Monolith, Primo & Big Green Egg). 
There's a lot to like about the Kamado Joe grill and I also regard Kamado Joe as the fastest innovator on the block but it has to be said that sometimes that push to be the first has led to some quality concerns.

I'm a big ceramic barbecue fan. I've been cooking on one for many years now (all year round) and I still marvel at how easy it is to control the temperature when smoking, how fast it is to heat up ready for grilling and how versatile it is as an oven. Not to mention that even with all this flexibility I still get the fun of playing with a traditional charcoal fire. 
Note: My review covers the ceramic Kamado Joe grill. I haven't covered the Kettle Joe
The Basics

Since it's inception in 2009 Kamado Joe has opened a can of whoop-ass over what was the market leader Big Green Egg, the Kamado Joe grill factory is in China but that doesn't make it a cheap Chinese import. Far from it, the quality of these ceramic grills is generally very good and it fully justifies it's brand position as one of the top four kamado brands globally. In recent years it's also acquired corporate status with a cash injection from Dominus Capital which is also involved in the Masterbuilt brand.
The other ceramic grill brands (with the exception of USA built Primo) are manufactured in low cost countries. Monolith also in China and Big Green Egg in Mexico.

The basic components are the same as any other recognized brand in that there is a base, a lid and internally you'll find what should now be the industry standard 5 piece firebox designed to eliminate the problem of the cracked firebox.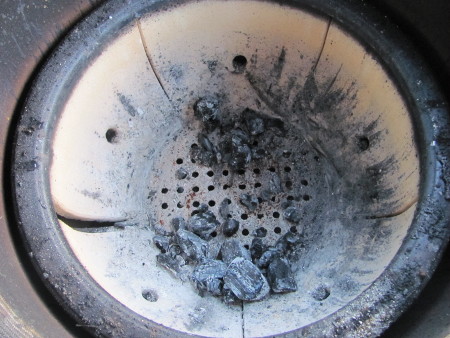 The firebox is the most stressed component on a kamado because it holds the burning charcoal and a five piece segmented firebox allows plenty of room for thermal expansion so minimising the risk of a cracks. 
With a lifetime warranty you could argue that you'd get a replacement firebox anyway (still an inconvenience) but when you compare to a budget kamado grill with single year warranty, I know I'd rather have the security of the segmented firebox. 
I was talking to a BBQ shop owner recently and he said that this new 5 segment design has completely eliminated any requests for Kamado Joe replacement fireboxes.
Note:- Whilst Monolith also feature a 5 segment firebox, Primo and Big Green Egg do not.

Sizes
The Kamado Joe grill is available in three sizes and can be compared to the Monolith and Big Green Egg as follows:
Junior - 13 inch cooking grate diameter, directly equivalent to the Monolith Junior. Good for singles and couples.

Classic - 18 inch cooking grate diameter, directly equivalent to the Monolith Classic and the large Big Green Egg. (The Primo kamado grill diameter is 18.5 inches). The family size with room to spare.

Big Joe - 23 inch diameter cooking grate, directly equivalent to the Monolith LeChef and similar to the XL Big Green Egg. Ideal size for larger groups and those who love to entertain.
Kamado Joe don't offer an equivalent to the Big Green Egg MiniMax or Monolith Icon.
Junior Kamado Joe Grill
The Junior Kamado Joe grill is the most basic model, an excellent entry level into kamado cooking and you'll find many top chefs using this size in their laboratory kitchens. The Junior includes a neat stand (looks a bit like a plant pot stand) that just raises the grill high enough off your outdoor kitchen work surface. The competitor table top offerings are Big Green Egg Minimax and Monolith Icon.
If you want a cart with casters to cook in your back yard / patio and can't stretch the budget to a Monolith Junior then look at buying a separate Kamado Joe Junior and sitting it in a Monolith cart.
Note: Junior models of all brands tend not to feature a segmented firebox.
Classic Kamado Joe Grill
This is where it all started and despite many innovations the original Classic Kamado Joe grill remains a first class investment.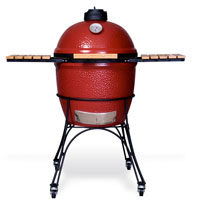 For sure it doesn't have the bells and whistles that you get on the later generation Classic II and Classic III but it still holds it's own and more in the against many of the budget kamado brands.
The most important points:
Limited lifetime warranty
Compatibility with other Kamado Joe accessories
Yes it still has the daisy wheel vent cap, felt gasket and the wiry cart (these can be upgraded in time) but the internals are up to standard. You get the all important segmented firebox and the divide and conquer cooking system.
Note: This product was branded as a Masterbuilt for the 2020/21 seasons, 
Kamado Joe Classic II & III

Whilst the original Classic still remains on the market in Europe the Classic Kamado Joe grill has spawned two premium priced siblings named the Classic II and Classic III.

There are two significant changes over the regular Kamado Joe grill and the first of these is a move away from the cast iron daisy wheel to an aluminium rain cap which they call the Kontrol Tower.

The old daisy wheel (featured on the Classic I) could move when you open the lid and so when lowering the lid your kamado wouldn't return to it's set temperature. The Kontrol Tower is designed to solve this problem and it does it well.
The second innovation is an air hinge for the mid sized Classic and larger Big Joe. In theory you can leave the lid open at any number of positions which looks, feels and sounds great when you first experience it but (particularly with the Classic) I was left wondering whether it was a bit of a gimmick because whenever I use a ceramic grill it's either with the lid fully open or fully closed.
That said, I can see how it eases the lifting of the Big Joe lid but even spring hinge on the Big Joe is as light as a feather compared to the Primo Ceramic Grill where lifting the lid is close on a full upper body workout.

The Kamado Joe air hinge takes a different mechanical approach which I think adds unnecessary complexity...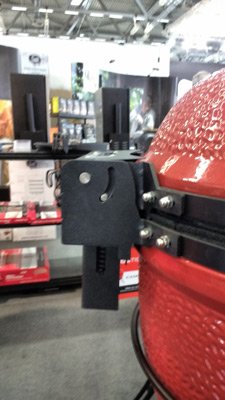 Because the air hinge takes minimal effort to lift and close, it doesn't have the weight of the lid behind it to create the necessary air seal between the lid and the base.
Kamado Joe have effectively reversed the mechanics by sealing the lid with a snap catch at the front of the kamado. Sadly I couldn't close the front catch on the display model that I inspected so clearly some adjustments are still needed when out of the box.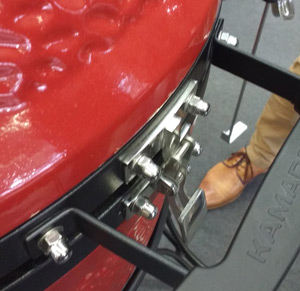 In addition you can't use the catch when using the rotisserie so you can't actually create a seal at all.
Note: Upon testing two Classic II Kamado Joe grills recently I found that the lid didn't stay in position on the first. Whilst annoying, it's a reasonably simple fix by opening the lid and looking at the hinge from inside. You'll see a screw thread centrally located and you just need to turn the nut to the right to give the hinge more tension.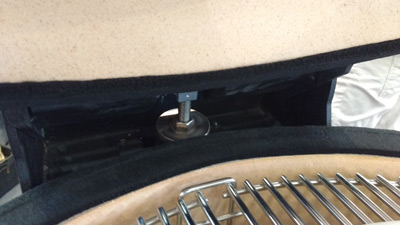 The Kamado Joe grill that I tested suffered from the exact same problem. To be honest I think that Kamado Joe have solved a problem that doesn't exist but there's no denying that the air hinge "feels" good so 10 out of 10 for marketing!
Gasket
I remember when I bought my first ceramic grill (a Big Green Egg) that I replaced the gasket every couple of years - no big deal as you'll see in this article but clearly there is a replacement cost. So when I first saw the new gasket on the Kamado Joe grill I thought that this replacement cost had been minimised (by increased durability) or maybe even eliminated altogether.
Sadly this didn't prove to be the case because my gasket de-laminated after a couple of high temperature cooks. I've seen it happen to other Kamado Joe grills so whilst the gasket itself performs well, it's back to the drawing board as far as the adhesive is concerned.

You can see on the photograph above how the gasket has come away from the base and this was through a couple of  heat cycles.
Classic III

The Classic III is that latest evolution of this popular kamado grill.
The key innovations are:
A new 3 tier Divide and Conquer system - YES
A deeper body - OK
A new cart with handy under shelf - YES
Aluminium side shelves - YES! I really don't like the plastic shelves on the Classic I and Classic II
Hyperbolic insert to the smoke chamber affectionately known as the SloRoller - err?
Charcoal basket - another YES!

I've said on many occasions what a big fan I am of ceramic kamado barbecues because of the consistent high quality texture and flavour of food that I can turn out. Can I tell the difference between the results I get on a Classic I or Classic II versus a Classic III?....No.
Consider also that the SloRoller takes up a large proportion of the cooking space in the grill, effectively removing the benefit of the 3 tier system that you've just invested in and the value of this bit of plastic remains a mystery to me.

The 3 tier divide and conquer system seats each of the half moon grills at different height options on three support columns. So lots of space and options but I found it a little fiddly and it was easy for a grill to come loose from one of the columns.
And whilst I liked the detachable aluminium shelves they don't fold down which could be an issue if you're space limited for storage.
The Classic III costs a good chunk more than the Classic II but is there £500 of value in it? 

The Kamado Joe Grill Compared To Big Green Egg & Monolith
Since it's launch the Kamado Joe grill has changed significantly. Some great innovations should have prevented Big Green Egg from resting on its laurels but sadly for Big Green Egg, they appear to have rested on them all the same!
Starting with the essentials, the Kamado Joe grill includes the heat deflector stones in the basic price and these items are essential if you are going to make the most out of the versatility offered by any of the top branded ceramic grills. The heat deflector stone is what transforms your ceramic barbecue into a convection oven and therefore allows you to hot smoke, roast, bake and cook pizza.
It's a single heat deflector stone in the Junior and split into two half moon stones in the Classic and Big Joe which allows your the opportunity to cook with both direct heat and indirect (convection) heat at the same time. 
This half moon set up has been a key innovation and beautifully branded "Divide & Conquer" by Kamado Joe and continues to grow with a series of half moon accessories to buy into. That said, Monolith caught up with their Pro Series 1.0 Smart Grid System and are now marketing the Pro Series 2.0 iteration.

Note: Big Green Egg don't have a name for this system because they don't do it. They have a single solid stone self proclaimed "convEGGtor" which gives all the same versatility in cooking styles but doesn't give you that flexibility to do both at the same time. Moreover the convEGGtor is available at extra cost whereas it's included with both the Monolith and Kamado Joe grills.

This split heat deflector stone used to be the exclusive feature of the Primo Oval and for me the single biggest reason why I've always been positive about Primo. Now that Monolith and Kamado Joe have innovated with the split heat deflector stones in a round kamado I have to say that it makes me question why I'd want to buy an oval given the significant extra expense.

Internal cooking grates on Kamado Joe grills are top quality type 304 stainless steel yet the outer components are just painted steel which eventually will rust.
Let's be clear, painted steel banding is fit for purpose, it certainly will meet the warranty claim but 10 years down the line it won't look so as good as it did on day one. When you think that a ceramic grill is a purchase for life then I'd prefer (more expensive) stainless steel. Admittedly, Kamado Joe do use stainless steel banding on the Pro Joe but the £4000 price tage puts this model out of the reach of most.

The Kamado Joe grill comes in a very distinctive bright red colour which you will either love of hate.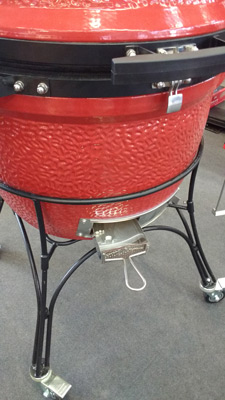 The ash pan is a neat idea, the firebox is tapered to channel ash into an ash pan in the bottom which you can easily remove and empty.

One innovation I don't like is the move away from wooden side shelves to HDPE and in tests I found that placing a hot wok caused marks to form yet there was no effect on the wooden shelves on either the Big Green Egg or the Monolith or indeed the aluminium side shelves on the Classic III.

Is The Kamado Joe Grill Value For Money?
With so many different models and price brackets these days it's easy to get confused.

The table below compares the cost to buy the large / classic family sized ceramic grill from each of the top 3 brands which provokes a question why any sane person would spend more money to buy a Big Green Egg that has less features and benefits.
Feature


Big Green Egg (large)


Monolith Classic    Pro Series 2.0


Kamado Joe    Classic III

Basic Price


£1175


£1,499


£1,999


Stand


£285

Included


Included

Side Shelves


£130 (Acacia)


Included (bamboo & stainless steel)


   Included    (aluminium)


Ash Pan


£30


Included


Included

Total Cost


BGE


£1,620


Monolith


£1,499


Kamado Joe


£1,999


---

---

---

---

Grill Grate Gripper


Not Available


Included

Included


Charcoal Basket


Not Available

Included (with divider)


Included (with divider)

Heat Deflector Stone


Included (1 piece)


Included (2 pieces)


Included (2 pieces)

Cooking Inserts

Single Steel Cooking Grate

Smart Grid System + Drip Trays

Divide & Conquer + SloRoller

Hinge


Painted steel side spring


Easy lift spring stainless steel

Air lift with lid catch


Stainless Steel Banding


Not Available


Included

Not Available

Gasket

Glued Felt

Stapled fibre mesh & base plate

Glued Fibre Mesh

Smoke Chip Feeder


Not Available

Included

Not Available

Warranty


Limited Lifetime


Limited Lifetime


Limited Lifetime

---
Prices will clearly differ store to store but I hope that gives a flavour but the bottom line for me is that it's a choice between Kamado Joe and Monolith and your decision will be determined by which of the unique features you prioritise of either one or the other.
What's New For 2023
There's a new model on the way but I'm struggling to find out exactly when the launch date is. Some say it's May 2023 but others think that it might be delayed until 2024.
The new model is an integrated unit with digital controller so rather than having a separate system like Kamado Joe iKamand or the Monolith BBQ Guru Edition everything will be completely integrated within the unit.
My understanding is that when this unit comes out the separate iKamand will be withdrawn so in future if you want digital control you'll have to either buy a complete new grill (which strikes me as a classic corporate marketing ploy) or buy a BBQ Guru with universal adapter.
It also raises the question about longevity of the new integrated Kamado Joe grill and what happens if the electronics fail? I'm sure the answer will be forthcoming in due course.
Accessories
The Kamado Joe grill range of accessories includes some nice stuff but it's not as extensive as either Big Green Egg or Monolith.
The rotisserie is quiet but only has a single skewer option and there are plenty of alternative cooking surfaces to enjoy such as the cast iron grill grate, plancha and soap stone.
There are other core basics like a pizza stone, 2nd tier cooking grate, dutch oven and wok but after that I find the range lacking compared with Monolith or Big Green Egg. There isn't a table or buggy option, you just have to go with the basic stand and the range of utensils is limited.
Unique to Kamado Joe is the DoJoe, a wedge shaped accessory similar to the rotisserie (although this time they have put a catch on the front to help you keep the lid down) which contains your heat deflector stones and pizza stone so that you can make pizza without having to lift the lid. While ceramic grills can cook pizza admirably you have to accept that after the fifth consecutive pizza you may need to leave it 5 minutes to heat back up because you do indeed lose some heat every time that you lift the lid. 
Verdict
There's no doubt in my mind that the Kamado Joe grill is a cracking piece of kit and it's justifiably up there with the better brands in terms of ceramic quality, warranty and range of accessories. It also knocks Big Green Egg into a cocked hat in terms of value for money.
For me it's a toss up between the Kamado Joe Grill and the Monolith. Both offer high quality limited lifetime warranties and have distinct value offerings in terms of build quality and functionality. Common to all is the cookability.
Where To Buy A Kamado Joe Grill
Kamado Joe sell through a network of retailers and you can also buy now from Amazon - just click on the buttons below.
Note: If you buy a Kamado Joe grill using the buttons below then I get a commission. It makes no difference to the price you pay but it makes a welcome contribution to the running of this website and I thank you heartily.

For international readers you too can buy direct from Kamado Joe through Amazon, use this link below:


Pellet Joe
Was this project still born or was it simply that no one could understand why one would want to buy it? I guess that the "set and forget" aspect of this Kamado Joe grill is now going to be taken care of by the new model with integrated controller.
Anyway, I've kept this part of my Kamado Joe grill review just for completeness and who knows in a few years we may look back and laugh.
The Pellet Joe delivered all the defining features of a regular Kamado Joe grill such as the top vent cap, air hinge, front catch and plastic shelves together with  a 3.6Kg capacity wood pellet hopper.
Look at the gasket and you'll also see that Kamado Joe chose to go with  a smooth surface to the rim of the base and a single mesh gasket to the lid - just like the Monolith. Maybe a sign of things to come?
As you'd expect with a wood pellet grill, there was a dial control and wifi capability so you could control your cook from a tablet or phone.
Inside the ceramic shell it was pretty standard wood pellet technology; hopper, auger and fire pot.
A circular baffle plate was placed between the fire pot and the cooking grate.

Overall it looked like a nice piece of kit but the one overriding question for which I couldn't fathom the answer...why?
It didn't provide improved functionality over a regular pellet grill so why spend a load more money for significantly less cooking space?
You couldn't interchange pellets for one cook and charcoal for the next, it's a pellet grill and that's all.
Maybe the excellent insulation properties of ceramics meaned you burn less pellets but even so you were going to have to do an awful lot of cooking to recoup the significantly higher initial purchase price of the Kamado Pellet Joe compared to a Traeger.
Further Information:
You can get full up to date product specifications on the Kamado Joe website.

Related Pages:-
Kamado Cooking Recipes
Changing A Kamado Felt Gasket
Monolith Kamado Barbecues
Grill Dome Kamado
Primo Kamado
Big Green Egg
Budget Kamado Grill Review
Bubba Keg Convection Grill


Return to Home Page from Ceramic Kamado Joe Grill Smoker And Oven