Budget Kamado Grill Review
UK Budget Kamado Grill Review
My UK budget kamado grill review will help you understand what essentials to look for and what to avoid when buying a low cost ceramic barbecue.
Kamado cooking is clearly taking off big style and more and more people are understanding the quality and versatility of cooking that you can create on a ceramic kamado barbecue.
I've been cooking on numerous brands of kamado grill for over 10 years. I had to import my first one (a Big Green Egg) because they just didn't exist over here in the UK at the time. Of course there are now some well known brands to choose from such as Monolith, Kamado Joe and Primo and there is a plethora of cheaper brands out there too.
If you're reading this UK budget kamado grill review you've no doubt already understood the capabilities of these ceramic grills and you may also have concluded that a Kamado Joe Classic II or a Monolith Classic Pro Series 2.0 isn't going to cut it financially. Well the good news is that there are some excellent quality budget kamado grills out there and this review will help you cut the wheat from the chaff.
The bottom line however is that even a budget kamado is still a serious cash investment, it could be a lifetime investment and by following my budget kamado grills review I hope you can more easily make the best investment for you and reduce the risk of wasting your money. 
It's An Ever Changing Budget Kamado Grill Review
Since first having my kamado interest peaked:
I've seen Dragon Fire, Wild Goose, Tubby Jacks, Rib Man and Nova enter the market and cease to trade.
I've seen Grill Dome, Quinta, Saffire make a noise and then go quiet. I've seen Louisiana Grills, Pit Boss & Berghoff, make a noise, go quiet and now re-enter the UK market.
And then there's more....Bushbeck, Bar-Be-Quick, Ovo, Bono, Bastard, Luna and Fresh Grills.
Finally, let's not forget the supermarkets that at one time or another have got in on the act, namely Lidl, Aldi and Morrisons.
So how do you work out which is the best value and how do you ensure you don't waste your money? That's where my UK budget kamado grill review will hopefully fill the gap.
How to Use The UK Budget Kamado Grill Review
There are 7 key sections to help you understand the market and a bit more about the brands that are available.
The brand summary section is designed to provide an overview and as you will see in my recommendation at the end, it pays to do your homework in detail before making a purchase.
The Market
The market can be split into 4 sections:
The brands that invest in their own ceramic technology, accessories etc. These guys sit outside of the budget kamado grill review (with the exception of 2 models - Monolith Classic BASIC & Kamado Joe Classic 1)
The corporate businesses that buy a "white label" clone, rebrand it and sell through retailers. Brands here include Buschbeck, Louisiana Grills and Pit Boss.
The independent companies who buy a "white label" clone, put up a website and sell direct eg. Quinta, Bono, Luna, Rib Man.
The aforementioned supermarkets Lidl, Aldi and Morrisons who buy a set amount every year of the same / similar clone, sell it cheap and when they've sold out, that's it until next year.
Making Clones In China
The Chinese nation is famous for copying the technology innovators and kamado manufacturing is no different. There are a number of manufacturers in China producing clones of the top branded kamados. Auplex and TopQ probably being the best known but there are a number of others too.
You can tell an Auplex kamado by the dimple pattern on the shell which aligned in distinct rows like bubble-wrap. TopQ clones feature a less regimented dimple pattern.
With the exception of the top brands such as Kamado Joe, Monolith, Big Green Egg, many of the budget kamado brands listed in the review below will probably (but not certainly) originate in one of these factories. In fact, when you look at the pictures I'm sure you'll find it easy to work it out for yourself, a cursory check of the dimples, stand / cart, exhaust vent cap, the banana shaped handle and rounded side tables are the most obvious clues.
Note: The original clay cooking pot from which the Japanese kamado was derived is actually Chinese so we can debate who is copying whom at length!
You Get What You Pay For
Everything has a value. With the top brands you definitely get the best ceramic technology backed up by a limited lifetime warranty and you can rest assured the the brand will be around for years to come.
That doesn't mean that budget kamados are not to be touched but it helps to understand where costs have been cut and which cuts present the greatest risk to the purchaser (length of warranty being a case in point). Keep reading and you'll see the case study made by a friend of mine who documents his experience in his own words of buying a budget kamado and some of the things that he learned along the way.
Budget kamado grills trim off some of the "nice to haves" which means that some offer a great opportunity to get into ceramic barbecue cooking if your budget will only stretch so far. Some however cut off more than others and some are punching a retail price that's significantly above their weight.
Where The Costs Are Cut
Warranty
A ceramic kamado barbecue (whether budget or not) delivers great tasting food, it's not a cheap investment and equally not cheap to repair if something breaks. Warranties range from limited lifetime (which basically means the lifetime of the grill whilst owned by the initial purchaser) right down to just 1 year. 
In theory the ceramic shell should last a lifetime but thermal stress can cause some ceramic components to crack so a good warranty is advisable together with after sales back up for spares.
Firebox
The firebox is the most stressed ceramic component in a kamado and it has to withstand significant temperatures and go through a lifetime of heat cycles. If there's a component that's going to crack and need replacing then this is one of the most probable and clearly this is where the value of your warranty comes in.
Some kamado manufacturers have all but eliminated the risk of a cracked firebox by designing a segmented firebox which usually comes with a built in ash collection system. To be fair, not everyone experiences a cracked firebox but if you want to avoid the potential hassle and worry of replacing a broken part then the firebox design is one to keep on your radar. 
Hinge and banding
Stainless steel is best because it doesn't rust (provided it's type 304 stainless). Painted steel is fit for purpose but will eventually rust. In all cases check the gauge of the steel used and test the hinge design for strength. 
Some budget kamados have just enough strength in the springs to hold the lid open. There are two ways to check the strength of the hinge:
Check for lateral movement when lifting the lid - the should be little side to side movement
Is there a shock absorber where the lid handle meets the base? If there is, it's generally a sign of a compromised hinge design
Size
How can size be an opportunity to cut cost? In itself it isn't but many budget kamado brands use size to confuse the buying public and it's important that you compare apples with apples.
The established brands identify the size of their kamados by measuring the internal diameter of the top of the base:
Junior / Mini - 13 inches
Classic / Large - 18 inches
Extra Large / Big - 23 inches
The budget manufacturers tend to identify their models by measuring at the same point but measuring the outside diameter. So a budget 21 inch kamado is similar and possibly a bit smaller size then a Classic / Large and a 24 inch budget kamado is somewhere in between the Classic and largest size.
Does it matter? It matters in three ways:
A larger sized grill for the same price might not actually be a better deal if you don't know from which point the measurements were taken.
Dependent on the grill grate system, a larger size does not always mean a larger cooking area
If you can be certain that your budget kamado is the same size as one of the top brands then you have most likely opened up access to a wealth of accessories and upgrades.
Heat Deflector Stone
The heat deflector stone is an important component because it transforms your kamado from barbecue grill to smoker and baking oven.
Some budget kamados don't have the heat deflector stone included in the standard price. If it isn't then make sure you add the cost of buying separately because it really is essential to ensure that you get all the versatility out of your kamado. Again, we're back to comparing apples with apples when doing your price comparison.
The top brands now offer two half moon deflector stones rather than a single solid stone. If you can get a kamado within your budget that has the 2 stone system then this will add flexibility to your cooking capabilities. Use one of the deflector stones on one side of your kamado and you can roast or bake while leaving the other side free for direct grilling or searing. Of course moving to a two stone system is something that you can do at a later date provided that your budget kamado is "standard size" so you can fit other brand components.
The Cart
The cart designs used on a budget kamado grill are those that you would have seen on a top brand kamado about 15 years ago and since then the designs have become much more robust. The budget kamado carts still work but watch out for:
A cart that doesn't come high up the sides of the kamado. If you move your kamado around the patio then you stand a greater risk the ceramic falling out of the cart and cracking.
Painted steel wheels. To be fair, most carts are made from painted steel but the point which gets the most stress is the wheel. Painted steel wheels rust whereas stainless steel do not. 
Small wheels. These grills are heavy and the smaller the wheels, the more difficult (and risky) it is to move your kamado around the patio.
Cooking Grates
The industry standard should be stainless steel type 304. When heated this stainless steel will tarnish but it won't rust and any caked on food debris will easily brush off using a wire brush without damage to the grate itself.
Look out for decorative stainless steel (type 430) or chrome plated grates. Both of these are lower costs options and they will rust.
Look out for thin grill bars - 6mm is the thickness that is fit for purpose.
The Runners And Riders
As you scroll down through all the main players that contribute to my UK budget kamado grill review it'll become clear that there are myriad brands to choose from. The list isn't exhaustive.
Note: Few of the brands in this review have been through an exhaustive test. This section of my budget kamado grill review is designed to give you an overview and help create a shortlist based on how much you want to spend. After that, do your own detailed analysis to narrow it down. Better still, find your local retailer for your shortlist and see them "in the flesh". 
Use the Pro's & Cons to help you determine your budget shortlist. 
Budget Kamado Grills By Brand Leaders
There's very little difference between these first two other than the obvious colour. Treat either of these as your benchmark and that should hold you in good stead.
At the £900 mark they both offer excellent value for money but don't ask for anything smaller or larger....these budget kamados come in "Classic" size only. The plus here is that the Classic size gives you access to a multitude of branded accessories.
Monolith Classic BASIC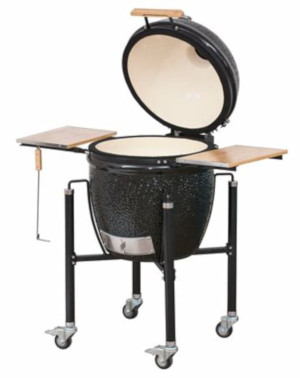 A no frills version from the German Monolith brand. There's only one model option and that is "black in cart". 
🗸 Limited lifetime warranty
🗸 Five piece segmented firebox with ash collector
🗸 Robust cart with type 304 stainless steel wheels
🗸 Split heat deflector stones

X  One single grill grate supplied as standard
Kamado Joe Classic 1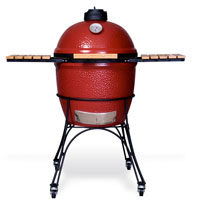 The original Kamado Joe ceramic barbecue. Previous guises include the Masterbuilt Classic but now back under the Kamado Joe brand.
🗸 Limited lifetime warranty
🗸 Five piece segmented firebox
🗸 Split heat deflector stones with half moon grill grates

X  Flimsy wired cart
X  Plastic side shelves

Budget Kamado Grills By Corporate BBQ Brands
Buschbeck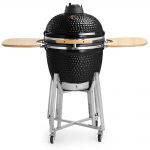 Buschbeck are a German company that specialise in the manufacture of masonry barbecues and then they import this one single kamado grill. Considering that ceramic barbecues are not part of the core range it begs the question how long Buschbeck will be in the market. 
The size stated is XL but when you drill into the detail it's only 1" diameter wider than a "Classic" and being a non standard size means that compatibility with other brand accessories will be minimal. Weighing in at £1149.00 it's a lot to pay for a clone and the tell tale shock absorber on the front doesn't offer confidence. Check closely with the Bar-Be-Quick budget kamado below and see if you can spot the difference.
🗸 Stainless steel banding (check whether type 304)
🗸 Stainless steel cart (check for type 304)
🗸 Second tier grill grate and pizza stone included

X  Single piece fire box
X  One year warranty
X  Non-standard size
X  Single solid deflector stone
X  Chrome cooking grate

Bar-Be-Quick
Bar-Be-Quick is the brand name of Rectella Ltd. Based in  Burnley, Lancashire, the Bar-Be-Quick name is synonymous with the environmental catastrophe that is the "disposable" barbecue.
The company is also a significant imported of charcoal from Namibia, Africa.
The size stated is 21" but the actual diameter of the cooking grate is 18" which is the same size as a Classic from Monolith or Kamado Joe. Price-wise, it knocks spots off the Bushbeck above, coming in at £749 and more sensibly priced for the quality that it appears to offer although finding an exacting spec so you can check the quality of the components is like looking for a needle in a haystack. Ask plenty of questions.  
🗸 Stainless steel banding (check whether type 304)
🗸 Stainless steel cart (check for type 304)
🗸 Cover included

X  Single piece fire box
X  One year warranty
X  Single solid deflector stone

Pit Boss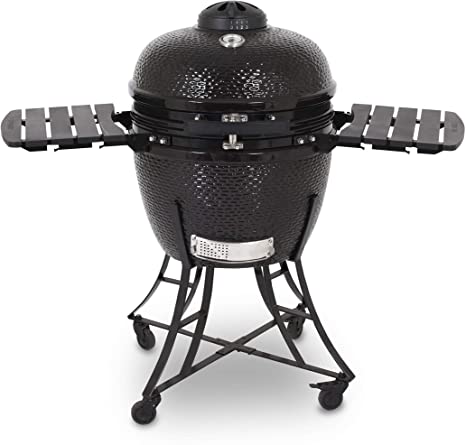 Pit Boss is an American company (owned by Dansons) better known for it's electric pellet grills and they have one kamado in their range - the PBK24.
The outside diameter is 24" which is almost the size of the largest top brand kamados but not large enough that it would make it compatible for accessories. The shock absorbing plunger to the front could possibly reflect a weak hinge.
Although pictured in gunmetal grey, other colour options are available. Other than the optimistic £1,299 RRP it's really hard to spot the difference between this and the Louisiana Grills budget kamado grill below. Both brands are owned by Dansons so that probably explains it.
🗸 Colour options
🗸 Second tier grill grate included
Warranty is five years. Better than some but not as good as others.
X  Single piece fire box
X  Non-standard size (lack of compatible accessories)
X  Single solid deflector stone
X  Cart wheels are not stainless steel
X  £1299 RRP

Louisiana Grills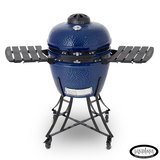 Louisiana Grills is an American brand owned by Dansons better known for it's electric pellet grills and they have 2 kamados in their range - the LGK24 is the only one available in the UK however.
The outside diameter is 24" which is almost the size of the largest top brand kamados but not large enough that it would make it compatible for accessories. The shock absorbing plunger to the front could possibly reflect a weak hinge.
Pictured in blue, the Louisiana Grills LGK24 is the exclusive reserve of Costco and retails at £699. Clearly a competitive price for the grill but accessories and after sales service could prove problematic. If you're playing "spot the difference" between this kamado and the Pit Boss above....good luck because with both brands being part of the Dansons organisation, the answer is probably "precious little"!
🗸 RRP £699
🗸 Cover included
🗸  Second tier grill grate included
Warranty is five years. Better than some but not as good as others.
X  Single piece fire box
X  Non-standard size (lack of compatible accessories)
X  Single solid deflector stone
X  Cart wheels are not stainless steel

Budget Kamado Grills By Independent Businesses
Quinta Kamado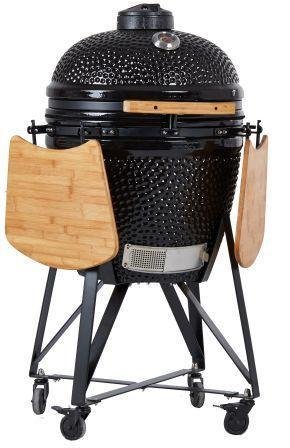 Quinta is an independent family business based in Malpas, Cheshire who import what looks like a TopQ clone and sell direct to the consumer from their website.
There are four sizes in the range which appear to be measured using the outside diameter so it's not immediately obvious whether these budget kamados will be compatible with branded accessories.
Whilst there are some compromises (front shock absorber, the cart wheels aren't stainless steel) the RRP will make this an attractive proposition, especially with a 20 year limited lifetime warranty on the ceramic parts.
🗸 Attractive RRP (£800 for 21") including pizza stone and cover
🗸 20 year limited lifetime warranty on ceramic parts
🗸  Split deflector stones and half moon grill system
🗸  Small range of in house accessories

X  Single piece fire box
X  Cart wheels are not stainless steel
Kamado Luna
Based in Dungannon, County Tyrone in Northern Ireland, Kamado Luna import a selection of budget kamado grills, some of which feature the (pictured) diamond cut pattern.
Prices are competitive with other budget kamado grills, there are 5 size options and a variety of colours. Sizes are measured using the outside diameter so it's not immediately obvious whether there is compatibility with branded accessories but the in house range of accessories is quite extensive.
On the face of it the warranty looks impressive but it doesn't cover cosmetic damage and it is invalidated if you fail to register your grill with them within 7 days. 
🗸 Attractive RRP
🗸  Split deflector stones
🗸  Good range of in house accessories
🗸 Fibreglass gasket

X  Single piece fire box
X  Cart wheels are not stainless steel
X  Warranty doesn't appear to be comprehensive
Rib Man
During the writing of this article the Rib Man kamado website is now "down for maintenance" and the Facebook page is not accessible. As soon as I know more about what's going on, I'll update this page.
Bastard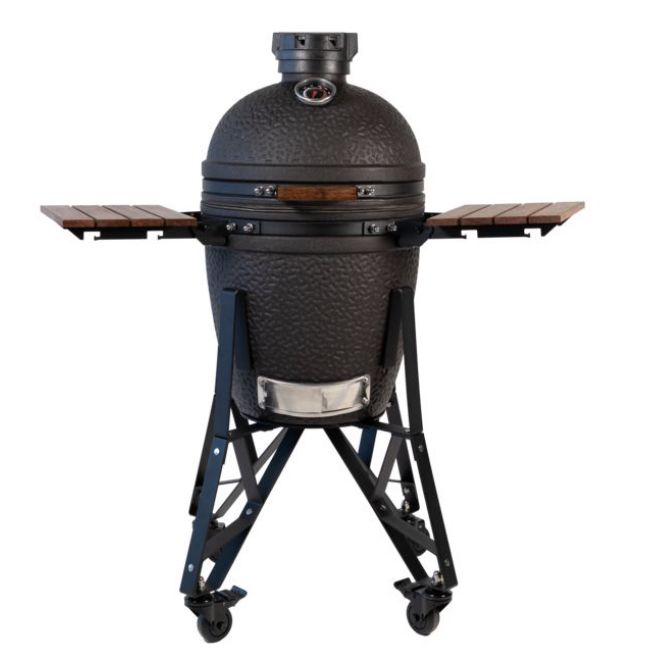 I've been wrestling whether to include this brand on this page or indeed any page for that matter.
When launched in 2016 the original brand name was prefaced with the word "black".
I don't know who at this Dutch company thought that name would be acceptable and for me it says plenty about the mentality of the people behind the brand. The price is irrelevant, I won't be buying one.
Ovo
Looks like Auplex to me. This Dorset based brand features 2 sizes and 4 colours. The smaller of the two units features a hinged side support rod to keep the lid open and the large features the tell tale shock absorber to the front.
The large appears to be a similar diameter to the Classic size of the mainstream brands so it's possible that there could be a lot of compatible accessories which will make up for (or explain) the limited range of own branded accessories.
On a positive note, the fittings and cart wheels are stainless steel.
🗸 Stainless steel banding (check whether type 304)
🗸 Stainless steel cart (check for type 304)
🗸 Two piece firebox (better than single piece)
X  No warranty details published on the website
X  Single solid deflector stone
X  Felt Gasket
Fresh Grills
Spot the difference between this and the Ovo above? On the outside I can't see one either.
The price is cheap for the size of grill and you realise that there's no heat deflector stone(s) so you can grill but you can't bake, roast or smoke. To my mind, a kamado barbecue that doesn't include heat deflector stones is pointless.
The next disappointment is the warranty, a measly 2 years.
🗸 Stainless steel banding (check whether type 304)
🗸 Stainless steel cart (check for type 304)

X  2 year warranty
X  No heat deflector stone
X  Felt Gasket
Kamado Bono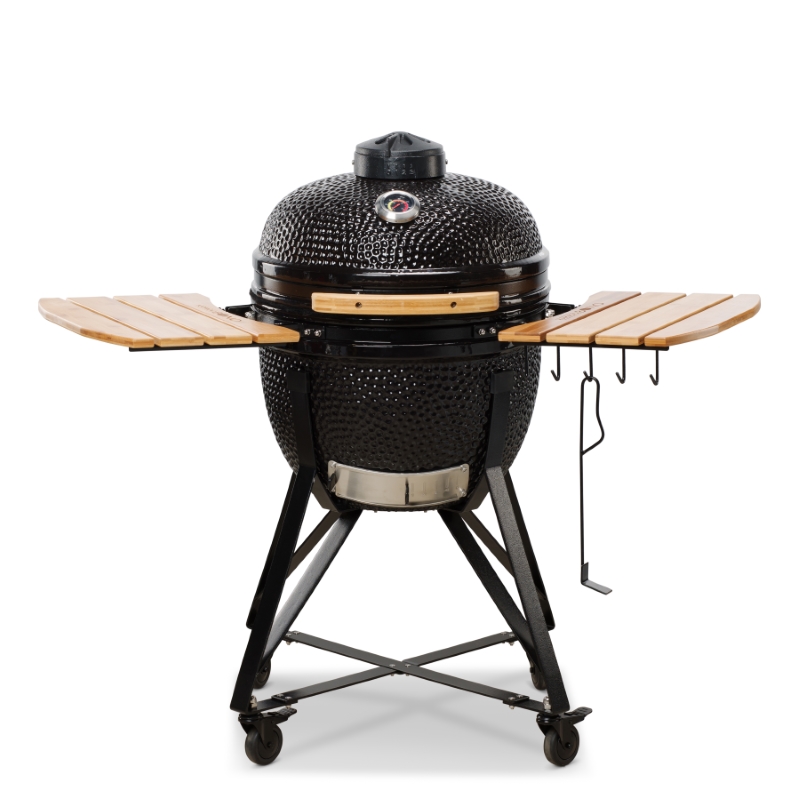 Available in Black, Red and Žalgiris Green (special edition), Kamado Bono features a range of four grill sizes.
As usual, be careful to ensure you are comparing apples with apples, the 23" Grande grill actually only has an internal cooking grate of 19".
Kamado Bono sell direct from their website and like Kamado Luna, the warranty headline looks attractive but closer scrutiny reveals worrying statements. For example "this warranty is not applied if splits and cracks of the ceramic grill appeared after the product was sold to the first buyer" which effectively means that any crack not immediately evident at the point of delivery isn't covered.
🗸 Fibreglass gasket
🗸  Some accessories included in the basic price
X  Single piece fire box
X  Cart wheels are not stainless steel
X  Warranty doesn't appear to be comprehensive and full of get out clauses
Kamado Kings

Like, Kamado Bono, Kings are based in the Peterborough area. The website looks like a copy of the Kamado Bono website and the ceramic grills advertised are described as Kamado Bono so I'm not sure who we're trying to kid?
The warranty features the same "catch alls" and they cap it off by stating that the warranty doesn't cover the stainless steel items from rust!
In some ways it feels like I've lost patience the more I've written. I'm trying to think of something positive to write about this brand but I'm struggling.
🗸 Just like a Kamado Bono
X  Just like a Kamado Bono

Budget Kamado Grills By Supermarkets
Read the detail below and you'll get the picture...
Container loads brought in for BBQ season
Price is low and when they are gone, that's it until next year
No accessories
No spares
Sadly turning what is a wonderful lifetime purchase into a disposable commodity. I can understand why (at £99.99) people buy them but it just saddens me to think that many of these will end up in the trash
OR will act as a precursor to buying the real thing. Just pay it forward, please don't put it in the bin.
Lidl
The Lidl offering (Grillmeister or Grillchef) is a mini kamado at £99.99 and at that price I don't think anyone is going to worry too much about the warranty but it turns what can be a wonderful lifetime purchase into a disposable commodity. I can understand why (at £99.99) they are an attractive purchase but it just saddens me to think that many of these will end up in the trash
Lidl bring in a few containers each year, no back up, no accessories and no spares. When it's gone, it's gone (as they say) and that's why I haven't got a picture.
Aldi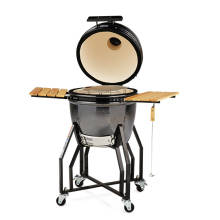 It's a medium size (16") cooking diameter so compatibility of accessories could be a challenge.
It includes a heat deflector stone so you're able to get the flexibility to cook indirectly and the cart wheels are stainless steel.
You'll note that the difference with this kamado compared to all the others in this list is that the finish is smooth (all the others are dimpled). The dimple design is no accident, it helps with thermal expansion and contraction. I've not heard that the smooth Aldi design is susceptible to cracking but it's something to be aware of before deciding to buy. 
Warranty is 3 years and if the top whack of your budget is £400 then this wee offering is going to be on your shopping list. Aldi bring in a limited amount, usually in March and they'll be gone by the end of March. Don't expect year round after sales service or an abundance of spare parts.
🗸 Stainless steel wheels
🗸 Attractive Price
🗸 Three year warranty (not bad for price)
X  Seasonal opportunity
X  Single solid deflector stone
X  Felt Gasket
Morrisons
For a season, Morrisons brought in a kamado sourced through Gloucestershire company La Hacienda. There may be more this season but it's difficult to say.
Summary
There's a lot of information to decipher when choosing the right budget kamado for you (and your pocket) and here are some key takeaway points:
Warranty length is directly related to build quality so get the best warranty that you can for your budget but remember that the warranty is only valid so long as the brand continues to trade.
A segmented firebox reduces the risk of a crack and the hassle of replacement.
In addition to the undoubted quality of your kamado culinary creations, kamado cooking is also about versatility and the amount of different cooking styles that can be done on one barbecue. Compatibility of accessories is important. 
A heat deflector stone is essential
Stainless steel hinge, banding and castors will add longevity to your purchase.
Budget Kamado Grill Review - A Case Study
A friend of mine went down the route of buying a budget kamado in early 2018 and this is his story.....
"This is a "Nova" branded kamado bought 4 years ago in early 2018 for what might be considered a bargain price of £755 including VAT. This kamado has an exterior size of 23.5" and is probably made by Auplex.
On the face of it, it looked like good value against the premium kamados with their £1000 plus price tags (and £2000 prices for the very best), and this is one of the very few budget kamados that actually has stainless steel fittings. Stainless steel was important to me and generally these kamados are harder to find because most retailers opt to stock the cheaper powder coated versions to bring the price down. 
First of all to be clear this is how it was as new, the rest of the images are after 3 years of use and several modifications.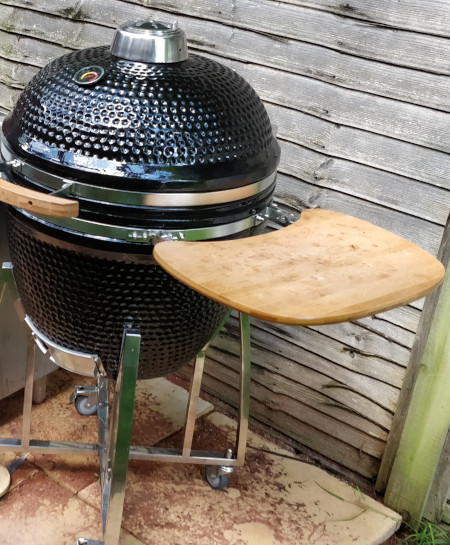 Starting with the exterior, the stainless fittings and cart are themselves good quality and proper stainless grade that has shown no sign of rust after 3 years of use. Whilst adequate, the metal is however thin, the castors are again adequate but wobbly because they are small. You wouldn't want to move this around much without more than one person supporting.
The shelves held up for about 6 months and were then ravaged by the winter to the point of being unusable, so I modified these with aluminium tables from Dancook (£40 each), bolted on to the original stainless steel shelf brackets.
The temperature gauge was very small, inaccurate, and stopped working in under a year so I replaced with a Tel-Tru (£45).

The cap, although stainless steel was a bit thin and flimsy and wouldn't hold position very well, so I bought a Smokeware cap (£40) which needs very little maintenance and just goes through the dishwasher once a year.
The hinge whilst again being stainless, has 3 springs. It's just about adequate, you need two hands to open and close the lid and now having compared to a premium kamado where the springs are stronger, and the design of the lifting mechanism superior, I understand the difference.
This kamado came with one grate as standard and that was it, so to get the full benefits of kamado cooking, I purchased a "divide and conquer" upgrade for an extra £100 and when it turned up I found that the grill grates were 4mm diameter. A premium kamado grate is 6mm and I found 4mm to be an issue with large joints of meat or trays of vegetables, so a year on I made another mod by purchasing 2 additional grates that would take the weight of larger cooks:
a 57cm grate meant for an Ugly Drum Smoker (£25)

a Pro Q stacker grate (£30) meant for their bullet smokers
Both are 6mm bar but frustratingly still made from a lower grade stainless steel, evident because surface oxidisation started to appear a couple of weeks after a cook. Let's not forget that the original Nova 4mm grates were fabricated from a similar grade stainless steel and they oxidised too.
Not essential but a "nice to have" is a drip tray so another extra purchase.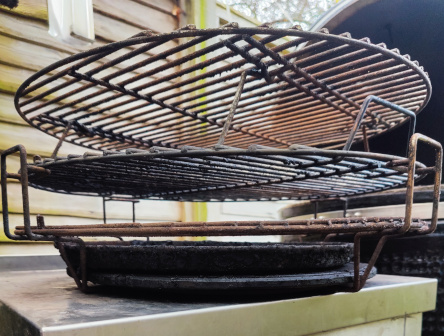 The last point to make on the top level interior is the felt gasket which was not fit for purpose. It lasted approximately 5 cooks before needing replacement.
The internal ceramic parts are adequate but (I guess by today's standards) an outdated design. There's no expansion joint or segmented firebox 'petals' so if it cracks you have to purchase a new one if you can find a retailer that stocks parts. I did find a sole UK retailer out of around 20 that does sell parts, but for the ever mounting cost I have chosen thus far to live with the cracks in the picture below.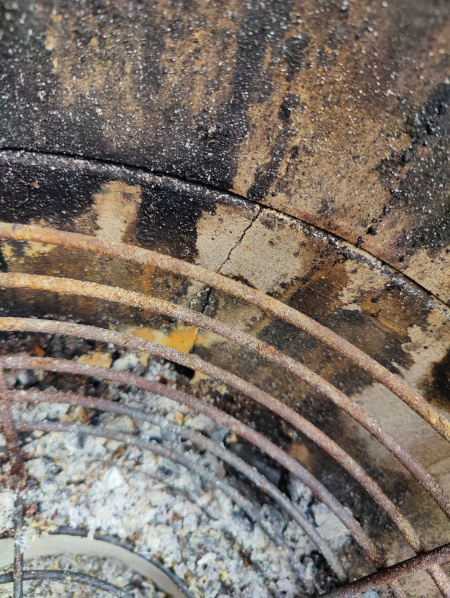 Initially I struggled to get up to higher temperatures and then I worked out that the small holes in the cast iron fire grate were restricting airflow so I have opted to remove it and use a charcoal basket instead (£50).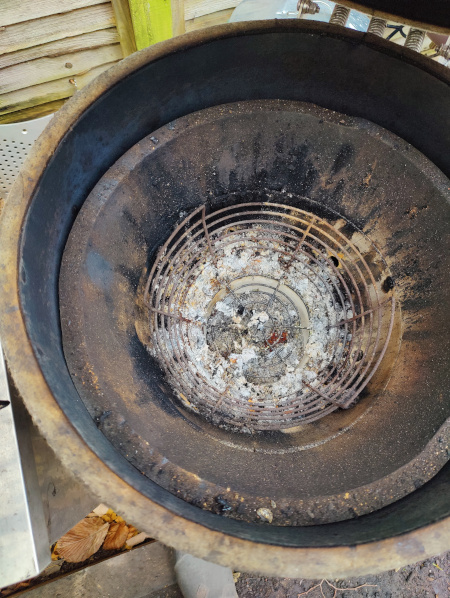 Looking back, it seemed like a cost effective budget kamado but I incurred significant additional spending on modifications and resolving my own damages because the warranty was only one year.
The initial £755 was supplemented with upgrades and replacement improvement parts to the total of circa £350
Currently a differently branded version of this Nova (Fresh Grills) is £850 without any extras. Add in the cost of the upgrades that I made and very quickly you're north side of £1200....and the warranty is still flaky.
Should you buy a budget kamado? That is really down to you.
I purchased this Nova thinking I'd made a smart choice. Of course I still use it but its shortcomings are obvious and plentiful with little to no support available from the brand owner."
My Recommendations
With so many budget kamado brands on the UK market these days it's difficult to see the forest for the trees.
If you can stretch to £895 then the budget models from the top brands (Monolith Classic BASIC or Kamado Joe Classic 1) offer excellent value, quality components and the flexibility to upgrade / accessorize as and when you wish.
Both these models are backed up by the strength of a top brand manufacturer whose core competence is ceramic barbecue technology. More importantly, neither brand is going to shut up shop tomorrow and take your valuable warranty with them.
It's horses for courses when considering those around the £700 - £900 mark, whichever way you go there's a compromise and you might end up spending an awful lot more in the long run so fully check out the technical specification (especially stainless steel quality) before parting with your hard earned cash.

And if you're on a really tight budget then wait until March when the Aldi kamado is released.
See Also:-
Monolith Kamado Grills
Primo Kamado
Grill Dome Kamado
Big Green Egg
Kamado Joe Grill