Primo Kamado Ceramic BBQ Grill 2017 Review
The Primo Kamado ceramic BBQ grill is regarded as one of the finest ways to cook outdoors and like all ceramic kamado barbecues it can operate as a high temperature grill or slow roasting smoker.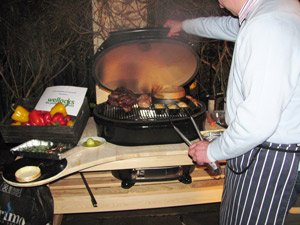 The fundamentals of a ceramic BBQ grill is that when grilling, it heats up really quickly so you can be cooking on it 15 minutes after lighting it and you can hit sufficiently high temperatures for cooking pizza or use it like a tandoor.
With the introduction of a heat deflector stone between the fire and the cooking grate you can then cook indirectly and roast like in a traditional oven or smoke at low temperature for long periods of time.

It's a charcoal fueled unit that has fine temperature control using two variable dampers, one under the firebox and one on top of the unit.
The Primo used to be the "crème de la crème" of the ceramic barbecue scene but thanks to strong competition and a lack of innovation I now find it lacking.

Why Buy A Primo Kamado?

I was fortunate enough to get the opportunity to try a Primo recently and compare it to the Big Green Egg & Monolith grills that I have at home. Essentially all are ceramic barbecues and therefore you'd think that they all performed similarly, and you'd be right. You'd also then assume that the differential between them was price, and again you'd be partially right with the Primo beating the Egg but Monolith offering dramatically better value because of it's lower recommended retail price and the extensive bundle of accessories included as standard.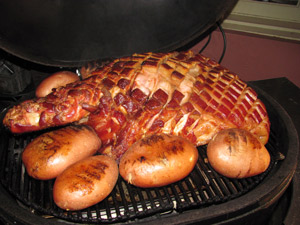 A couple of features of the Primo kamado used to make it stand out from the kamado crowd but now I find the Primo a bit of a white elephant.
The largest Primo is oval in shape. Arguably not the traditional shape for a kamado but it's a feature that used to make it more versatile for cooking large pieces of meat (as in the photo above) or indeed long skewered kebabs. Most circular kamados now have a large size which compares favourably with the Primo in terms of cooking space. Secondly Monolith produce a 7 skewer rotisserie unit that eliminates my other argument for the oval shape, moreover the oval becomes a disadvantage because you are limited with the amount of accessories that you can use as many other accessories are interchangeable between round kamado manufacturers.
Primo kamado also used to excel for indirect cooking because the heat deflector stones "D plates" were in two halves which means that you only have to use one half (if you wish) and so cook both directly and indirectly at the same time. See below:
Now both Kamado Joe and Monolith offer similar solutions at significantly lower entry cost.

But Primo also features a cast iron firebox divider so you can have a fire (heat source) in just one side of the kamado:
Handy for vertical roasting skewers
True heat segregated grilling and smoking
Additional economy when cooking a small amount
...and so now does Monolith. To be fair, the Monolith solution isn't cast iron, it has a stainless steel charcoal basket with divider but it works just as well.

To help you understand the value of the split heat deflector stone I made a direct comparison of the Oval Primo versus Big Green Egg (Large) and whilst this article is still current (Big Green Egg still doesn't have a split heat deflector stone) it serves to highlight just how far Kamado Joe and Monolith and stolen a march versus what might be regarded as the two old hacks of the kamado business.
So what else is there to commend the Primo kamado? Well the cart is well built and has stainless steel side shelves which look the part and are easy to clean. Lastly it's the only kamado still to be made in a 1st world country (USA) and if you choose to buy on this point alone then I applaud you.

What's New For 2017?

In short... nothing. No innovation and sadly no new accessories.

Verdict
I used to be a fan of the oval design because it gave greater flexibility versus the other round kamado manufacturers but both Monolith and Kamado Joe have not only caught up, they've overtaken it. The oval shape now appears to be a distinct disadvantage because the lack of accessories to fit the oval restricts versatility. (Rotisserie, wok stand and cast iron plancha to name a few).
The Primo is also expensive versus Kamado Joe and Monolith so I'm not seeing where the value is. For sure is still knocks the spots off a Big Green Egg in terms of versatility but Kamado Joe and Monolith are both streets ahead in terms of usability, range of accessories and value for money.
Note: The "new for 2017" hinge on the Kamado Joe is going to put the price up closer to Big Green Egg and Primo but at the time of writing the new Kamado Joe price has not been released.

Where Can You Buy A Primo Kamado?
Ceramic barbecues are justifiably expensive to buy but the best bit about the Primo (unlike it's stablemate the Big Green Egg®) is that you can buy it on-line. The benefit to you and me is that this means you can be assured of getting a reasonable price and have it delivered to your door.
Click Here To Buy From Amazon
in the USA
Alternatively you can use the store finder page on the Primo website.

To Buy A Primo In The UK
Kamado barbecues used to be the "next big thing" in outdoor cooking but it's fair to say that in the last year they've really taken off but Primo may have already missed the boat.

The UK distributor for Primo kamado has changed three times in as many years but that said it appears now that we have some stability. The new distributor is now up and running and they have at least one outlet in the UK. 
BBQ Store UK and Dawsons BBQ World display both Primo and Monolith ceramic grills leaving you free to compare and contrast.

See Also:-

Monolith Kamado BBQ
Kamado Joe
Big Green Egg
Changing A Kamado Felt Gasket
Traditional Smokers
Traditional Grills
BBQ Accessories
Patio Furniture

Return to Home Page from Primo Kamado Ceramic BBQ Grill 2017 Review