Smoked Trout Pâté Or Rillettes
You and I would say smoked trout pâté, if we were in France it would be smoked trout rillettes (pronounced ree-yet), I but let's not split hairs, this is delicious......and even if it's just my vote, that's unanimous!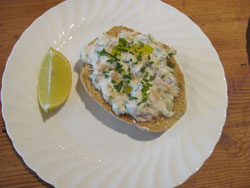 Once you've prepared the smoked trout then there really is nothing to it, and yes, you can cheat and buy the smoked trout if you wish.
Because there's no cooking involved you can have this recipe knocked up in more or less the same amount of time as it takes to watch the video recipe below.
Smoked trout pâté is perfect for a hot summers day served on crostini, crisp bread or toast...............and preferably a nice chilled glass of chardonnay to accompany it.
Serves:- 4 people

Preparation Time:- 10 minutes
Cooking Time:- n/a

Total Time:- 10 minutes


Ingredients:-
4 medium smoked rainbow trout fillets
2 tablespoons gherkins, finely chopped
1 tablespoon chopped chives, plus extra for garnish
150g or 6 oz crème fraiche
1 tablespoon horseradish sauce
Juice of 1 lemon
Extra virgin olive oil
Salt and freshly ground black pepper
Method:-
Place the gherkins, chives, crème fraiche, horseradish and lemon juice in a bowl and mix well. Add salt and pepper to your liking. Now flake the trout and fold it into the mix taking care not to mash the fish.
That's all there is to it.
I like to serve it on really crunchy Italian crostini. Generously paste it on and drizzle over a little extra virgin olive oil to give it that wonderful sheen.
When you take a bite, make sure you have a napkin ready because if your crostini are really crunchy, half will end up in your lap if you're not careful!
See Also:-
Smoked Haddock Recipe For Fish Cakes
Smoked Mackerel Salad
Smoked Salmon Mousse
Smoked Fish Recipes

Return to Water Smoker Recipes from Smoked Trout Pâté