Hot Smoked Mackerel Recipe
I've been absolutely blown away by this hot smoked mackerel recipe and I don't even like oily fish that much! I've had vacuum packed mackerel filets before and they've been pretty dry but the results I achieved even on my first attempt have amazed me.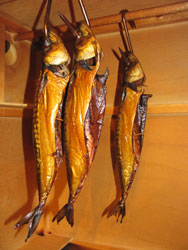 Mackerel is one of these oily fish rich in omega-3 fatty acids that are really good for your heart and for preventing cardiovascular disease.
Fatty fish like mackerel, herring, sardines, lake trout and salmon are high in two varieties of omega-3 fatty acid, eicosapentaenoic acid (EPA) and docosahexaenoic acid (DHA). Whether you're on health kick or not – it still tastes great.
Once you've made this hot smoked mackerel recipe you can eat it plain and simple or use it in my smoked mackerel salad or my smoked mackerel dip with crisp toast.

For me one of the best bits about mackerel is that the bones come out really easily. It's not like other oily fish like herring or sardines where you're forever fiddling. I found that when I'd cooked the mackerel, the bone just came out in one piece leaving me with 2 supremely juicy fillets.
Whilst I've classed this recipes as hot smoking, technically it's warm smoking because it's below the boiling point of water but the fish still cooks at these temperatures.

It's quite a long process but it is really simple and can be split into 4 stages:-
Brining (70% brine solution for 2 hours)
Drying (I hung my fish in the smoker overnight)
Cold smoking (4hrs at 100°F) or
Hot smoking (2-3 hrs at 200°F or 90°C)
You can do as many mackerel as you want and freeze them, certainly when I do my next batch I'll be doing a lot more.
The only thing to be careful of in the ingredients is the brine where you need to ensure that the fish is completely immersed in solution. I did 4 fish in just over 2 litres or ½ gallon of brine so to make the 70% brine that's required for this recipe, I dissolved 500g or 1.2lbs of cooking salt.
Use this link to find out more information about brine recipes.
Always make sure that your fish is fresh. It should not smell unduly fishy, the flesh should be firm to the touch and the eyes clear (not bloodshot). Also make sure that the fish has been gutted and the gills removed.
Serves:- 4 people

Preparation Time:- minutes
Brine Time:- 1½ hours
Drying Time:- overnight
Cold Smoking Time:- 4 hours
Warm Smoking Time:- 3 hours

Total Time:- 24 hours

Ingredients:-
4 mackerel
2 litres or ½ gallon water
500g or 1.2lbs cooking salt (essential that it is not iodized salt)
cocktail sticks
Method:-
Make up the brine by mixing the salt and water. It's a strong brine and heat will be required to help dissolve the salt so start the brine off in a large pan and transfer to your brining bucket later. Once dissolved, make sure that the brine is completely cooled and then immerse the mackerel for 1½ hours. Weigh the fish down under a plate to ensure full immersion.
After the brining, rinse the fish in fresh water and hang to dry overnight in a cool dry place. The easiest way to hang mackerel is to thread an S hook through the eyes and I hung mine in the food chamber of my homemade smoker because ambient temperature was cool enough but a refrigerator is fail-safe.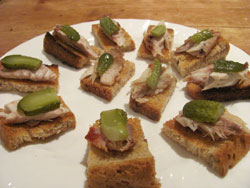 Technically this hot smoked mackerel recipe requires cold smoking and then hot. I found it difficult to keep my smoker at the cold temperature so I actually had to turn the gas on and off intermittently but ensuring that the temperature ideally hovered between 30°C and 40°C (around 100°F).
Cold smoke for 4 hours and then hot smoke for a further 2-3 hours at 90°C or 200°F
You'll be able to tell when your hot smoked mackerel is done because it will take on a lovely golden color and will have reduced in weight by about 25%
---
Healthy Smoked Mackerel Salad Rich In Omega-3 Fatty Acids
See Also:-
You can of course make this smoked mackerel salad using pre-packed smoked mackerel from the supermarket but the best mackerel is definitely that which you smoke yourself. 
I've used a peppered smoked mackerel for this recipe, just take my basic hot smoked mackerel recipe and add some peppercorns after the smoking process. In addition dark leaved salad because this compliments the fish beautifully, peppery watercress would be a good alternative too.
This recipes assumes that you've already made my hot smoked mackerel.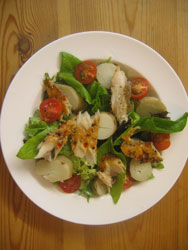 Serves:- 4 people

Preparation Time:- 15 minutes
Cooking Time:- n/a minutes

Total Time:- 15 minutes

Ingredients:-
4 smoked mackerel fillets
1 large bag salad leaves
1 small bag baby spinach
8 boiled new potatoes (sliced)
8 cherry tomatoes
Balsamic Vinegar Dressing:
1 tablespoon balsamic vinegar
4 tablespoons extra virgin olive oil
1 teaspoon honey
1 teaspoon tip Dijon mustard
Method:-
For the balsamic vinaigrette go 4:1 oil to balsamic vinegar, stir in the tip of a teaspoon of Dijon mustard add the teaspoon of honey and stir.
Next place the salad leaves in the salad bowl and add the sliced new potatoes. Drizzle over some of the vinaigrette and toss the salad. Now divide out into 4 individual bowls.
Flake the smoked mackerel fillets and simply throw the fish on top – it's that simple.
Finally drizzle more of the balsamic vinaigrette over the salad and it will add a lovely sheen. Now tuck in and enjoy!
---
Smoked Mackerel Dip
Serving a smoked mackerel dip is a great way to start the BBQ party. You can prepare it in advance and all you need is some freshly cut celery of carrots and you're ready for dipping. Make it a bit thicker and you can serve it as a smoked mackerel pâté too.
You can of course buy the smoked mackerel but if you really want to have the best then there's no better than smoking it yourself. Home smoked mackerel is so much more succulent than anything that you can buy in a vacuum pack so if you fancy having go, click through this link to my hot smoked mackerel recipe.
Once you have the mackerel, the dip is really easy to do, just pull together the ingredients and follow the method statement below.
Serves:- 4

Preparation Time:- 10 minutes
Refrigeration Time:- 1 hour
Cooking Time:- n/a 
Total Time:- 1 hour 10 minutes
Ingredients:-
1 smoked mackerel (2 fillets)

250ml or 1 cup soured cream
1 teaspoon horseradish
4 cornichons (gherkins), chopped
6 Scallions (spring onions) thinly sliced
Method:-
Spoon out all the ingredients (with the exception of the mackerel) into your serving bowl and mix together well.
Now take your mackerel filet and remove the skin, flake it into the mix taking care not to break it up too much. Using a spoon gently fold the mackerel flakes into the mix.
There's no more to it than that, just refrigerate for one hour to let the flavors mingle or until you're ready to serve.
Smoked Haddock Recipe

Smoked Fish Recipes

More Barbecue Fish Recipes

Return to Water Smoker Recipes from Hot Smoked Mackerel Recipe