Smoked Haddock Recipe For Fish Cakes
My smoked haddock recipe for fish cakes is really easy to do and the flavors are fantastic. In addition I've added rocket to the mix as its peppery zing is the perfect accompaniment to the oily fish.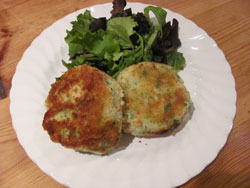 You can buy smoked haddock direct from your fishmonger and it will be either white or golden yellow in colour. The difference is very little other than the yellow haddock is dyed and frankly I can't find any reason why you would want to dye it. The dye used is Quinoline Yellow (E104), a disodium salt of disulphonic acid synthetic coal tar...sounds tasty doesn't it?
If you are buying smoked haddock from the fishmonger or supermarket (whether white or yellow) then the product is cold smoked and needs to be cooked hence the steaming stage in my method statement. The haddock needs steaming for 10 minutes but you can do this at the same time as boiling the spuds so preparation time is at a minimum.
Of course you can start my smoked haddock recipe right back at the beginning and smoke your own haddock, if this is something that you want to try then use my recipe for the classic Arbroath smokies. Note that the Arbroath smokies recipe actually cooks the haddock so if using this as your base for my fishcakes then omit the steaming stage in the method statement below.

Serves:-
4 people

Preparation Time:- 15 minutes
Cooling Time:- 30 minutes
Cooking Time:- 40 minutes

Total Time:- 1 hour 25 minutes

Allergens:
My smoked haddock recipe for fishcakes contains the following allergens.
Fish (haddock)
Egg
Gluten (breadcrumbs)
Ingredients:-
750g or 1½lb potatoes
450g or1 lb skinned smoked haddock
50g or 2oz butter cubed
About 75g or 3oz rocket, finely chopped
Salt and pepper
2 eggs, beaten
250g or 8oz 200g breadcrumbs
3 tablespoons vegetable oil

Method:-
Peel and cut up the potatoes for mashing and then boil them for 20 minutes. Drain and mash.
Steam the smoked haddock fillets 10 minutes until opaque and flaky.
Allow everything to cool a little then spoon the mashed potato into a mixing bowl and throw in the cubes of butter. Flake in the smoked haddock and add the rocket. Season with salt and pepper and then get your hands in and gently mix. Don't be too aggressive otherwise the fish will lose it's flaky texture and once complete allow the mix to cool for about 30 mins.
Now make the mix into patties, dip each pattie into the beaten egg, then into the breadcrumbs and finally into the frying pan with hot vegetable oil.
Turn after 3 minutes and you should have that lovely golden brown color, a further 3 minutes on the flip side and it's job done.
If you want to be posh, serve on a crisp mixed leaf salad topped with a spoonful crème fraîche (oops! - forgot the crème fraîche in my piccie). Otherwise, break out the baked beans and squeeze on some ketchup.
See Also:-
Smoked Trout Pate
Smoked Mackerel Salad
Smoked Salmon Mousse
Smoked Salmon Pasta Recipe
Smoked Fish Recipes


Return to Gas Grill Recipes from Smoked Haddock Recipe For Fish Cakes