Barbecue Lamb Provencale Recipe Indirectly Cooked
This barbecue lamb provencale recipe is so christened because the herbs that I've used in the rub are typical of the Provence region of Southern France. The recipe uses a half leg of lamb indirectly cooked (in essence roasted) at a medium temperature and is ideal for a kettle barbecue or kamado.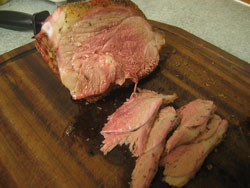 You'll see from the pictures that I used a fairly small joint of meat simply because that was what I found in the freezer. I thought maybe there would be a slice or two left over to pack in a sandwich for work on Monday morning but no way, it was all gone and everyone shouting out and asking for the crispy bits.
What distinguishes a Provençale recipe is the combination of herbs and garlic and if you were cooking in a pan it would probably be in a tomato sauce. But we're not! So it's a rub that really helps crisp up the skin and bring out the flavour of the lamb slice by slice.
Herbes de Provence is a fragrant mixture and exact recipes vary, but thyme, savory, rosemary and an aniseed-scented herb such as fennel or tarragon form the base constituents. Lavender and basil may also be included in the mixture. Likewise marjoram or oregano sometimes feature.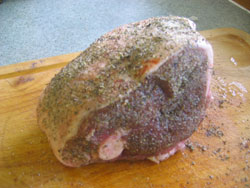 You don't have to make up your own herb mix if you don't want to as there are many good pre-mixed jars that you can buy and if you haven't got any Provençale dried herbs, try it with mixed herbs – it's not a bad compromise at all.
Serves:- 8 people

Preparation Time:- 10 minutes
Marinade Time (Rub):- 1 hour
Cooking Time:- 1 hour 30 minutes

Total Time:- 2 hours 40 minutes

Allergens:
There are no processed ingredients in this recipe so no allergens to worry about.

Make your own Herbes De Provence

You can make this recipe in bulk and store in a airtight container.

5 tablespoons dried thyme
3 tablespoons dried savory
2 tablespoon dried marjoram
5 tablespoons dried rosemary
1 tablespoon dried tarragon
1 tablespoon dried lavender flowers
---
For the Barbecue Lamb Provencale Recipe

Ingredients:-
2kg or 4.5lb leg of lamb
1 teaspoon garlic salt
1 teaspoon Provençale dried herbs
1 teaspoon freshly ground black pepper
Method:-
Take the dried ingredients and mix them in a small bowl then rub them into the leg of lamb then give the rub an hour to work it's magic.
Heat your kettle or kamado up to about 150°C or 300°F on indirect cooking and slow roast the lamb for approximately 2 hours with a drip tray underneath.
Note:- I haven't used a water bath and I have chosen to cook at this temperature because I want the outside of the lamb to brown and be crisp in texture. Cooking at a temperature any lower than 150°C or 300°F and the Maillard reaction won't happen.

To ensure that the joint is cooked exactly how you like it, use a bbq thermometer and look for:-
130°F (55°C) - Medium rare
140°F (60°C) - Medium
160°F (70°C) - Well done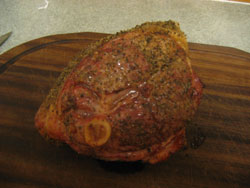 When you've reached the desired core temperature, remove the lamb from the heat and allow the joint to rest for 30 minutes before carving. This gives the muscle chance to relax and reabsorb any juices just about to exude during the cooking.
It's as simple as that. I served my barbecue lamb Provencale with some baby new potatoes and a green salad and I hope you enjoy yours as much as my family enjoyed mine.
See Also:-
Barbecue Lamb Recipes
Barbecue Lamb Chops
Kamado Cooking Recipes


Return to Home Page from Barbecue Lamb Provencale Recipe Indirectly Cooked