Barbecue Light &
Patio Solar Lights

You'll need a barbecue light to continue cooking into the Fall / Autumn when the nights start to draw in. It's still great barbecuing weather but trying to see whether the chicken is cooked when it's dark can be pretty difficult.
Personal safety for you and your patio guests is paramount and in my book that means two things:
Being able to see your food and identify when it is safe to eat (either by the naked eye or instant read BBQ thermometer. To do this you need a barbecue light.
Being able to move around the grill and seating area without tripping over anything. Patio solar lights are a good option here.
Barbecue Light

Here are some important issues to consider when buying a light:
Get a barbecue light that's cordless to ensure that there are no trip hazards around the cooking area. After all, you're buying this because it is dark, any cables running across the floors are just asking for trouble.
Make sure it's an LED light for efficient power consumption and good visibility. If there's no cable then it has got to be battery operated. Modern LED lights are extremely bright yet use little power so they are perfect for a long cookout.
Look for one that clips onto the Barbecue and has a flexible neck (preferably longer than 15 inches). This will help you direct the light where you need it to be and it also means that you aren't forever un-clipping and re-clipping it.


Following on from the flexible neck, there are those that clip onto the opening bar of your grill lid. These work pretty well too but I prefer the flexible neck so that you can really direct the light where you want it to be.
If you are looking for something that works and won't cost you the earth then check out the Fulcrum 6 LED Multiflex Clip On BBQ Light. I've found this to be excellent value for money, it works on AA batteries which are cheap and it has a good even spread of light without any hot spots.

---
Patio Solar Lights

The technology advances made in solar lighting in recent years really now means that this industry is going to take off in a massive way. So when the night's draw in this fall there's a new environmentally friendly way to enjoy safe barbecue evenings on the porch.
What I like about solar lighting is that there's no fitting out with cables or messing around with electricity in any way that could be construed as dangerous. Each light has its own panel on it to harvest the suns rays and therefore is its own self contained unit - nothing to trip over!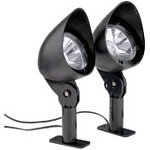 What Is Solar?

It's basically a light powered by a highly efficient rechargeable battery that's connected up to a solar panel known as a photovoltaic cell.
How Long Do The Lights Stay On For?
A fully charged battery will last for approx ten hours. The re charge rate is dependent on the amount of sun that the solar cell gets.
How Bright Are The Lights?
To be fair they are not as bright as standard lights but if you position them well, the more subtle lighting will really complement your BBQ area.
Can I Get Replacement Batteries And Bulbs?
For batteries the answer is yes, but it's not something you'll be doing every month as the batteries typically last for 1000 discharges. The LED bulbs are not replaceable but these typically last up to 25 years.
Click here to see solar light prices

See Also:-

Patio Umbrellas
More Grilling Utensils Tool Kits And Gift Ideas


Return To Home Page From Barbecue Light And Patio Solar Lights