Barbecue Veal Chops
So what is the best way to barbecue veal?.....Keep it simple. Veal is a subtle flavour so it's best not to over complicate things. Make sure you're bbq coals are hot hot hot!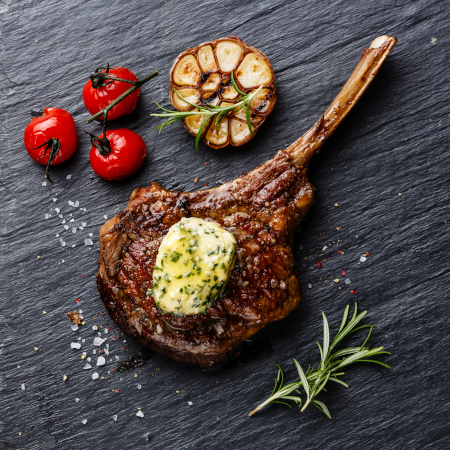 Veal comes from a young animal so the flesh should be comparatively light in colour, fine textured, pale pink, soft and moist. The should be very little fat and of that it should be firm and pinkish / creamy white.
Remember veal is from the cow so the same food safety rules apply as for cooking beef. It must be cooked all over on the surface to eliminate any possibility of bacteria but if it's pink in the middle then it's still safe to eat.
The touch test applies too - give it a prod, if it springs back it's medium and if it's firm it's well done. Read my guide for more information on this point.

Just like beef, I like my veal rare, not so that it is bloody, just nicely pink on the inside and I have stated grilling times accordingly.
On this occasion I've chosen to make a parsley butter but feel free to substitute your favorite herb if you so wish.
Serves:- 2 people

Preparation Time:- 10 minutes
Cooking Time:- 8 minutes

Total Time:- 18 minutes

Ingredients:-
2 veal loin chops 2.5 cm / 1 inch thick 225g or 8 oz each
2 tablespoons butter softened (but not liquid)
1 tablespoon Dijon mustard
1 tablespoon chopped flat leaf parsley
olive oil for brushing
salt and freshly ground black pepper
fresh flat leaf parsley to garnish
Method:-
First make up the butter by adding the mustard and the chopped parsley and give it a good mix with a spoon. To soften the butter a little you can give it a 10 second blast in the microwave.

Brush the veal with a little olive oil and season well with salt and pepper. Slap the chops on the grill and give them 3 - 4 minutes on each side.If using an instant read temperature probe then you're looking for 60°C (140°F).
For garnish I've served my barbecue veal chop with a few cherry tomatoes on the vine and a bulb of garlic sliced across the core and simply laid flat on the grill.

Serve at once with a teaspoon quenelle or rocher of parsley butter on top and a little parsley garnish. 
Note:- A quenelle is basically a pretty dollop of a soft substance like ice cream or mouse and you use a couple of spoons to shape it. It looks three sided whereas a rocher is a single handed quenelle, it's more difficult to do but looks more rounded in shape. I found this video helpful when learning how to make a rocher or single handed quenelle.

To accompany, check out my barbecue potatoes in crème fraiche.
And then how about topping off your barbecue veal chops with a nice glass of merlot?
Animal Welfare
It wasn't so long ago that veal calves were kept in tight pens and fed a diet exclusively of milk to make the meat look really white. Thankfully this practice is now outlawed in the UK and that's why the veal you buy today is more pink in color.
The rules and regulations for how animals are kept does vary from country to country and there are some counties still producing white veal so please make sure that any veal you buy is responsibly sourced.
In addition to the above and far from veal being close to the ethical boundary that we don't cross there's actually a positive reason to eat more veal.
Dairy cattle are not considered to be prime beef rearing stock. Female cows are kept by dairy herdsmen to replace their mothers and keep us fed with our desired dairy produce but (as happens with chickens) there is no use for the male calves and these are routinely shot before they are more than 48 hour old.
These male calves could be put to use for pink veal and therefore wouldn't be slaughtered until they were 6-8 months old. That's longer than either pigs or lambs so surely that's got to be a better quality of life for the animal and all the more reason to have barbecue veal chops back on the menu.
See Also:-
More Tasty Barbecue Beef Recipes
Information About BBQ Grills
Patio Furniture
Barbecue Construction