Healthy Barbeque Shrimp Salad
I just had to put up this healthy barbeque shrimp salad recipe for two reasons:
It's a great way of presenting your barbecue grilled shrimps.
My younger daughter decided to prepare this one night when were on holiday and she made me promise that I'd add it to the website
The basic point though is that a salad is really easy to make and such a great way to present shrimps either as an appetizer or as a healthy main course.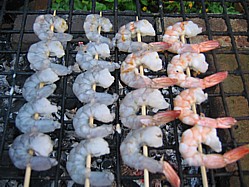 In the photo above I've used tiger prawns, removed the heads and outer shells except for the tail segment. It just adds a little extra to the presentation. Learn how to peel prawns here.

For hygiene reasons you might also want to remove the blue vein that runs down the length of the shrimp. This is the alimentary tract and so contains whatever the shrimp last ate before it was caught. Learn how to de-vein a prawn.

Generally leaving the vein in is neither here nor there (other than the fact that you know what it is) provided you know where the shrimps were caught. I only exercise this caution if the shrimps were farmed but if at all possible, if they are farmed, I don't buy them.
Serves:- 4 people
Preparation time:- 25 minutes
Cooking time:- 5 minutes

Total Time:- 30 minutes

Ingredients:-
24 shrimps (size 15 / 25) peeled and de-veined
1 bag salad leaves
1 Avocado (small dice)
1 Small apple peeled and diced
One lemon cut into wedges

Marie Rose sauce
Olive oil
Lemon Juice
Sea salt flakes

Method:-
The shrimps are then threaded onto skewers as shown and then grilled for about five minutes over hot coals. Turn them once to ensure that they are cooked on both sides and you'll know when they are ready because the grey translucent flesh of the shrimp will have turned opaque white and the shell on the tail will turn pink.
Don't be tempted to overcook them because they'll just dry out and get chewy.
While the shrimps are on the barbeque rustle up the salad leaves, diced apple and avocado to build your salad. Place the grilled shrimps on top, sprinkle with sea salt and drizzle with olive oil to give the salad a wonderful sheen. Add the wedges of lemon.

TIP - Use the lemon juice to toss in the avocado and apple, this will stop the diced pieces going brown prior to serving.
The traditional sauce for a healthy barbeque shrimp salad is a (not quite so healthy) marie rose sauce and if you're not familiar with the name it's basically a home made Thousand Island dressing. Infinitely superior because it's homemade and it can be made in seconds! Here's the sauce recipe.

Ingredients:-
2 tablespoons tomato ketchup
2 tablespoons mayonnaise
1 teaspoon lemon juice
1 teaspoon Worcestershire sauce
Method:-
Mix up equal quantities of ketchup and mayo until you have a consistent pink colour running through the sauce. Now add add a good splash of lemon juice and a shake of Worcestershire sauce, stir that in and you're ready to go.
You can spoon on the sauce whilst still in the bowl but I prefer to let guests add there own once served.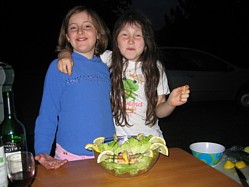 If you're looking at the picture above and thinking what's the difference between this and a prawn cocktail well probably not much but hey, it's still a great idea, it brings it up to date, it tastes great and Lucy was only 8 when she did this after all!
She'll be pleased as punch to see her recipe up on the web and really happy to know that many of you have made it. Enjoy your healthy barbeque shrimp salad!
See Also:-
More Healthy Barbeque Recipes
Thai Grilled Marinated Shrimp Recipe
Grilled Shrimp Kabobs
BBQ Sauces
Grilled Seafood Recipes