Crock Pot Barbecue Pulled Pork

This crock pot barbecue pulled pork recipe is relatively quick to prepare and when finished you'll have that fall off the bone texture that you've been looking for.
To finish it off I recommend that great all-rounder the Memphis style barbecue sauce which you can make up in 30 minutes.
The crock pot barbecue pulled pork recipe uses a small hunk of pork shoulder, the classic cut for pulled pork. The way the muscle sits, the shoulder can be butchered into 5 pieces using a knife as your butcher. I like to use the piece known as the shell, it has a layer of fat that you will have to remove but it's completely boneless and when cooked will simply fall apart in your hands.
This distinctive point about this crock pot barbecue pulled pork recipe is that the shoulder is cooked in a small amount of water together with garlic and onion and the sauce is only added at the end.
The crock pot or slow cooker perfectly mimics the low and slow cooking process of hot smoking, breaking down the connective tissues over a long period of time to produce that deliciously tender fall off the bone result.
Note:- Water doesn't escape from a crock pot like it would when roasting in a traditional oven or from the water bath in your smoker so there's no need to add much water to the recipe.

With that added water, garlic and onion, the results will be supremely moist and aromatic although you won't get the color or crisp exterior (bark) that you would expect from smoked pulled pork. With the final hour of cooking taking place in the barbecue sauce though, you'll hardly notice the difference.
You can use either a couple of forks or bear paws to pull it apart but I find the best way is a clean pair of rubber gloves and just pull it apart by hand.
Traditionally pulled pork is served as a sandwich in a bun with a coleslaw side and just because you've prepared it in the slow cooker there's still no better way.
Serves:- 6 to 8 people
Preparation Time:- 10 mins
Cooking Time:- 10 hours

Total Time:- 10 hours 10 minutes

Ingredients:-
1.5Kg or 3.3 lb pork shoulder
100ml or 4 floz of water
2 medium onions, thinly sliced
1 onion minced
2 cloves garlic crushed
salt and pepper to taste
barbecue sauce of your choice
Method:-
Remove the skin and trim any excess fat from the pork shoulder. I left too much fat on this piece below, it didn't really affect the recipe but it's easier to take it off prior to cooking.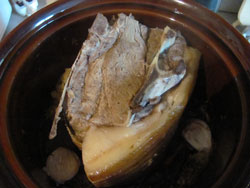 Place it in the crock pot, pour in the water and lightly season with the salt and pepper. Sprinkle the onions and garlic over the pork.
Cover and cook on "high" for 1 hour. Now turn to "low" and cook for a further 8 hours by which time the meat should be extremely tender. By all means check with a temperature probe that you've hit 90°C (195°F) but it will be pretty obvious - try to pull the pork apart whilst still in the slow cooker, if it doesn't separate then give it another hour.

When ready, remove the pork from the slow cooker, place on a carving board and let it rest for 30 minutes - just enough time to prepare your choice of homemade barbecue sauce.
Chop or shred the pork and then throw it back into the crock pot (onions and garlic still in there) and add your BBQ sauce. A ratio of 60% meat to 40% sauce is about perfect so if you have 600g (21oz) of cooked shredded pork you'll be able to add approx 400g (14 fl oz) of barbecue sauce.

Cook for a further 1 hour and you're ready to slap it in a bun!
Related Pages:-
More Crock Pot and Slow Cooker Recipes
Healthy Coleslaw Recipe - Don't Buy It!
Pulled Pork on the Barbecue Smoker


Return to Recipes Home Page from crock pot barbecue pulled pork