Electric BBQ grills are easily controlled (just turn the dial) and more or less instant, just flick the switch and you're ready to cook. They're also the perfect for anyone who wants to grill outdoors in a restricted area – maybe on a balcony outside your apartment or at a camp-ground where naked fires are forbidden. Clearly electricity as a power source does have its restrictions in that you need a ready supply of electricity so not a problem when at home or on a designated camp-ground but more problematic maybe when 'out on the open road'.
On most electric BBQ grills (Holland is the exception) you are cooking directly on a heating element and the advantage here is that you have an even spread of heat so everything cooks at the same rate. The downside however is that the heat produced isn't as powerful as the alternative afforded by gas or charcoal grills. This make searing steaks problematic but for most other cooking you can overcome this by allowing a little extra time when cooking.
Flavor-wise is it as good? I prefer charcoal for most applications and gas for searing.
---
Holland
The Companion
These grills fold up into a really neat package that makes them easy to carry. Clean up is pretty straight forward too for the griller on the move.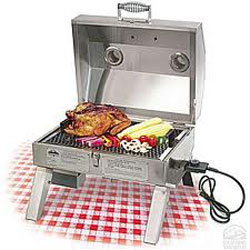 The power source is by way of a 1600 Watt heating element that conducts heat evenly across the grill.
As with any other Holland Grill, it comes with a drip pan situated between the food being cooked and the heat source so the food won't be able to catch fire as you cook it the food juices and flavors are thus kept locked inside.
What is extremely good about this grill is its size because in the U.S. it's linked to a 120 volt system (the U.K. for example is on 230) - you can't really get sufficient heat to cook effectively with a very large electric grill. This being small and compact it retains the heat extremely well although it may struggle in Winter time.
Note that you do have to grill with the lid down and this may be a bit disconcerting at first. This is because it a convector grill so it is working in a completely different way to cooking directly over coals / gas burners.
The upside is that you get particularly tender meat with this method of cooking. Another plus is that the grilling space is more generous than other similar models on available on the market.
Don't worry about not being able to see your food as it cooks. Think of it like putting something in the oven for 15 minutes, you wouldn't look at it every 3 minutes would you? You'd just trust and it's the same with these electric BBQ grills.
Ideal for singles or couple barbecuing in restricted heat source locations although the electric model might not be for you if you are going to use it more as a "go anywhere" portable grill. For that consider gas, here's the link to the portable gas version perfect for tailgating.
Vital Statistics:-
212 square inches of cooking
1600 Watt heating element
Exclusive patented Holland grilling system
All stainless steel construction.
Five year warranty.
---
Traeger Pellet Grills
These models are both electric BBQ grills and smokers. I reviewed them in my smoker section so use this link to learn more.
---
Weber Electric BBQ Grills
The Baby Q
The Weber Q grill is a small electric grill that is absolutely perfect for those who have to cook within the confines of a restricted zone (space or legal wise).
It's unfortunately a fact of life that not everyone is able to cook with an open flame gas or charcoal grill where they live - but fear not, for those of you who live in 'restricted' condos or apartments this weber q grill is the answer. Resembling an extremely large egg lying on its side, the Q140 sits comfortably on anyone's balcony and is electric powered.

Firstly, it's ever so easy to put together as it comes predominantly assembled. You cook directly on the heating element so don't be too ambitious when selecting the thickness of the meat you plan to grill – thicker steaks take a long while and I find them tough, whereas a thinner cut produces a more than acceptable seared look and flavor.
What also ticked a big box for me was that you can easily lift out the various integral parts for ease of washing in the kitchen sink or dishwasher.
For those with a deck, larger balcony or small backyard I suggest you get the cart.
The Weber Q electric BBQ grills are perfect for singles and couples alike. Picture space enough for about 4 steaks or 6 hamburger buns.
Vital Statistics:-
Gas Grill Dimensions 23. 5" H (with lid open) x 27" W x 20. 5" D
With total cooking area of 189 sq. ins
Infinite heat control settings
Stainless steel cooking grate.
1560 watts/120 volts
Built with sturdy glass-reinforced nylon grill frame
Cast aluminum lid and body
Aluminum heat retention liner
6-foot grounded cord
Removable grease catch pan
Limited Warranty on Weber BBQ Grills. Gas Grill Dimensions (in inches): 23. 5 H (with lid open) x 27 W x 20. 5 D.
See Also:-
Gas Grill Reviews
Barbecue Grill Comparisons
Barbecue Grill Accessories and Gift Ideas


Return HOME from Electric BBQ Grills Review