Electric Smokers Review
The principle of electric smokers is that they are fully controllable and that you don't need to tend them all the time. It's about the balance between clean and easy versus versatility.

You can go out for the day and not worry that you might return home to a dormant smoker. Even better still you can smoke through the night safe in the knowledge that you won't have to set the alarm to check on proceedings.
If you really want to get into the finer points of the art of hot smoking such as using different flavors of wood chip or learn how to get a wonderful pink smoke ring for example then you need to look elsewhere for something more rudimentary such as a charcoal smoker or a wood fired smoker. Learn more about the smoke ring and what causes it.

But if you are considering buying one then read on and we'll discuss the pros and cons, the top selling products and most importantly where to buy them cost effectively.
The Advantages Of Electricity:
It's clean, both from a point of view of your equipment and also some methods of electricity generation. Most electric smokers use what's commonly referred to as a bisquette (a compacted tablet of wood chips) or wood pellets (compacted sawdust). The bisquette or wood pellet is fed onto a heated electric element which smoulders and produces smoke. In other words, no charcoal, no burners, no mess.
Note:- In the case of wood pellet burners the heat element also ignites the pellets to burn them and produce heat.


Electricity provides pure heat without any bi-products. There's smoke with charcoal and a gas burner also produces carbon dioxide and water ans bi-products of combustion.
It's easy to control. Indeed on many commercially manufactured electric smokers there's usually a scaled dial just as you find on a kitchen hob. In a charcoal or gas smoker you are using a single heat source to produce heat and smoke, with electricity you have control over these two independently. Think of an electric smoker as an oven with separate smoke generating equipment. To this end you can set the temperature of the oven, set the rate of smoke production and walk away. Generally electric smokers give consistent results every time.
Electricity also gives you an instant response. Flick the switch and you're ready to go.
The Disadvantages:
Electricity is dangerous and extra care needs to be taken with outdoor use. If your electricity socket is external, make sure it's a safety socket otherwise use a socket inside your house. Don't use extension cables because not only does this increase the risks, you may also suffer from a voltage drop. In any event any cable lying on the ground represents a trip hazard.
Also ensure that your smoker in on concrete – both fireproof and a poor conductor of electricity.
Electricity and water don't mix. Electric smokers are not designed for use in the rain.
At the risk of making a subjective comment, is it right to say that because it's so controllable, it actually takes some of the fun away? The vast majority of electric smokers look like boxes rather than your traditional offset smoker. Traeger & GMG  being notable exceptions to the rule.
If the heating element in the unit simply kicks out heat then you won't get a good smoke ring because the smoke ring is caused by the nitrogen oxide emitted during high temperature combustion of wood. This doesn't however alter the flavour
Smoker Cabinet Or Wood Pellet Grill 

It's chalk and cheese, despite the fact that they both run on the same power source I don't think you can categorise them the same or even talk about them in the same breath. I love my Grillson wood pellet smoker and I hated my Bradley cabinet smoker. 

Wood Pellet Smokers
These units use a continuous feed of wood pellets to both create the heat and the smoke for cooking. The look more like a tradition barbecue grill and act like one too so if this is what you're thinking of then check out my page reviewing the best wood pellet smokers.

Cabinet Smokers
The units typically have two separate heating elements, one to create the heat and another one to create the smoke. What I don't like about them is that (in the cheaper models) there's only one heater element, it's not protected by a baffle plate and the cabinet insulation is insufficient.
This all adds up to an uneven heat distribution through the cabinet so that those items closest to the heater element will cook quicker than those further away. Probably not a great issue if you're only doing a small quantity and can take some time to manage the process but when doing a full cabinet, frankly I found these lower cost cabinets poor - especially at lower ambient temperatures.
Dare I say it, if a cabinet smoker is exactly what you want then my fuel of choice would be gas.

Brands Available
Some of the more popular electric barbecue smokers are listed below.
If you've thought about buying an electric smoker because of the convenience angle then I hope that my review will help you make your decision.
---
Bradley Electric Smokers
Bradley electric smokers are marketed at both the domestic user and commercial so whether you are a huntsman or a fisherman who likes for eat what's been caught or a butcher of deli, in theory there's a Bradley BBQ smoker in the range for you.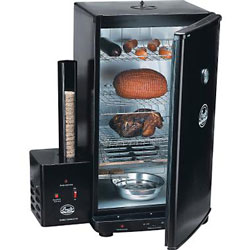 The key feature of the Bradley smoker is the bisquette unit that makes for a consistent repeatable process time after time. This will clearly be important if running your smoker for commercial purposes and for the domestic smoker, it does mean it's hassle free, no more constant tending of the coals, just set it and forget it.
That said, Bradley smokers will not give you a smoke ring.
Bradley is still a family run business, second generation. Back in the 1970s, so legend would have it, a deal was struck between Mr. Bradley Senior and a master food smoker. In exchange for teaching the master smoker how to catch salmon he would show Mr Bradley how to smoke the fish. Evidently the master smoker learned how to catch salmon and Mr Bradley learned the secret to food smoking – 'Control the smoke, plain and simple.' If not for this agreement there would be no Bradley company and no Bradley smoker.

These electric smokers automatically produce clean, cool smoke for up to eight hours safely and without supervision. The key is the self-loading Flavor Bisquettes™ that produce continuous smoke and are then extinguished automatically to prevent formation of gases and acids that distort taste'.
The basic smoker looks like a fridge with a smoke unit attached to the side. The bisquettes are automatically fed in and the unit will create a smoke environment for up to 8 hours.
The downside to the bisquettes is that you really do have to buy Bradley's own brand of wood chips which at their prices makes running costs at $2 per hour more expensive than perhaps another electric smoker. Likewise, if Bradley ever went out of business then you'd be stuck with a smoker and no bisquettes so no way of creating smoke.
You can of course make your own bisquettes. I found this video on You Tube that explains how to do it but unless you're into DIY in a big way then it's probably not for you.
There are 9 flavors of bisquette which should be enough to keep most folks happy but if you want to experiment with many flavors of wood chip then you might find this too restricting.
The remains of the bisquettes drop into the drip tray, again making for a easy cookout and easy clean up but at the same time there's no way that you can use any of the drip tray for gravy.
Between the food racks and the heater element is a smoke deflector baffle plate, this stops drips from the food soiling the heater. Sadly it doesn't stop the drips landing on the bisquette heater and this can get "mushed up" and you get incomplete combustion of the bisquette. It also means that every once in a while you have to scrape the bisquette heater to ensure that the heat is getting through to the bisquette. It's not difficult, a spade head screw driver does the trick - it's just a pain.
It all fits together really easily and logically. I have a digital version and had it up and running for the first time within 30 minutes of unpacking.
The general consensus is that when it comes to cold smoking or at temperatures up to 240ºF (120ºC) then this unit is hard to beat although I have to dispute this. My experience is that even when set at the maximum temperature my Bradley rarely tops 212ºF (100ºC), this can make smoking pork butts a bit of a chore and if you want to do things at higher temperatures such as 300ºF or 150ºC so that you can crisp up the skin of poultry then look elsewhere, this smoker is not for you.
Note that the heater element is in the bottom of the unit so items on the bottom shelf do tend to get "cooked" a lot quicker than those elsewhere.
I find that getting it up to temperature can be quite a slow process, especially when the unit is full. Initially I complained to Bradley and they sent me a new heater element stating "The heater elements sometime fail and as a matter of course should be changed annually" - something that I didn't factor into my running costs.
Other points to note include the fact that the amount of smoke produced is quite intense so take care when
a) locating the unit and
b) stand well back after immediately opening the door whilst cooking.
Clean down is fairly simple:

Remove the racks and scrub
Remove the baffle plate, soak and scrub
Empty the bisquette collection bowl and wipe out
I have experienced a couple of error messages with my digital smoker and this might save you some time:
Error message "E" coupled with a bleeping sound - this means that there is an error with the bisquette feed mechanism. Take the box apart and use a hair-dryer to blow away any dust around the small grey feed control box, check that all wire connections are good and try again. If this doesn't work, you will probably have to replace the grey box.
Error message "EI" again coupled with a bleeping sound - check the cable between the control unit and the smoker, remove the single jack cable, turn it around and plug it back in again. This usually does the trick.
Finally a good piece of news if these tips don't work. The Bradley customer service is manned by real human beings and they are responsive to resolving issues. In fact I've found them to be very helpful.
The Standard Smoker
Automatic smoke generator
temperature is adjustable up to 320° F. The internal cooking area is nearly 3.3 square feet.
Size: 31-1/4" x 24" x 14-3/4".
Available in Stainless Steel or Black
Provides eight hours of smoke without refilling
Electric heat element
---
The Digital Smoker
The top of the Bradley smoker range now is also digitally controlled for the cooking time, smoking time etc so perfect results every time and it really does mean that you can set it and forget it. They digital smoker comes in two sizes, one of 76 liter capacity (4 rack) and the other of 108 liter capacity (6 rack).
4 Rack
Size - 18 x 20 x 34 inches with generator on side
Weight 43 pounds
Exterior is of powder epoxy steel
Full Digital Control
4 Cooking Racks (11" X 13" cooking space each)
8 hours of controlled cool smoke
Cooks meat, chicken, pork and fish
9 different flavors of hardwoods
6 Rack
Size - 17"W x 14"D x 39"HT - 24"W with Generator on side
Weight 71 pounds
Exterior is of powder epoxy steel
Full Digital Control
6 Cooking Racks (11" X 13" cooking space each)
8 hours of controlled cool smoke
Comes with Rectangular Tray and Drip Bowl
Cooks meat, chicken, pork and fish
9 different flavors of hardwoods
---

The Smoke Generating Unit
Bradley also sell the smoke unit independently so that you can make your own smoke house. For more information on this unit and other more cost effective methods check out my review of cold smoke generators.


The bisquettes come in all the "usual" flavours in packs of 48 or 120. For a guide on which woods are best suited to which foods click here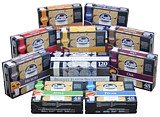 ---
Brinkmann Electric Smokers
Brinkmann Bullet Smokers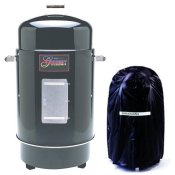 The Brinkmann bullet smoker consists of an electrical element for the heat provision topped off with lava chunks onto which you place the wood chips for smoke generation. There's then a water bath and food racks on top of that. Diagrammatically shown below this is a simple system that should work a treat.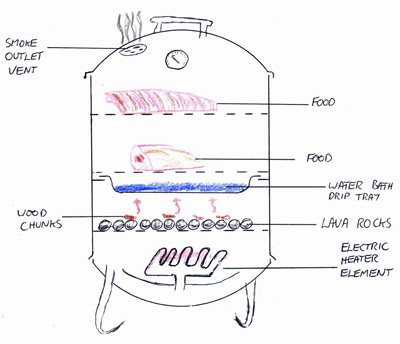 Brinkmann electric smokers hold up to 50lbs of meat, they all have a 1500 Watt heat element and "stay cool" handles. All models have an outside diameter of 17 inches. The main differences between models are the height, whether they have a hinged front door and the color and on that basis some appear to be better value than others but frankly I'm not a fan.
Here are the negatives:
They are made of cheap thin metal. Whilst it might cook at the right temperature in the Summer, it won't get up to temperature in the depths of Winter. I've heard some stories of "lagging" the outside with a hot water cylinder jacket to maintain cooking temperature but if I buy a smoker I expect it to work.
There is no option to regulate the temperature, it's just on or off. A nightmare when you consider this coupled with my first point
There's no thermometer gauge
Sadly Brinkmann appear to be yet another barbecue manufacturer that has chosen Chinese manufacturing using the cheapest materials rather than high quality and it shows.
If you really want to buy one then you'll find the best price at Amazon but I wouldn't waste my money on something that only half works.
---
Charbroil
Char-Broil has been making gas grills since 1948 and is now America's oldest and largest grill brand. They are headquartered in Georgia but (here we go again) their grills and smokers are manufactured in Shekou, Guangdong Province, China.
I've nothing against Chinese manufacturing per se but when it's coupled with cheap construction materials and a lowest cost manufacturing mentality then it's a recipe for disaster. Whatever happened to quality?
We haven't recently had the opportunity to use any Charbroil electric smokers recently so my comments follow conversations whilst out and about swapping stories with other smoke enthusiasts.
Some of the units are poorly insulated and don't get up to temperature.
Cheap components mean regular stories of unreliability and failure.
The only positives I hear are that the components are dishwasher safe, some consolation.

An electric smoker should be "set and forget" yet I hear many people saying that they need time to learn how to use their smoker. They're not for me but they are competitively priced so if you need something cheap then maybe worth a punt.

---
Cookshack Electric Smokers
The Cookshack smoker range is proudly built in Ponca City, OK in the USA and as soon as you catch eye of it you can see that these babies are just as much aimed at the commercial market as the backyard smoker.
In addition to what you see below, Cookshack also produce a range with the Fast Eddy's branding. What's the difference? The Fast Eddy models use the wood pellets in the oven heating process and this guarantees a great smoke ring. In fact the Fast Eddy range is so good and so consistent that some have tried to get it banned from competitions!

Looking somewhat like a stainless steel 'safe' these smokers are 'top of the charts' when it comes to customer votes offering both the performance of a competition barbecue with very little of the effort. A great all-rounder...for sure they are more money than the Bradley...but at least they work!
The Smokette Elite
The 850 degree Spin-Glass insulation keeps this unit safe and cool on the outside. An electronic controller provides perfect smoke cooking as you initially set the desired cooking temperature and then monitor the internal meat temperature with the (included) meat temperature probe. With 'restaurant inspired digital technology' – an LED panel displays the cooking temperature as well as the internal meat temperature.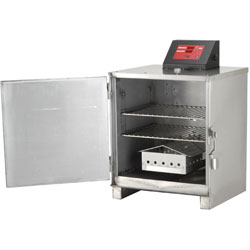 Holding 20-25 lbs this smoker is big enough to hold full slabs of ribs or whole briskets.
All you have to do is simply place a small of wood in the smoker box, load the meat, insert the meat probe, shut the door, set the temperature with the digital controller, and leave it alone until you are ready to eat!' What could be easier?
Clean up isn't too much of a chore either. When you have finished cooking (and eating) then remove the grills and racks and put them in the dishwasher or wash them in the kitchen sink. Drippings are contained in a stainless steel drip pan.
This is one impressive smoker.

Vital Statistics:-
Size: Height: 31.75 inches, Width: 20.5 inches, Depth: 19.5 inches
Weight: 93 pounds
Easy to use digital controls
20 - 25 lb capacity
Meat probe temperature controller
140 - 300 degree temperature range
850 degree Spin-Glass insulation
Two 18 x 14 inch nickel plated racks
Stainless steel wood box
Four 3" locking casters
---
Cookshack Amerique
"The ultimate in computer controlled backyard smoking!"
So what exactly is this 'wunderkind' technology to which the manufacturer refers? Well, the AmeriQue electric smoker allows you to smoke your meat at the temperature and time set by you. Firstly you set the desired internal meat temperature using the meat probe thermometer and the actual smoker cooking temperature, probe temperature and remaining time are clearly displayed on an LED panel. Finally the smoker automatically enters a 140 degree hold cycle once the desired temperature is reached.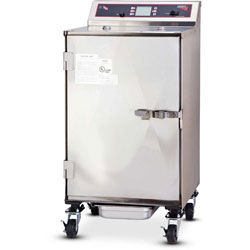 It does resemble an old style washing machine (on wheels) with its control panel on the top and its 'safe-like' door but it can handle up to 50 pounds of brisket or pork, 28 pounds of pork ribs, or even 8 whole chickens.
As with all Cookshack electric smokers clean up after use is a breeze. The removable grills and racks go straight into soapy water in the kitchen sink or even the dishwasher. Drippings are contained in the stainless steel drip pan.
A big beast this smoker is ideal for large cookouts – spoil the whole family, heck, the entire neighbourhood! It 'ain't cheap but it sure is worth it!

Vital Statistics:-
16 and 18 gauge stainless steel construction
Size: (in inches) 20 1/2 W x 21 1/2 D x 39 1/2 H.
1008 square inches of total cooking space
850 degree Spin-Glass insulation
Four 18 x 14 inch nickel plated racks
50 lb capacity
300 degree max smoking temperature
A meat probe for accurate internal temperature
Stainless steel drip pan
Cookshack electric smokers are also available in the UK through their appointed agents.

---
Electric Smokers By
Smokehouse Products
Smokehouse or Luhr Jensen? What's in a name? Well, quite a lot actually, for although Luhr Jensen electric smokers are now Smokehouse Products the brands Little Chief smokers and Big Chief Smokers are still amongst the best-sellers in their respective classes.
"Succulent, smoked meats that are full of flavour are created in simple steps" it is claimed. But here we go again, my biggest complaint with all these smokers is the lack of insulation.
I can only regard these boxes as a smoke flavouriser, to actually cook meats you need to put them in the oven after a few hours in the smoker. If you can hack it then fine, these low cost boxes will work well for adding smoke flavour and without the need for special bisquettes of wood pellets but in my book they should cook as well.
To be fair, you can buy an insulation blanket to help keep heat in but there's still no way to regulate temperature and I have heard it said that the upended cardboard box that your smoker is delivered in works just as well!

Mini Chief
The compact sized Mini Chief smoker is perfect for RV and camping. Both of these units are made of aluminum and have light duty heating elements. 
All Mini Chief and Little Chief smokers are 'guaranteed to be free from manufacturing or component defects for a period of 2 years'.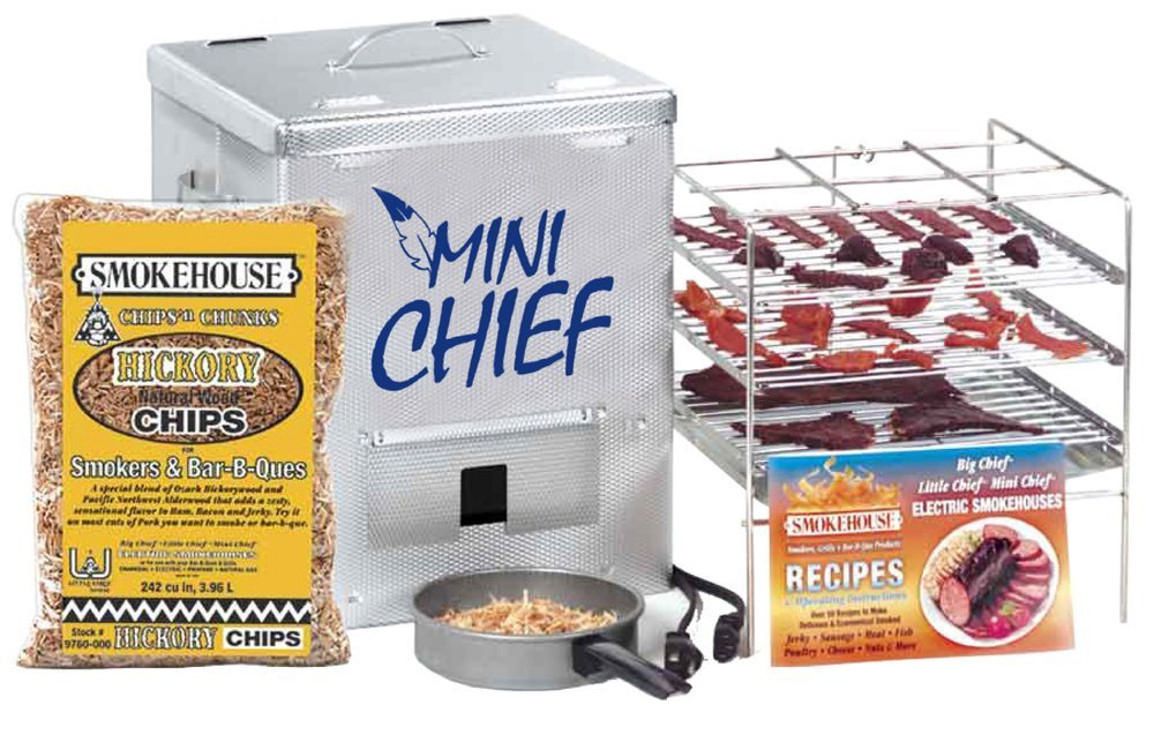 3 chrome plated grills
Comes with 1 3/4 lb bag of wood chips
Powerful heating element
Smokes up to 15 lbs of meat per load.
Size: 14 inches H x 11.5 inches W x 11.5 inches D.

---
The Little Chief
The Little Chief smoker comes in two versions - top or front loading - and to be fair is advertised for general smoking and low temperature smoking - no mention of cooking!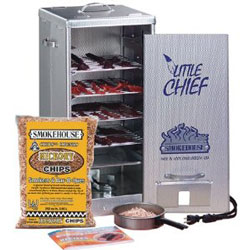 This neat Little Chef Smoker will smoke up to 25 lbs. of meat or fish in total and easy clean up.
250 watt electric smoker
4 grills
Aluminum walls
Top load smoker
Removable rack
Size: 24.5-inch Height x 11.5-inch Weight x 11.5-inch Diameter
Includes electric cord
Flavor pan also included

---
Big Chief Smokers
Here's where maybe the budget argument definitely runs out. It provides the smoke but definitely not the final cooked goods, particularly with larger cuts of meat or bigger birds so things need to be finished off in the oven. It is therefore not recommended using this smoker to cook large cuts of meat for more than a couple of hours but good for jerky and smoking fish and meat in moderate temperatures.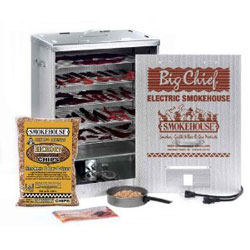 The 120 Volt 450 Watt 4 Amp heating element operates at 165 degrees and can be used with standard 110 volt household current, 3-Wire Plug and Cord grounded to body of smoker. Do use a properly installed ground fault interrupter (GFI) circuit and for obvious health and safety reasons stand the unit on a concrete or other non-combustible surface and place it at least two feet from any combustible materials. 
Overall a large capacity smoker for not much money at all but be prepared to cut and run to your oven after a few hours.

So the Big Chief is a low cost domestic unit more suitable for large family gatherings and parties respectively but for something more robust, then the Big Chief II is a commercial quality portable electric smoker that competes with the likes of Bradley and Masterbuilt. Big Chief Tuff-Coat Front Loading Smoker versions come in fabulous black or red colours.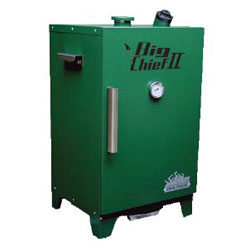 The Super Big Chief is capable of temperatures from 150°F to 450°F which means that you can cook any kind of food as quick or as slow as you want. The hardwood pellets are burned in a forced air system with the smoke circulating through the cabinet. With its front temperature dial this machine really does look like a safe (but with a smaller sidekick!)
Vital Statistics:

Big Chief

Size: 24-1/2" H x 18" W x 12" D.
120 Volt 450 Watt 4 Amp Heating Element operates at 165 degrees
Use with standard 110 volt household current
3-Wire Plug and Cord grounded to body of smoker
Durable, Embossed Aluminum Construction
5 Easy-Slide Chrome Plated Grills
Vented for proper Dehydration
Guaranteed to be free from manufacturing or component defects for a period of 2 years
220V 450 Watt 2 Amp Export model also available
Big Chief II:
Made of high grade tuff-coated 20-gauge steel and an interior of heavy food grade stainless steel.
Automatic temperature control ranges between 100°- 300°F.
Smoke using wood chips, chunks or pellets.
Grease collection tray
Power: 120V 60 Hz 1500 Watts 12 Amps
Size: Outside dimensions: 37" H x 23" W x 22" D
Total Weight: 93 pounds including packaging
10 square feet of grill space Holds 100 pounds of food
Easy Read Temp Dial
Heavy Duty Handles
5 Quality Plated Grills 15" x 19"
1500 Watt Electric Element
Fuel Pan >
Heavy-duty back wheels
Stainless steel handle
Super Chief Electric Pellet Smoker:
Size: 36" H x 20" W x 17-1/2" D
Hopper: 15-3/8" H x 11" W x 13-5/8" D
Weight: 94 pounds
120V AC - 60hz 8.88 sq. ft. of adjustable rack space with 4 removable racks.
---
Masterbuilt Electric Smokers
The 30-Inch Electric Smokehouse
At last! A budget electric smoker that actually works. It's no surprise to me why this is the most popular Masterbuilt smoker. The reasons why become transparent once you have unpacked and cranked this lovely 'little' smoker up.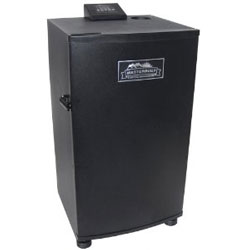 The Masterbuilt Electric Smoker Offers Amazing Value For Money
This Masterbuilt has a 100-percent insulation for energy-efficient cooking and being this well insulated in addition to its economy of running are two important factor to take on board - particularly if you plan on smoking on a regular basis.
The whole unit looks squat and 'chunky' but this just reflects the fact that the insulation is to the standard that it should be to retain heat for cooking.
I love the digital technology. With its push-button control panel (located on the top for both time and temperature) it can smoke evenly from anywhere between 100°F to 275°F. The bottom line is that you can hot smoke most meats consistently without having to resort to the kitchen oven halfway through the process.
Note - It's a four rack design but when smoking big hunks I found that keeping to just two racks helped. Any more and you start to strain the capacity of the 800W electric heater element.

I also enjoyed the 24-hour timer that automatically shuts the unit down at the specified time. Note: You will still need a separate digital thermometer to measure the internal temperatures of the meats though.
This unit includes an air damper for better smoke control (to me this is a good idea so there's less chance of stale smoke build up in the food chamber. It also has a safe and convenient side-loading wood tray, a removable drip pan and rear-mounted grease pan that make it so easy to keep clean.
2-1/2 cubic-foot electric smoker
Size: approximately 19-1/2 by 18-2/7 by 34 inches
Weight: 51 pounds
Powder-coated steel exterior
4 smoking racks
Push-button digital control panel, 24-hour timer, auto shut-off
Thermostat-controlled electric temperature
Insulated for energy-efficient cooking
Air damper
Side-loading wood tray
Removable drip pan and rear-mounted grease pan

---
30 Inch With Window and RF Controller
You can also buy the 30-Inch Electric Smokehouse in the more upmarket guise "with window and RF controller" but are these luxuries worth it?
The glass window is fine as a design concept but once the unit is smoking away at a full rate of knots then, obviously, the picture becomes 'clouded' somewhat but you can still peer through and see well enough. There's also a neat internal light to help when loading and unloading the meat into/ out of the unit.
Inevitably you will have to clean the glass from time to time.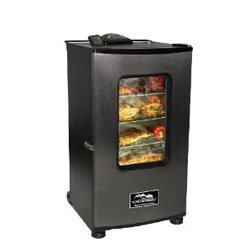 Now how about the RF controller? Well programming of the digital control was very straight-forward and the remote control is amazing. It not only allows the monitoring of the smoker's overall temperature but also the temperature of the meat probe. Too much heat? Simply open the vent up a little, brilliant! Adding wood chips is a breeze and the unit uses far less chips than one might expect.
To conclude I love this smoker... as far as electric smokers go because it represents great value for money.
Masterbuilt 30" Electric Smokehouse Smoker with Window and RF Controller
Viewing window and internal light
Size:18.5 x 18.3 x 33.5 inches
Weight: 49.9 pounds
Push-button digital time temperature and time control panel
RF Control
Chrome-coated smoking racks
Convenient side wood-chip loader with removable drip pan
Rear-mounted grease pan

Traeger Electric Smokers / Pellet Grills

Not all electric smokers have to look like a fridge or safe and Traeger know how to demonstrate this perfectly!

Until recently Traeger electric smokers have been the preserve of North America but coming under new ownership in 2014 they clearly aspire to more. The great news here is that I've been able to get my hands on a Traeger Timberline 850 and put it through its paces.
The operating design of a pellet smoker is best explained using this diagram.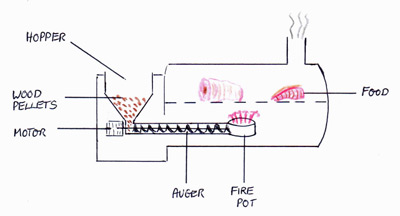 Wood pellets are fed by auger (screw thread) to a central fire pot where they are burned to create smoke and heat.

Powered by electricity, a microprocessor control board regulates the burn time of the wood pellets (based on the desired food chamber temperature) and the speed of the fan which circulates the hot air around the food chamber.
A baffle plate sits between the fire pot and the food to prevent burning and the fan ensures that the grill tray is surrounded by heat. Traeger claim that this eliminates the need for turning the food even to the extent that you can do a pizza in it although if cooking whilst the ambient temperature is low I would question whether the food chamber is going to hold sufficient temperature for pizza.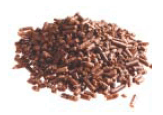 The pellets are manufactured from sawdust and after a heat and pressure treatment forms a nice clean easy to use fuel. Wood pellets are available in Alder, Apple, Cherry, Garlic, Hickory, Maple, Mesquite, Oak, Onion and Pecan.

Generally speaking the Traeger is a unit that you can pretty much set off and leave although one of our readers has pointed to the occasional blockage in the auger, and another confirms my point about insufficient maximum heat for steaks and pizza.
Certainly what I've seen of the Timberline 850 suggests that some of these negatives have been addressed but I still think that there's some way to go before I'd be putting my hand in my pocket for any electric smoker.
See Also:-
Voice Your Opinion On A Barbecue Or Accessory Item
More Information About Barbecue Smokers
Information About BBQ Grills