Grillson Pellet Smokers And Grills
Grillson pellet smokers and grills take outdoor wood fired barbecue cooking to a different level in design, quality construction and cooking technology.  

Star Rating
★★★★★ - Grillson Pellet Smokers will appeal to those who want their outdoor cooking to be:
The most up to date technology
Contemporary in design
Different from anything else
Grillson Pellet Smokers Contemporary Design
When you think about a pellet smoker or grill it's fair to say that Grillson is probably not the first name that's going to trip off your tongue because these types of grills have been the preserve of American companies such as Traeger and Green Mountain Grills.
In 2010 the German manufacturer Grillson came on the scene and in 2014 pioneered the use of mobile app technology for cooking control and most importantly they fundamentally changed the pellet burning technology that underpins the performance of a pellet smoker / grill.
The Grillson Range

There are just two models in the Grillson pellet smokers range both designed to appeal to a distinct customer demographic although neither of which could be described as the "budget" market.
Grillson pellet smokers are built without compromise to either style or build quality. Both are manufactured in Germany to contemporary designs unlike anything else on the market:
Bob Grillson - Sleek lines, a higher powered burner, WiFi control via mobile app, battery operation and two meat thermometer probes*.

Leif Grillson - The young pretender with more angular lines comes with all the same thermal attributes and cooking grate size but with a slightly lower powered burner and fewer remote control options. (Leif Grillson Premium includes WiFi control via mobile app battery operation and two meat thermometer probes*).
*Top of the range "S" models feature wireless probes. 

They have to be the most beautiful barbecues that I have ever seen.

Birth Of A New Technology

The first thing that I noticed was that the patented burner technology is completely different to any other on the market. Pretty much all pellet burners use an auger to feed pellets to a central fire pot sited under a baffle plate.
The fire pot is where the pellets are burned to produce both smoke and heat which is then distributed around the food chamber to cook the food.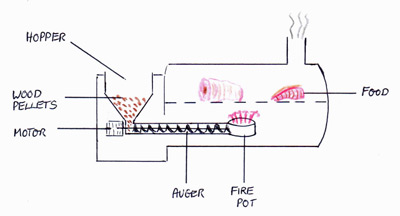 Between the fire pot and the food rack is a baffle plate (a solid tray of metal) which in conjunction with the air flow system protects the centre of the food chamber from developing a hot spot. It works... to a greater or lesser extent. The main complaint is that the conventional pellet smoker exclusively delivers convection heat to the food chamber, great for smoking but compromising its use as a grill.

Grillson Pellet Smokers Patented Technology

Grillson have taken the whole burner technology to a new level and this is a critical differentiator between Grillson pellet smokers and any other pellet smoker / grill on the market. This revolutionary technology delivers the following benefits:-
It eliminates the need for the baffle plate by use of a diffusor
The diffusor delivers not just convection heat but direct radiated heat to a variable amount of the grill grate area - perfect for searing meats
You can cook food at up to 400°C (750°F) which (with the optional pizza set) makes epic pizza
There is an easy clean pyrolysis setting which basically vapourises food debris at 500°C (930°F) - no more scrubbing grill grates

The flow diagram below demonstrates how the burner technology in Grillson pellet smokers is a significant improvement for even distribution of both heat and smoke.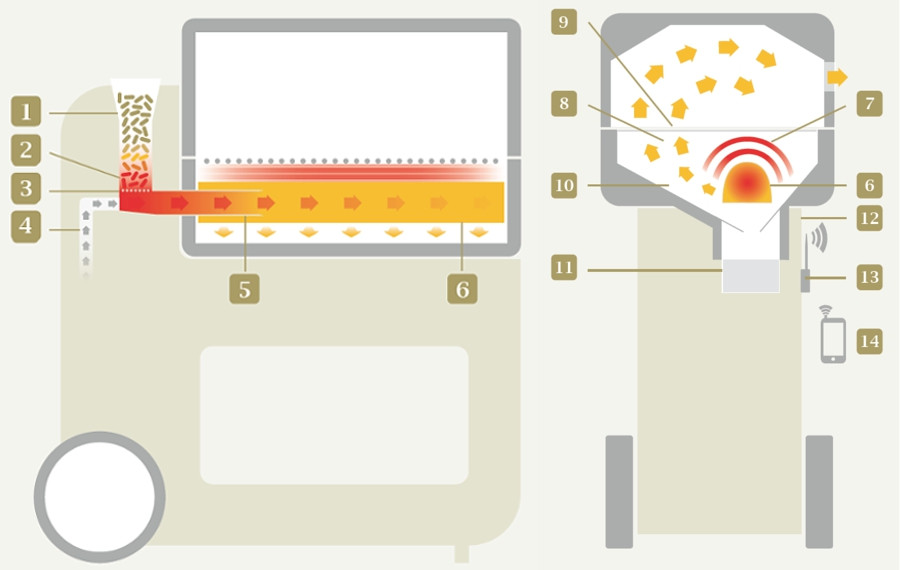 Gravity fed pellet hopper



A glow plug ignites the wood pellets

The wood pellet fire sits on a grill grate at the base of the hopper funnel

A controlled air jet regulates the wood fire and thus the temperature
Fire radiates from the

burner

into the diffusor.
The

diffusor

produces radiation and convection heat in the grill area.

Radiation heat

is delivered from the diffuser directly to the grill area.

Convection heat

circulates in the grill area
The

grill grate

is heated up in an indirect and even way
The inclined surface of the base allows fat to flow away so no flare ups

The

fat collection basin

is a removable drawer that you can easily empty
Two

meat thermometers

help you obtain perfect grill results (these are wireless on the Bob Premium S)


Wi-Fi

: Bob (and Leif Premium) connects with your smart phone directly or via the local Wi-Fi network
Your

smart phone

can control all the basic grill functions
Unpacking, Assembly & Start Up

It doesn't get better than this. Grillson pellet smokers arrive fully assembled on a pallet so all you have to do is lift one side, wheel it off the pallet, insert the diffuser, cast iron grill grates and plug it in. 
(Note: Both Bob and Leif Grillson pellet smokers are heavy so I would recommend two people to lift it off the pallet)
The wood pellets come in sealed 20lb (9.07Kg) bags and it's important that once opened your wood pellets are kept dry. As you'd expect, Grillson make airtight containers specially for this purpose.
Once plugged in, to start you switch on the Grillson by lifting the grill lid, turning the temperature dial and looking down the hopper to check that the glow plug is working.

When you see the glow plug glowing, add half a scoop of wood pellets. You'll notice a bit of smoke during this first 2 or 3 minutes ignition phase and there will be no increase in temperature. After a couple of minutes you'll hear the air pump kick in and then it's time to close the lid, add more pellets and watch the temperature climb. I found that it took about 20 minutes to get up to 300°C (570°F)

Overall Performance

The Grillson patented burner technology drives a massive wedge between it and any other pellet grill / smoker on the market. You'll struggle to take a regular pellet grill over 250°C (480°F) but thanks to the burner technology and the double skinned insulated food chamber Grillson temperatures just keep climbing. So to test overall thermal performance I just had to go for steaks and pizza.
The diffuser has a handy U shaped sliding gate on it so that you can differentiate between direct heat and indirect heat. Move the gate halfway down the diffuser, the left side (closest to the burner) delivers direct heat and the other side offers excellent convection heat. 

On this occasion I had the diffuser gate fully open because I wanted to test direct heat quality right across the cooking grate.

The grill grates are triangular in cross section in theory to attract as much heat to the flat underside and to concentrate it in the pointed top side to deliver good sear marks. Well it certainly ticked that box.

Just over the 20 minutes and I had my test Grillson up to 350°C (660°F) using the standard diffuser. (There is also an optional perforated diffuser that allows more direct heat through to the food chamber).

Two minutes on each side delivered a good crisp caramelisation to the exterior and a supremely juicy and flavourful steak.
Note: The smoky flavour was delicate and this is because the hotter the grill, the more complete combustion and therefore the less smoke.

Convenience
As I said at the top, Grillson pellet smokers come fully assembled so none of the frustrations of having to build the cart, it's pretty much as simple as plug it in and you're ready to play.

Battery operation is also possible on Premium models, open the side door where the control panel resides and you can insert and connect up a leisure battery. (A 110Ah leisure battery will deliver approx. 14 - 15 hours cooking time).
One gripe I have with Bob is that the standard sized pellet hopper is only 2Kg giving about 6 hours smoking time. If cooking pulled pork for example then you're going to need to refill the hopper. 
Note: The hopper won't run dry on Premium models because the a pellet alarm notification is sent to your smart phone.

In addition Grillson have now produced a larger hopper but it's only available as an option at extra cost.

The extra large pellet hopper for Bob holds 7Kg of pellets which is enough to cook low and slow for 21 hours without refilling.

Leif however doesn't suffer from the same problem. With a hopper capacity of 5Kg you have approximately 15 hours low and slow cooking time between refills. I got the impression that one of the benefits of buying Leif is that it has design improvements built in. 

Other negatives for me include the lid which is heavy. You don't need to pump iron every day to lift it and you do get used to it but it can be a shock the first time lift the lid.
Lastly grill space isn't massive. At 373 square inches of grill surface it's not going to be the right choice if you're into large cookouts and even for my testing purposes I would have liked the warming shelf to have been a standard feature rather than an option.

Temperature stability

No arguments here and this is where you see the advantages of the heavy lid versus the flimsy lids found on most cheaper pellet grills.
Inevitably there was a loss of temperature when I opened the lid but the return to my pre-set temperature was swift when I closed the lid. Likewise temperature fluctuation during cooking was minimal although I noted that the best regulation and monitoring of the temperature is by the dial and app, not by the lid mounted thermometer. 
My test facility didn't allow me to test absolutely for any changes in fuel consumption at lower ambient temperature but I think it's is safe to say that Grillson pellet smokers are going to perform consistent with the laws of insulation and thermodynamics so grilling into the Autumn and Winter is a distinct possibility... and thanks to Wi-Fi I don't need to continually go outside and check the temperature!

Wi-Fi Control Using An Intuitive App

Grillson pellet smokers were the first to introduce a cell phone app that can control the grill through Wi-Fi. There are upgrades coming for 2018 to improve the app but what I saw was pretty impressive (available for both iOS and Google Play).
The Wi-Fi kit comes as standard on the Bob and Leif Premium models but if you've got one of the standard models then you can buy a kit to upgrade. It costs slightly more than buying the Premium model off the shelf but it's pretty simple to make the upgrade at a later date if you can't justify the expense first time around.
Activating the app simultaneously de-activates the dial control on the front of the grill. I used the app to do a 2 zone trial on a hunk of beef.
Setting the diffuser for half indirect and half direct cooking
Using one of the two wired temperature probes to monitor the internal temperature of the beef
Setting the app by selecting the type of meat (beef, pork etc.), the cut of beef and lastly how I preferred it to be cooked.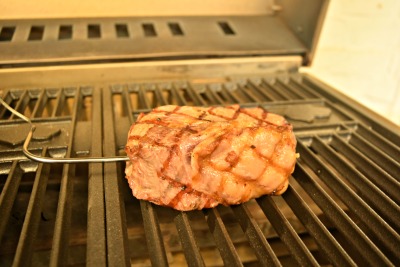 The wired probes are fed through the vents at the back of the lid. To go completely wireless, choose the Grillson Premium "S" models.
To finish the beef off to perfection I used the "ramping" feature on the app. This gradually minimises the heating power as you get close to the desired temperature so making sure that your meat is done absolutely to perfection. I'm happy to report that the ramping function works!

Note: In years to come I think that a wireless app is going to be pretty much entry level to the pellet grill market and moreover something that is going to make ardent gas grillers stand up and take notice. A few seasons ago I wrote about the arguments for charcoal versus gas and whilst I've always preferred to play with charcoal you can't argue with those who have always preferred gas for convenience and cleanliness... but then a pellet grill like the Grillson gives convenience, cleanliness and wood flavour. Food for thought.

Flavour
There's no shortage of smoky flavour when it comes to low and slow indirect cooking on Grillson pellet smokers using the optional smoke diffusor. 

Remove the standard diffusor and replace it with the optional  smoke diffusor, fill it with the pellet flavour of choice and you're ready to smoke.
In order to remove and fit a different diffusor all I had to do was remove the grill grates and then the diffusor is right in front of me.
I had to choose from 14 different pellet varieties and plumped for one of their top sellers, "Mexican Heat".

Other Features To Consider
Cleaning

I hate cleaning grills at the end of a cookout. It certainly influences my choice of barbecue that I use at home and it is one of the reasons why I steer clear of gas so I was intrigued by the cleaning function of the Grillson.
Also a great way to burn off any left over pellets in the hopper, all you have to do is turn the control to "Clean" (or use the phone app) and your Grillson cycles up to 500°C (930°F) and any sticky debris remaining on the grill grates simply pyrolyses leaving a simple wipe down with a cloth. 

Economy & The Environment

Gas is a fossil fuel whereas wood pellets (and charcoal too) are from a sustainable source and this may be important to you. Whether you source your electricity from fossil fuelled power stations or renewable sources is up to you. 

When searing I found that 1Kg of wood pellets lasts approximately 1 hour and when smoking low and slow I could get 3 hours out of the same amount.

Back Up Warranty & Accessories

The warranty is comprehensive and impressive.
Stainless steel parts - 20 years
Powder coated steel parts - 5 years
Wheels - 5 years
Other parts (incl wooden) - 2 years
Touch up paint available if you accidentally scratch the painted steel surfaces.
The range of accessories is compact yet focused directly on getting the most out of the Grillson. Given that Grillson is the only pellet grill / smoker I know of that you really can take up to a satisfactory pizza cooking temperature, the most notable accessory unsurprisingly is the pizza set.
Remove the cast iron grill plates and replace with the key feature of the pizza set - an almighty slab of Sicilian lava rock. 

After the steak I thought a nice dessert pizza would be a good way to finish off the Grillson road test and this time I used Leif.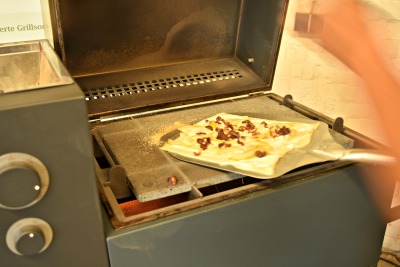 The Grillson pizza set also includes the pizza peel and I've no complaints about the quality of the pizza cooked. Moreover the Sicilian lava stone retained it's heat extremely well, significantly better that the pizza stone that I have with my Monolith ceramic grill so I could roll out pizza after pizza without having to wait for the stone to regain heat.
Other accessories include:


Warming Shelf

Chicken Roaster

Veggie Plancha
There are also 9 flavours of pellets for use directly in the burner and a further 5 varieties for use directly in the optional smoker attachment. I didn't get to use all of these but I was particularly intrigued by the garlic pellets and would love to try these next time.

Noise
I've extolled the virtues of Grillson pellet smokers in terms of their beauty on the eye, technological innovation, thermal performance and cleanliness but one thing you can't get away from (and it applies to all pellet smokers and grills) is that there is a background noise when in use.
Imagine the rumbling noise that's emitted when you fan (or use bellows on) an open fire. It's a constant noise whilst in operation.  

Grillson have developed a silencer to fit on the burner exhaust, it doesn't eliminate the sound but it reduces it to a more acceptable pitch.

Safety
Grillson pellet smokers are tested with water canons to ensure that they are safe to use in the rain. That said it is still important to ensure that your electricity is supplied through via an approved outdoor safety socket.

From a thermal perspective I was pleased to note that the lid was still safe to touch when I was searing steaks so no chance of a burn. And I guess this is also a positive argument for the heavy lid that it prevents little hands and fingers getting too close to the hot grill grates. 

Summary
Without doubt this is the best wood fired pellet grill / smoker that I have had the pleasure to test. In terms of convenience, cleanliness, thermal range and performance it ticked all of the boxes and then some.
Grillson pellet smokers are inevitably (and justifiably) at the top end of the price range so they aren't going to be for everyone. That said buying a Bob or Leif Grillson is going to appeal to those who:
Appreciate sleek lines and contemporary design
Enjoy state of the art technology
Relish something different
There's a lot said about the excellent quality of German design and manufacturing, Bob and Leif Grillson pellet smokers are another shining example. 

Buying A Grillson
What's The Difference Between Bob And Leif Grillson?
The difference in design is immediately the most striking difference between Bob and Leif and following on from that you'll notice that Leif is significantly cheaper than Bob. (see prices)
Bob is the original design and first launched with good success but Grillson have understood that in order to broaden appeal and attract larger following of Grillson pellet technology they needed to produce a more affordable model and Leif is the result. 
Bob is available in two colour schemes, black / anthracite or pure white / lime green. Leif is only available in the black / anthracite colour combination.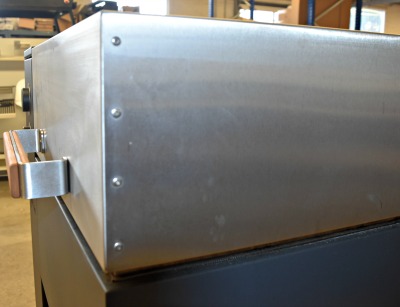 On close inspection you can see that the design lines of Leif help lower the manufacturing cost but after that the only other significant difference is a lower powered burner.
Bob = 13KW / 44,000 BTU
Leif = 8.5KW / 29,000 BTU
In addition, the lid is double skinned (same as Bob) but not insulated. These changes make for a small difference in warm up times and slightly lower top end temperatures when in clean mode.

Prices

At the time of writing the retail prices here in the UK are as follows:-

Bob

Bob Premium

Bob Premium S

Leif

Leif Premium

£3,249.00

£3,749.00

£4,199.00

£2,499.00

£2,999.00

Where To Buy

Grillson have nominated distributors in many parts of the world and the best place to start is the Grillson website.

See Also:-

Best Pellet Grills
Traeger Timberline 850 Product Review