GMG Daniel Boone 2018 Review
For my 2018 review of the GMG Daniel Boone wood fired pellet grill we grilled chicken thigh and plank cooked salmon fillet but did it live up to expectation?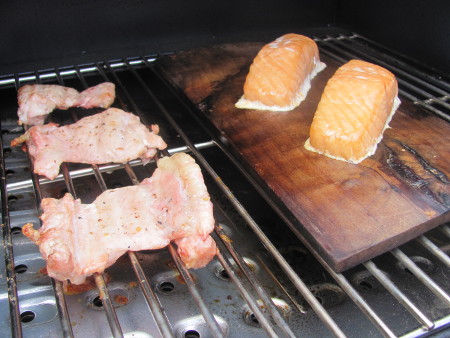 Star Rating
★★★★☆ - The GMG Daniel Boone delivers succulent results, has a good thermal range, is phenomenally quiet and features WiFi control all for £749. It suffers from the same lack of flavour gripe that I have with most wood pellet grills but that said it's fully worthy of it's positioning in the top 3 wood fired pellet grills on the market for 2018.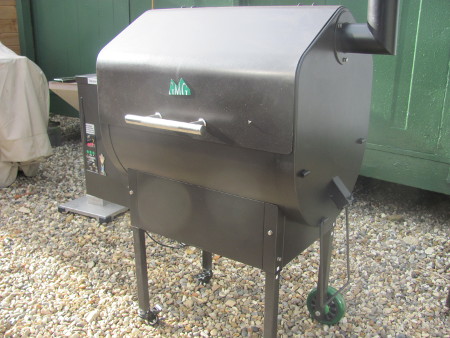 Assembly
Most pellet grills in this price range require you to fix the hopper / control unit to the main body but the GMG Daniel Boone comes ready assembled. The only parts to fix on are the legs, the flue and the insert the internals.

Build Quality
I can best describe the build quality of the GMG Daniel Boone as OK. The externals are painted steel rather than satinaless steel but at this price you can't really expect anything else. Certainly it will stay rust protected provided you don't scratch it but I would recommend storage indoors when not in use.
The rubber coated wheels to one side and locking castors to the other make for ease of manoeuvring.

Features
With WiFi control included you really do get an awful lot of grill for your money. It's made in China so you have to balance the price against the build quality.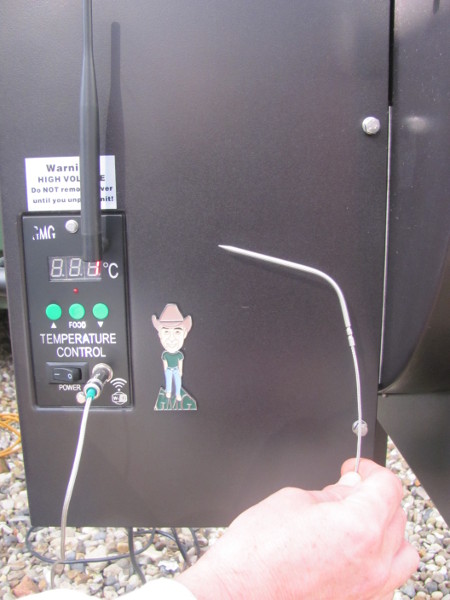 The GMG Daniel Boone offers all the necessary bells and whistles that you'd expect from a wood pellet grill:
Fire pre-start = 15 - 20 minute warm up time
Low pellet alarm
Temperature probe
10 minute "fan only" cool down to extinguish the fire at the end
As you'd expect at this price the Daniel Boone is a single skin uninsulated cabinet but the optional extra of a thermal blanket to allows you to continue using this smoker into the cooler seasons.
Having cooked on a number of Traeger grills I was was pleasantly surprised at the operating noise level of the GMG Daniel Boone. Or to be precise, the lack of noise.
Over the years I've become accustomed to the fact that the set and forget benefits of a wood fired pellet grill have to be balanced out against the higher noise level. This grill however is one of the quietest that I've ever experienced.
It's also nicely powerful with a high end temperature of 260°C (500°F)

Negatives?
Again just the usual one that comes with any pellet grill that uses the central fire pot design. There is a hot spot directly above the fire pot so food will cook quicker in the centre than at the edges. I cooked chicken over the centre and plank cooked salmon to one side and at 160°C (320°F) and everything was pretty much ready at the same time.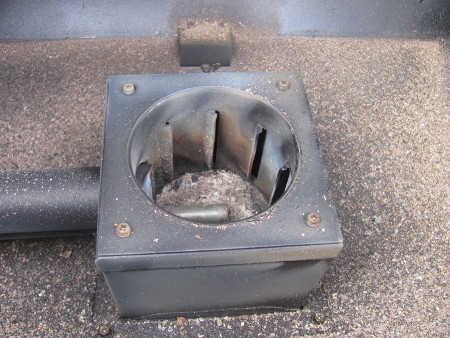 Both the chicken and the salmon was supremely succulent but they might just as well have been cooked in the oven for all the wood smoke flavour that I could taste. 
Finally, the facility for just one meat probe. Even the entry level Traeger Bronson 20 has the capability for 2 probes.

Innovation
The GMG Daniel Boone features two perforated baffle plates that sit one on top of the other.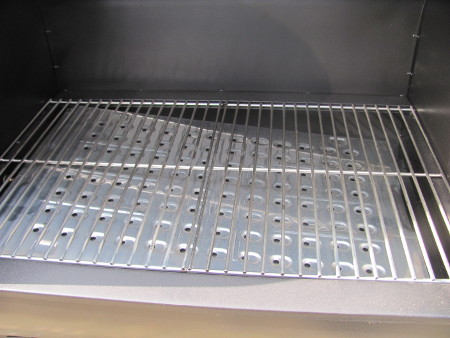 The idea is that these plates side laterally over each other thus the perforations are either in line allowing direct heat through to the food or the perforations were obscured by the solid area of the adjacent baffle plate constituting the "indirect heat" set up.

Green Mountain Grills refer to this as their "open flame technology", a somewhat grandiose title for what effectively amounts to little more than a drilled hole.
To be honest I didn't find it to be much of a boon (sorry - pun intended) and it really only had an effect directly over the fire pot. In short:-
The direct setting only served to exacerbate the effect of the central hot spot
There wasn't actually any "char" benefit to direct cooking
The set up is an "either / or" you can't have a bit of both, but then if there's little difference in effect then why would you?
Changing between the settings mid cook isn't really an option
The double baffle plate only served to make the insertion and removal of the internal parts extremely fiddly
Specification
The Summary specification of the GMG Daniel Boone is as follows:
Digital WiFi controller
Control and monitor through the App or from the control panel.
From 65°-260°C (150°- 500°F) in 5° increments.
Open Flame Technology
Switch between indirect heat and direct heat cooking using 2-piece grease tray that works to some extent.
Meat probe
...but just one!
Peaked lid
More cooking space than under a barrel lid which helps when vertically roasting chickens

Venturi-style firebox
For cyclone combustion and more efficient pellet usage.
Positive pressure hopper fan
Ensures that the fire remains in the fire pot and cannot blow back into the hopper 
"Fan only" mode
With automatic shut-off, to blow ash out of the firebox after you finish cooking.

Weights and measures:
Stainless steel grates (686mm x 406mm / 27" x 16" / c. 2,785 sq cm).

Inside clearance: 343mm / 13.5".
Weight: 70.3kg / 155lbs.

Available accessories include:
Heavy-duty, form-fitted cover.
Upper rack for increased cooking area.
Front shelf.
Thermal blanket for added cold-weather insulation and year-round cooking.
Dome thermometer.
All of the above accessories add value with the exception of the dome thermometer. The probe will be way more accurate as will the thermostatic control.
The unit I cooked on was the painted black which retails at £759. There is also a version with a stainless steel lid which comes in at £849 

Verdict
Balance out the included features with the price and this makes the GMG Daniel Boone one of our top 3 wood pellet grills for 2018.
To get WiFi control for less than £1,000 is pretty amazing value for money and build quality (whilst ok) is on par with any other pellet grill at this price point (and many that are more expensive). To take the next step up in build quality, versatility, flavour & thermal performance etc. you're going to have to part with a further £1,100 for a Traeger Timberline 850 or £1,500 and buy a Leif Grillson.

Of course there are some negatives but these are in no way exceptional to just this wood pellet grill and frankly whether you have the open flame technology or not is irrelevant because it doesn't really do a lot.

Where To Buy A GMG Daniel Boone
I always recommend that you buy from a specialist BBQ shop because they know their stuff and you'll get excellent service. The GMG Daniel Boone used in this review was supplied by BBQ Land in Hitchin, Hertfordshire so please support them.
For international readers this button below will take you through to your local Amazon website.


Buy through this Amazon button and you help pay it forward by contributing to the continued development of this website... and it doesn't cost you a cent!

See Also:-

Best BBQ Grills And Smokers 2017
Ceramic Kamado Grills
Wood Pellet Smokers
Grill Reviews
Meat Smokers