How To Smoke Chicken
by Dennis
(Madison Wisconsin)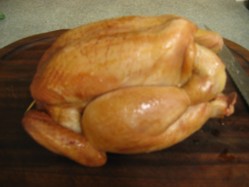 Smoked Chicken
Tonight I plan to use my smoker/grill for the first time to smoke chicken. My smoker has an off-set box to hold the charcoal. I plan to cut the chicken into pieces, but don't know:


1. How much charcoal to use?
2. How long I should smoke the chicken?
Any advice would be helpful!
Dennis
Answer
Hey Dennis,
You picked the right bird to smoke! Smoked chicken is absolutely delicious and most importantly smoking it is one of the best ways to turn out moist succulent breast meat.
To answer your questions specifically about charcoal is difficult because it really depends on the consumption of your smoker. When your cookout is over, just close the vents to your smoker and your fire will die so you don't have to waste any charcoal.
I use a
Monolith ceramic grill
that's surprisingly economical but I guess in the first instance it's suck it and see. Better to overdo it than under so be generous with your charcoal.
If doing a whole chicken I work on 60 minutes per pound at 230°F but because you're doing pieces you should be able to get away with slightly less. Smoking however is also a slow roasting process so even if you over do it on the time, your chicken will still be succulent. The temperature of the meat when cooked should be 165°F (74°C) for breast and 180°F (82°C) for wings and thighs.
Try putting the pieces on pre-soaked
cooking plank
, this helps too.
To be sure about sealing the juices in, don't cut up the bird, smoke it whole. Click here for my fail safe
smoked chicken
recipe.
One final point how to smoke chicken when doing a whole one - let it rest when the cooking is complete for a couple of hours (upside down) so that all the juices solidify in the breast.
Note:
- Don't expect crispy skin when cooking at this temperature. It's a reaction call the Maillard reaction that causes the skin to brown and crisp, and this reaction will not happen at cooking temperatures lower than 300°F (150°C).
See Also:-
Smoked Chicken
Safe Cooking Temperatures
Plank Cooked Chicken
Return to Home Page from How To Smoke Chicken