Indian Menu Ideas For Ceramic Barbeques
Despite this section being called Indian menu ideas for ceramic barbeques , you can use some of these recipes on other equipment. Break out the chicken pieces and a feast awaits you!
The reason I've chosen to highlight this for ceramic barbecues or Kamados is the potential to get tremendously high temperatures that effectively mimic the environment of that traditional clay oven, the tandoor.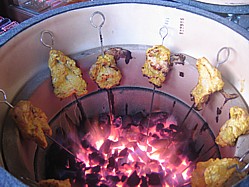 To be fair, you can get some other barbeques that will get up to some pretty high temperatures (I know that Weber make some) so if you're willing to try, you can still follow these menu ideas and get some good results.
Tandoori cooking is so simple that you've got to try it, just remember that one of the key ingredients is a marinade and I'm not just talking about one or two hours, be prepared to think in advance because you will need to marinade for one or two days.
Having said that, the end results are well worth it and packed with flavor for simple fresh accompaniments are the order of the day. Raita for a cooler, naan bread then garnish with salad and a wedge of lemon.
Cucumber Raita - The universal cooler. Try it as a dip or a sauce on your kebab.
Cauliflower Pakora Florets With Pomegranate Raita - Subtly spiced Indian flavours for this vegetarian appetiser.
Chicken Tikka Kebabs - Cooked hot and fast using the tandoor effect that only the kamado can deliver.
Chargrilled Chicken Tikka Kebabs - Grilled slowly over charcoal in the traditional way.
Indian Spice Rub - When you're short on time, this rub adds instant flavor to any cut of meat.
Tandoori Chicken - A hot kamado and this is to die for. Color and flavor abound.
Indian Grilled Butter Chicken Recipe - Rich and creamy this is a wonderful mild curry that you can prepare on the grill but rather than a barbecue sauce, you've got a curry sauce.
Naan Bread - If you've got a kamado then this recipe complete the main meal. If not, you can always do these in the oven and either way these breads are so much better than anything you can buy in the shops.
Chicken Curry Fajitas - Hmm, Indian menu ideas or the ultimate in fusion cookery? Indian cooking involves a lot of unlevened bread so I'm going to claim it, even if it is in a wrap. When you want something fast and haven't time to mix a rub then this one is for you.
See Also:-
More Kamado Cooking

Return to Home Page from Indian Menu Ideas For The Ceramic Barbeque