Indian Butter Chicken Recipe For The Grill (Murgh Makhani)
This Indian butter chicken recipe for the BBQ grill (known as Murgh Makhani) is a perfect initiation for anyone trying Indian food for the first time but if you are a seasoned curry fiend don't let that put you off.
You can trace this dish back through the centuries and everyone has their own personality to stamp on it so from my point of view I'm going to make a butter chicken recipe for the grill.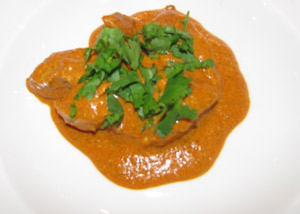 The story goes that butter chicken was an accidental discovery at Delhi restaurant Moti Mahal set up by Kundan Lal Gurgal in the 1950s.
Moti Mahal became very successful serving tasty dishes from the tandoor, a circular clay oven in many ways similar to the kamado that I'm cooking this recipe on. The story goes that the Moti Mahal chefs mixed leftover marinade juices with butter and tomato, and then stewed the tandoor-cooked chicken in it.
My butter chicken recipe effectively follows the same principles although it's kamado versus tandoor and I'm cooking from fresh rather than using leftovers.

I've used the breasts and thighs from one chicken to make up my weight of meat but feel free to use all breast or all thigh. Just make sure that when you dice the chicken you do good sized chunks so that it doesn't dry out when grilling.
I also like to do this butter chicken recipe at a barbecue party because not only does it excite the taste buds, you can break this recipe down into 5 steps, make the first 3 steps in advance and then complete the cooking "at the grill-face" during the party. It looks so easy to your guests yet they will marvel and the complex layers of flavour coming out of what looks like a simple preparation process. Of course the truth is that there is some work to do up front but we'll just keep that between you and me.
I've listed the required ingredients in each of the steps so please read through the full 5 steps of the butter chicken recipe and get everything together. Just a little bit of thought at this stage makes the 5 step preparation really easy.
Step 1 – Marinade 1
Ingredients:-
1lb or 450g skinless boneless chicken
2 cloves garlic crushed
2 inch length of ginger chopped
1 teaspoon chilli powder
1 teaspoon sea salt
1½ tablespoons lemon juice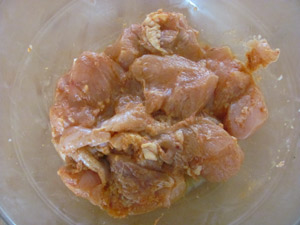 Method:-
Place the diced chicken in a large bowl, add all the above ingredients, stir it together and refrigerate for half an hour.
Step 2 – Marinade 2
Ingredients:-
1 teaspoon garam masala
1 teaspoon turmeric
1 teaspoon cumin
3 floz or 75ml yoghurt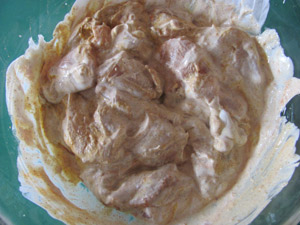 Method:-
Take the first marinade out of the refrigerator and add the ingredients for marinade number two. Again stir, cover and refrigerate, this time for at least three hours and overnight if you prefer. Whilst this second marinade is happening, there's plenty of time to make your murgh makhani sauce.
Step 3 – The Sauce
Ingredients:-
2oz or 50g unsalted butter
2 cloves chopped garlic
1 inch or 2.5cm fresh ginger finely chopped
1 cardamom pod
2 cloves
1 teaspoon ground coriander
1 teaspoon garam masala
1 teaspoon turmeric
1 teaspoon chili powder
1 cup or 240ml tomato paste (purée)
1 tablespoon lemon juice
Method:-
Heat a large saucepan (you'll be adding the chicken later to this pan), melt the butter and gently fry the garlic and chili for a minute until fragrant. Now add the cardamom pod, cloves and the other ground spices (take a couple of seconds to smell the aroma!) for a minute just to cook the spices. Finally add the tomato paste, lemon juice and stir all the ingredients until well mixed. Remove from the heat and put to one side until you're ready for the final assembly.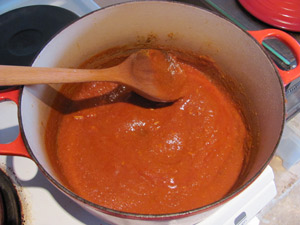 Step 4 – Grilling The Chicken
Method:-
No ingredients here, it's just simply a matter of grilling the chicken pieces which should take about 10 minutes with intermittent turning. Don't be tempted to overdo it because your chicken will dry out but if you're under there's nothing to worry about because the next stage is to add the chicken to the curry sauce and at this point you can give the mix a few minutes to simmer and your chicken will cook through.
You're looking for a high heat to cook the chicken so that you get a slight char and crispness to the outside - it all adds to the flavour.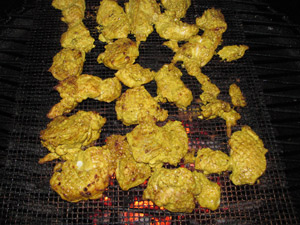 Step 5 – Bring It Altogether
Ingredients:-
2oz or 50g unsalted butter
½ cup or 120ml double cream
chopped fresh coriander (cilantro) to garnish
Method:-
Warm up the sauce, add the chicken to the sauce and bring it up all up to a simmer. Now add the butter and stir in, then the double cream and stir in. To serve your Murgh Makhani, transfer to a warm bowl, sprinkle on the chopped fresh coriander. Plate up with rice or fresh naan bread.
See Also:-
Chicken Tikka Kebabs
Chicken Curry Fajitas
Tandoori Chicken Breast
Indian Barbecue Dry Rub Recipe
More Indian Menu Ideas


Return to more Gas Grill Recipes from Indian Butter Chicken Recipe For The Grill (Murgh Makhani)