Chicken Curry Fajitas
If you found this page by doing a Google search for chicken curry fajitas then you have to be congratulated...........what the hell are your doing searching for chicken curry fajitas?!
I mean, this has to be fusion cookery in the extreme and it came to me when I'd been camping with my wife for a couple of weeks in Europe and she was starting to crave the things that we get to eat in the UK.
It started in the morning when she said "I could just do with a plate of bacon and eggs" (and that was hard enough to satisfy) but in the evening when I asked her what she fancied for dinner, the answer came back "A nice curry".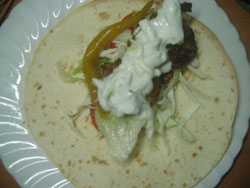 So how do you prepare a curry in the middle of nowhere with a BBQ grill and not a naan bread in site? Well if you're like me you improvise and make curry fajitas. Break out a pack of tortilla wraps and use some curry powder for your rub.
They tasted great and I can't wait to do them again. So there you have it. That's my reason for needing a recipe for curried chicken fajitas, what's yours?
Serves:- 4 people

Preparation Time:- 10 minutes
Marinade Time:- 30 minutes
Cooking Time:- 20 minutes

Total Time:- 60 minutes

Allergens:
The flour tortillas will contain gluten.

Ingredients:-
4 skinless boneless chicken thighs
Pinch of salt
2 teaspoons of curry powder
1 clove of freshly peeled, chopped garlic
Salad of your choice (shredded lettuce, cabbage and tomatoes)
Yoghurt or raita
Flour tortillas
Method:-
Place the chicken thighs in a mixing bowl with the curry powder, salt and the chopped garlic and thoroughly mix it in. Allow the mix to stand for 30 minutes so that the flavors can mingle.
Grill the chicken over medium coals for about 10 minutes on each side and then remove from the heat and allow 5 minutes for the meat to rest.
To serve, slice the thigh meat into long thin strips and place them in a wrap with the salad and yogurt (or cucumber raita) roll up your wrap and tuck in.
Note: The translation of fajitas is said to refer to the traditional cut of beef (skirt) that is used and in order to eat grilled skirt you would normally slice in long thin strips across the grain for tenderness. Typically these days, fajitas can be made using other meats but the tradition to slice in long thin strips has remained.

That's it, now the only problem is how to categorize this recipe, Mexican or Indian?
See Also:-
Indian and Asian Cuisine
Tex Mex Chicken Fajitas
Tex Mex Chicken Wings
Turkish Style Grilled Chicken Thighs