Italian Menu Ideas For The Barbeque Grill
These Italian menu ideas for the barbeque grill are going to be quite time consuming but really worth the effort. By nature, Italian cooking is all about fresh ingredients cooked in a very simple way (very few Italian recipes will consist of more than eight ingredients) and this does present its challenges.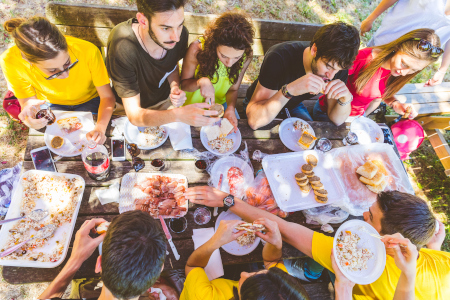 Most foods are eaten immediately after grilling so it's important when serving and eating to have one eye on your plate but the other on the grill – it's a dynamic process. That said, don't be put off, it just means that you need to prepare the raw ingredients in advance and be prepared to make the final assembly of the dish at the last minute.
A good example of this the bruschetta that is wonderfully garlicky but really does have to be prepared immediately before eating but to be fair this is the same whether you do it on the barbeque grill or not. But then contrary to this, try the beef fiorentina that can be left to grill with a very quick final assembly of pre-prepared balsamic vinaigrette and a wedge of lemon.
Bruschetta - Bread lightly toasted on the grill and topped with the most wonderful tomato flavor.
Fire Roasted Pepper Salad - Use those early flames to deliver this supremely sweet salad
Beef Fiorentina - The distinctly Italian way to serve ribeye.
Italian Beef Salad - A healthy option for red meat eaters!
Lamb In Balsamic Marinade - Cutlets marinated and grilled together.
The classic staple of Italian fast food is the pizza and if you own a ceramic kamado then cooking pizza should definitely be on your agenda. I've got a pizza stone and peel on order and as soon as it comes through I'll get some pizza recipes up here too.
Pasta
If you think that I'm going to start to cook pasta on the barbecue...forget it! This section is about how you can use one of my other recipes to make a wonderful sauce for pasta.
This is all about my Italian Fennel Sausage which has just a hint of chilli in it. If you're into sausage making then this one is a must, chilli and fennel is such a wonderful combination.
Be warned however that this recipes starts with grinding the meat so don't be expecting to knock up a pasta sauce in 5 minutes.

When you've made the sausages, allow them a day in the refrigerator so that all the seasonings mix well into the meat and the grill gently over medium coals so that you get a lovely brown caramelised skin.
Once cooked, allow them to cool and then slice into nice thick chunks.
You can then just add the chunks to the frying pan with any tomato based pasta sauce or (of course), make your own.

See Also:-
Greek Barbeque Menu
Spanish Barbeque Menu


Return to Home Page from Italian Menu Ideas For The Barbeque Grill