Smoked Turkey Brine

Before you read these two recipes for smoked turkey brine, make sure you have read about how to brine a turkey.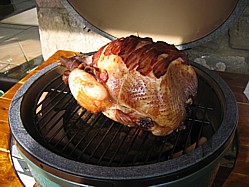 Recipe #1
What can I say about this brine for smoked turkey other than it is perfect for the beginner and "you've got to try it!".
As well as adding moisture to the turkey, brining also adds a salty flavor and concentration-wise this is a relatively weak brine which that has two advantages:-
If you're new to brining then the chances are that you're not going to overdo it.
It gives you a better to opportunity to understand what level of brining best suits your taste
What I mean here is that it's always best to start off with a weak brine and taste the difference. If that's perfect then fine, if you want a bit more salt in yours then you can add a little more when you next cook a turkey.
Some will say that you should brine a turkey for up to 48hrs, it is a matter of personal taste and I prefer just to go for overnight or 24 hrs as a maximum. What's important is to ensure that your turkey is fully immersed in the brine and that there's no air pockets in the cavity of the bird so that the brine can get to work on every part of the surface area.
Just to complete the point about timing, after brining a turkey you still need to give it 24 hours to dry before smoking it so remember to factor this into your plan.
Yield:- 2 US gallons

Allergens:
None

Ingredients:-
3.75 litres or 1 US gallon vegetable broth
3.75 litres or 1 US gallon water
240g or 1 cup non iodized crystallised salt
240g or 1 cup brown sugar
1 tablespoon peppercorns
½ tablespoon allspice berries
1 inch cube fresh ginger roughly chopped
Method:-
Take a large pan and mix up the salt and sugar with the water, bring to the boil and stir to ensure that all the solutes have fully dissolved. Once cool pour the mix into your brining bin and add the rest of the ingredients.
---
Smoked Turkey Brine Recipe #2

Relatively speaking, this is a weak brine. I've recommended that the brining period be 8 – 12 hours but you can go for 24 hours if you have an extra large turkey (over 14 pounds) or indeed go for less if you don't want too much salt. I certainly would recommend that you err on the side of caution particularly if this is your first brining experience.
Brining for additional moisture just requires your bird to be immersed in the brine for a reasonable amount of time, overnight being perfect. The amount of salt required to deliver the additional moisture retention is actually quite small (6%), this recipe is a little stronger at just over 10%.
Yield:- 2 US gallons

Preparation Time:- 20 minutes
Marinade Time:- overnight
Cooking Time:- n/a

Total Time:- 1 day

Allergens:
Worcestershire sauce contains both fish and gluten.

Ingredients:-
7.5 litres or 2 US gallons water
240g or 1 cup non iodized salt
1 bulb garlic, all cloves peeled and chopped
1 tablespoon ground black pepper
120ml or ½ cup Worcestershire sauce
100g or ½ cup brown sugar
Method:-
Boil up 2 litres (quarts) of the water with the salt and sugar to ensure that all has dissolved then allow to cool.
Pour the balance of the water into the brining bin together with your sugar / salt mix and add the rest of the ingredients. Stir, and you're smoked turkey brine is ready to go.
See Also:-

More Great Brine Recipes
Turkey Brine Recipes For Roasting
Brine Injector Pump