Hot Smoked Duck Breast
This smoked duck breast recipe delivers moist fruity flavors with an apple marinade and a beautiful pink colour. I've also prepared it as a salad.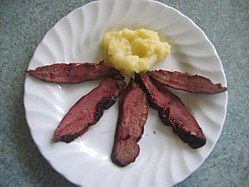 Whenever I've prepared smoked duck recently it's been using wild duck that has been shot by one of my neighbors who's really keen on hunting. He's fanatic about hunting, interested in smoking and always enjoys eating but he's not that into the preparation bit. So that's where I step in.
There's not much meat on a wild duck and call it a waste if you like but all I was presented with were the breasts of the duck - easy to whip out without going to the trouble of removing the feathers from the complete bird. The technical term is field dressing and this video explains how to do it really quickly and without a knife.
So here's a recipe for smoked duck breast that will suit both wild duck and any duck breast that you might buy down the supermarket.
The recipe consists first of a brine, then a drying period and finally smoking. The big difference when smoking duck breast compared to hot smoking other food is the temperature which is 145°F or 63°C and I find that using the electric element in my homemade smoker perfect for smoking at these "lower" temperatures.
The first step is to brine the breasts and my favorite is apple juice brine, it's a weak brine so it will help moisturise the breast rather than dry them out and not only that, it moisturises with apple juice, perfect with duck. Check my brine recipes page to learn more about the science behind strong and weak brines.

In addition to my regular apple juice brine I have one extra ingredient in this recipe and that is Salt Petre (sodium nitrate). Just the tip of a teaspoon is required but this has a wonderful effect on the color taking it from a naturally dark meat to an amazing maroon colour.
If you can't get Salt Petre, (it's the active ingredient in gunpowder, therefore a controlled substance) just nip down to your butcher and ask if you buy some curing powder as this will contain Salt Petre in a less concentrated form.
Preparation Time:- 5 mins
Marinade Time:- overnight
Cooking Time:- 2 hours

Total Time:- ½ day

Ingredients:-
500ml or 1 pint apple juice
2 teaspoons salt
1 bayleaf
2 teaspoon dried thyme
A teaspoon tip of Salt Petre
Method:-
If on the bone, remove the duck breasts from the bone. If shop bought, trim away the fat from the breast.

Mix all the ingredients up and ensure that the salts have fully dissolved. Pop your duck breasts in the brine, cover and refrigerate overnight.

On day 2 remove the duck breasts from the brine and hang them to dry - I do this in the food chamber of my smoker with the electric element on its lowest setting. Dry the breasts until the skin no longer feels clammy, this usually takes a couple of hours.
Finally smoke at 145°F or 63°C for a couple of hours until the skin has taken on a deep brown coloration.
I like to use wood chips from a fruit tree, after all there's always been a connection between duck and fruit whether it be orange, plum, lemon etc.
After smoking, allow it to cool for 10-15 minutes so that all the internal juices are retained then slice your smoked duck breast and serve.

Alternative Marinades To Try Include:-
Cointreau Marinade

Soy Sauce and Molasses
To serve, slice the duck breast thinly and lay out on a plate. To finish off, consider a fruity sauce:-

Damson Jam Sauce
---
Smoked Duck Breast Salad
Look on many a lunchtime menu in Paris and you'll see a smoked duck breast salad so having prepared the smoked duck breast it's about time I put it all together and made a healthy (and tasty) lunch.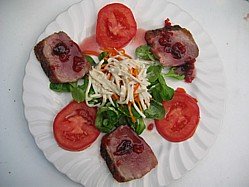 The secret to the salad isn't really in what salad leaves you use because frankly you can use what you have available; the real secret is in the cooking of the duck and the combination with a citrus sauce and dressing.
In the picture above I've combined slices of smoked duck breast with my wife's sweet damson jam sauce and some mildly acidic dressed salad.
If you haven't got time to make damson jam sauce, a jar of plum sauce is a good alternative and as stated at the top, this recipe works just as well with grilled duck breast.
The final ingredient worthy of note is the beef tomato, usually so much more flavorful than a standard salad tomato (which has been grown too fast and harvested too soon).
Serves:- 4 people

Preparation Time:- 10 minutes
Cooking Time:- n/a
Total Time:- 10 minutes
Ingredients:-
1 large duck breast either grilled or smoked
My wife's wonderful damson jam sauce
½ lettuce
¼ cucumber sliced
2 beef tomatoes sliced
2 grated carrots
For The Dressing:
1 tablespoon white wine vinegar
4 tablespoons olive oil
1 teaspoon honey
1 teaspoon lemon juice
½ teaspoon Dijon mustard
Method:-
Tear the lettuce leaves and place them on the plate to make the base of your salad. Use the remaining salad ingredients to "build" your salad in the center of the plate.
With a sharp knife, slice the duck breast on the diagonal in thin slices and arrange them as you feel it is best presented.
Spoon the damson jam sauce over the duck and finish by drizzling the vinaigrette dressing over everything just to lift the colors.
Related Pages:-
Barbecue Duck Recipes


Homemade Barbecue Sauces
Meat Smokers
Wood Chips
BBQ Marinades and Brines