Smoking A Whole Pig
by sjs2
(ny)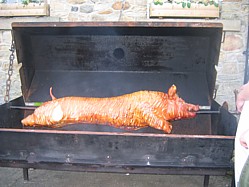 Smoking A Whole Hog
When smoking a whole pig, approx. 20-30lbs suckling pig., around 250 degrees how long per pound should it take?


I'm using a 4' grill with side smoker box and will be using charcoal and wood.
Answer:-
Suckling pig is absolutely fantastic, beautifully succulent and the best bit is that it doesn't take that long to smoke a whole pig of this size.
That said, it's still difficult to give you an exact timing beacause it does depend so much on the set up of your equipment however the general rule of thumb is one hour for every 10lbs + 90 minutes.
Working to that calculation you're looking at around 4 hours but it can be as much as 5. Don't worry if it does go over a little because it will still stay moist - this is one of the beauties of cooking the whole animal.
Keep a
BBQ thermometer
to hand and check for an internal temperature of 170 degrees then you know it's done. The best place to check the temperature is in the upper part of the legs and around the shoulders.
In order to get the heat all around your hog I find that the best way to prepare is split the hogs spine so that you can open it out.
A couple of things you need to take care over is firstly the ribs and bacon - the middle of the pig. They will cook relatively quickly because it's a thin part of the animal so to give this area some protection and stop it from burning I wrap it in foil after the first hour or so.
Secondly the hams (upper parts of the hind legs) are the thickest part of the pig and will take the longest to cook. If you are able to place the hams closest to your heat source then this will help with the evenness of the cooking.
Finally, do you have the ability to give it some direct heat? If you can, and you've scored the skin, give it 30 minutes of direct heat and you should be able to produce some wonderful crackling.
If you can't, don't score the skin, it will act as a moisture barrier and keep all those wonderful juices inside.
A 20 - 30 pound suckling pig should just fit nicely on a 4' grill but if you're at the top end of your weight you might struggle.
For your
barbecue wood chips
try Cherry, Apple Or Hickory.
Good luck, have a great time at your cookout and let us know how you get on.
See Also:-
Meat Smokers
Barbecue Pork Recipes
Return to Home Page from Smoking A Whole Pig