If you're looking for spicy grilled chicken recipes then you've come to the right place, this one will really smack you across the face!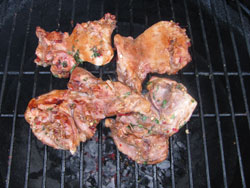 The majority of the ingredients have a Thai influence and the distinctive flavors of Thai cooking are sweet and chili with a good stack on ginger and coriander (cilantro) so I hope that you like it.
I've chosen to use chicken thighs simply because I think they're more tasty and succulent than breast but you choose which cut you want to. The main thing is to ensure that there are no bones and the skin is off so that the marinade has the maximum surface area upon which to work it's magic.
Contrary to what you might think, a marinade only needs 30 minutes or so to add flavour and tenderise. I've written more on the science behind this point in my marinades section.

Serves:- 4 people

Preparation Time:- 20 minutes
Marinade Time:- 30 minutes
Cooking Time:- 20 minutes

Total Time:- 1 hour 10 minutes

Allergens:
This recipe includes Thai fish sauce which contains fish and soy sauce which contains gluten and is brewed from soya beans.

Ingredients:-
8 boneless skinless chicken thighs
1 chopped lemon grass stalk
1 tablespoon chopped fresh coriander (cilantro)
1 inch cube ginger crushed
2 cloves garlic, crushed
1 red chili, chopped (with seeds)
2 tablespoons soy sauce
2 tablespoons Thai fish sauce
1 tablespoon sherry
1 tablespoon sugar
Method:-
The ginger can be a bit messy so I always start with this first. Peel the cube and crush it in a garlic crusher ensuring that you capture all the juice in your marinade bowl. Just be gentle otherwise it'll spray everywhere! I find that it's better to chop the ginger up a little before crushing. Discard the dry pulp in the crusher once finished.
Now add all the other ingredients, mix well and then throw in the chicken. Give it 30 minutes for the marinade to get to work so you'll need to cover but there's no need to refrigerate.
Grill your chicken giving it about 10 minutes on each side over a medium hot grill. For extra kick, brush more of the marinade on during the cooking process.
To serve up I just love these on a bed of salad and anything that's left over, slice into strips and make a sandwich.
More Spicy Grilled Chicken Recipes:

Fennel Grilled Chicken Wings
Indian Barbecue Chicken
Chinese Barbeque And other Asian Flavors

Return to Gas Grill Recipes from Thai Spicy Grilled Chicken Recipes