Smoked Salmon Pasta Recipe
I adapted this smoked salmon pasta recipe from a beautiful old recipe of my Mom. Italian in origin (well it has to be doesn't it) and originally for ham, I think that it works really well with smoked salmon.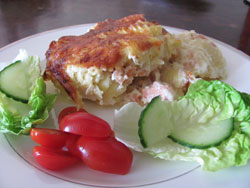 You'll notice that there's no added salt and that's because there's so much already in the smoked salmon – that's the beauty of using our home smoked products as ingredients for other recipes.
If you haven't smoked your own salmon don't worry, some of us might "tut" but just break out whatever you bought down the supermarket and get on, I'd hate to think that you'd missed out on this one because of "us purists".
Don't feel you have to stop at my list of ingredients either, you can pop in other finely chopped veg for added color such as red pepper or why not go for frozen peas.
Serves:- 4 people

Preparation Time:- 20 minutes
Cooking Time:- 45 minutes

Total Time:- 1 hour and 5 minutes

Ingredients:-
225g or 8oz penne pasta
225g or 8 oz smoked salmon
Butter for greasing
3 eggs
450ml or ¾ pint single cream
freshly ground black pepper
150g or 5oz Gruyère cheese grated
50g or 2 oz Parmesan cheese grated
Method:-
Pre-heat oven to 375°F or 190°C. Place the pasta in a pan of boiling water and cook according to the instructions for al dente. Drain well.
Grease the oven proof dish and pour in the pasta, now flake in the smoked salmon and give it a stir to make a good mix. Don't be too energetic, we still want nice good chunks of salmon.
Beat the eggs, add the cream, pepper and half the Gruyère cheese. Pour this mix over the pasta.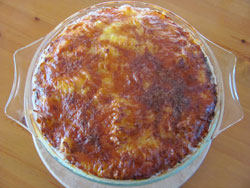 Sprinkle the remaining Gruyère and Parmesan cheese over the top and bake for 45 minutes at 375°F or 190°C until golden.
I like to serve mine simply with a salad (in other words, whatever is in the refrigerator!)
See Also:-
Smoked Salmon Lasagne
Smoked Salmon Chowder
Smoked Salmon Mousse
Smoked Mackerel Dip
Smoked Trout Pate
Smoked Haddock Recipe For Fish Cakes

Return to Water Smoker Recipes from Smoked Salmon Pasta Recipe