Citrus Barbecue Chicken Salad

My healthy citrus barbecue chicken salad brings together succulent chicken breast with a tangy fruity marinade. There's always been plenty of recipes using chicken and lemon and I think that this recipe brings a fresh twist to an old favorite.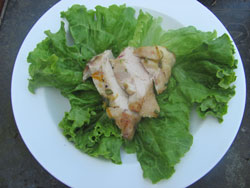 You need to marinate for just 30 minutes to ensure that the marinade has chance to penetrate the surface of the chicken and the the grilling time is pretty short so a quick, easy and a healthy salad awaits.
Use this link to learn more about marinades and timing.

Note that the chicken breast is "skin off", essential if you're going to get the most out of your marinade (and it is healthier too).
Serves:- 4 people

Preparation Time:- 15 minutes
Marinade Time:- 30 minutes
Cooking Time:- 15 minutes

Total Time:- 2 hours 30 minutes

Allergens:
The are no allergens in my barbecue chicken salad, just fresh ingredients and with all the citrus juices flowing there are plenty of health busting antioxidants in there too.

Ingredients:-
2 Chicken breasts with skin off
Juice and zest of one orange
Juice and zest of one lemon
Juice and zest of one lime
3 tablespoons clear honey
2 tablespoons extra virgin olive oil
2 tablespoons chopped fresh mint
A pinch of cumin powder
salt and freshly ground black pepper
Lollo Rosso salad leaves
Method:-
Mix up all the ingredients (except the chicken and salad leaves) in a glass or earthenware bowl.
Take the chicken breasts and make some diagonal incisions on one side, this increases the surface area of the flesh therefore helping the marinade to penetrate the chicken breast and work its way fully into the meat.
Place the chicken in the marinade bowl, cover and marinate for 30 minutes. With such a short marinade time there's no need to refrigerate.

Prepare the salad leaves on the plate and fire up the grill.


Over medium heat, grill the chicken for about 10 - 15 minutes depending on how large the breasts are, if using an instant read bbq thermometer you're looking for a temperature of 70°C or 158°F.
When the chicken breast is cooked, let it rest for 5 minutes as this will dissipate any hot spots and seal in the juices. On a board, slice the breast on the diagonal and build it on the salad leaves.
Season with salt, pepper and an extra squeeze of lemon juice, serve with a nice crisp Chablis and "Bob's your uncle!"
Related Pages:-
More Healthy Barbecue Salads
A Roast Beef Barbecue Salad
Barbecue Fish Salad
Scallop BBQ Salad
Tomato And Mozzarella Salad
Easy Marinade Ideas
Succulent BBQ Chicken Recipes