Chorizo Grilled Burgers
After you've tasted my chorizo grilled burgers, things will never be the same again. Chorizo is different however dependent on whether it comes from Spain or Mexico, both are a red coloured fatty sausage and the flavours are completely different because the ingredients are different. You can use either for this dish (I've used Spanish) and whilst the juicy texture will be the same, the final taste will differ.

Spanish Chorizo

Having spent all my life living in Europe I've always known chorizo to be a Spanish cured pork sausage typically flavoured with pimenton (smoked paprika). Paprika is the dried ground spice derived from a relatively mild pepper Capsicum annuum

Because it has been cured it can be eaten immediately, it is regularly served in Spain just sliced as a tapas or (as I'm using it) an ingredient to complement another dish.

Dependent on which part of Spain you are in you'll find all sorts of different recipes for chorizo (pronounced cho-reeth-o), and the flavor will vary dependent on the level of heat (piquante) or sweetness (dulce). Other factors to influence flavour include the conditions under what conditions it was dried such as temperature, altitude and humidity.
Mexican Chorizo

Like the Spanish variety Mexican chorizo is often presented as a sausage although sometimes it can be loose ground meat, it is red in colour and can be used to flavour other foods but that's where the similarity ends.
The most important point to make is that Mexican chorizo is raw and therefore must be cooked before being eaten.
The red colouring is from the use of Ancho chilli powder, you'll also find cumin in the list of ingredients so you can see that it's going to be a different flavour to Spanish chorizo.

That said, it is still a fatty sausage (it can be made from beef as well as pork) and so perfect for my chorizo burgers.

Back to my chorizo grilled burgers...

This recipe is not an interpretation of a classic, it's my recipe and I'm using chorizo to add a different flavour and texture to the ground beef in the burger so whether you choose to use Spanish chorizo or Mexican chorizo is up to you. Either will bring a new flavour to your burger but for the reasons explained above it will be a different flavour.

Whatever type of chorizo you buy, one thing is for certain and that is that there's a significant fat content in it. Not only do you get the flavor of the chorizo in your burger but this fat content really helps keep the final results really moist and juicy.
I absolutely adore it and up until today I'd never considered putting it in burgers but I'm so glad that I did.
Serves:- 6 people

Preparation Time:- 10 minutes
Cooking Time:- 20 minutes

Total Time:- 30 minutes

Allergens:
Chorizo is a processed ingredient and depending on how it has been made, there may be different allergens in the brand you choose so on this occasion I have the insist that to be absolutely clear on what allergens are present in this recipe that you read the ingredients list on the pack of chorizo. There are no allergens present in any of my other ingredient.
Ingredients:-
500g or 1 pound ground beef
150g or 6oz chorizo
1 teaspoon salt
3 cloves minced garlic
1 teaspoon black pepper
Method:-
With a sharp knife, slice the chorizo very thinly and the chop into small squares.
Now mix all the ingredients up in a bowl and form your patties.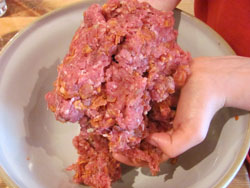 You'll get about 6 or 8 patties out of this amount of mix and now it's time to toss them onto a medium hot grill. After 10 minutes of cooking you'll start to see some of the orange chorizo oil come to the surface of the burger, this means there's plenty of heat in the center of the burger so it's time to flip and brown the other side for a further 10 minutes.
Use an instant read temperature probe to be certain your burger is cooked through and look for a reading of 75°C or 170°F. Remember that Mexican chorizo contains uncooked pork so it is important to ensure that these grilled burgers are cooked to a safe core temperature.
When cooked, remove from the heat and allow your burger to rest for five minutes before serving.
To serve your chorizo grilled burgers simply pop one in a bun and add some salad leaves and a splodge of mayo.
See Also:-
Gourmet Grilled Hamburger Recipe
Grilled Venison Burgers
Plank Cooked Hamburgers
Pork And Apple Burgers
Grilled Hamburger Recipes