Smoke Roast Pork Belly Recipe
My smoke roast pork belly recipe works just as well in the traditional oven as it does in the smoker to make a fabulous feast from what is a typically a low cost cut of meat.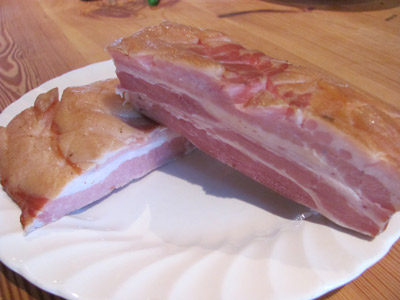 I'm going to smoke mine, cool it and then use it as an ingredient for other recipes because. In France it is referred to as poitrine fumee (smoked streaky bacon) and is a key constituent of a french cassoulet recipe – a traditional peasant dish that makes for a hearty meal on a cold winters evening. You can also use it in my German sauerkraut recipe or a Quiche Lorraine.
Alternatively you can slow roast over an array of root vegetables and 3 hours later you'll have a hearty family dinner. There's loads of different options but here I'm just going to focus on the basic cooking process for smoke roast pork belly and leave the variations to your imagination.
Belly pork is quite fatty and as ever that means good news and bad news. The good news is that the fat gives great flavor and succulence to the final result. The bad news is that you need to trim as much fat (and the rind) off the top to ensure that the smoke flavor (or any other flavorings) can penetrate the meat.
In this recipe, I'm going to keep it simple and just add a bit of honey which will give a super sweet finished product and (in my humble opinion) with the addition of smoke that's all that this roast pork belly needs.
Note:- There's two ends to the belly of the pig. The brisket which tends to be a thicker cut (more meat) and the flank. On this occasion I've chosen to use flank because that's ideal for cassoulet.
Serves:- 8 people

Preparation Time:- 10 minutes
Cooking Time:- 3 hours

Total Time:- 3 hours 10 minutes

Ingredients:-
2½lb or 1.2kg slab of belly pork
2 tablespoons honey
Salt and pepper
Method:-
Trim the rind and as much fat as possible off the slab to try and expose  the meat then season generously with salt and pepper and spoon on the honey.
I like to smoke this recipe over apple wood because it's got a good deep flavour and it complements the sweetness of the honey.

Place the pork belly in your smoker or oven for 3 hours at 225°F or 110°C with a water bath underneath.The water bath will provide humidity and also help stop the honey from over caramelising.
Unlike pulled pork you're not looking to take this to the point at which it falls apart. What you are looking for is still a solid piece of pork that has been cooked all the way through and taken on the flavour of the smoke.
When three hours has elapsed your slow roast pork belly should be ready but to be absolutely certain use an instant read temperature probe and check for 75°C (170°F) at the most central point.

When done, remove from the smoker and allow it to rest for at least 15 minutes. I prefer to let it rest for longer and then refrigerate. Once cool you can then carve thick slices or cubes dependent on how you plan to use it.
You'll find some recipe suggestions below.
See Also:-
French Cassoulet Recipe
German Sauerkraut Recipe
Smoked Pork Gumbo
Smoked Meat Recipes

Return to Recipes Home from Slow Roast Pork Belly Recipe