Leftover Smoked Pork Shoulder Recipes
This gumbo is one of my best leftover smoked pork shoulder recipes primarily looking after the leftovers from pulled pork. The smokey flavor really adds that extra dimension to your gumbo.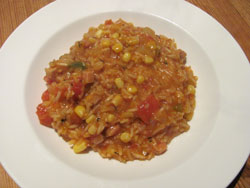 Unless I've had a really big party it's always the case that I have leftovers and it is smoked pork shoulder recipes like this that really solve the problem of what to do with the leftovers nicely.
Pork is a relatively low cost protein and pork shoulder one of the lower costs joints still so that makes recipes like this extremely easy on the wallet yet full of flavour and goodness...just look at the list of vegetable ingredients in the recipe.

Note:- If you landed on this page looking to start out with pulled pork rather than to be thinking about the leftovers then slide on over to my pulled pork recipes and tips page. I've also included a load of links at the bottom of the page to other pulled pork recipes.

It's quick and easy to do (just a lot of vegetable chopping) and you really can use whatever you've got in the refrigerator. The base veggies are a green pepper, and onion and celery but after that, well the worlds your oyster. In mine I've chosen to add fennel because I think it brings a distinctive taste to my gumbo.
Likewise I've used about 1lb of meat but it really depends on how much you've got leftover. I've done this recipe with only ½lb in the past.
Serves:- 4 people

Preparation Time:- 20 mins
Cooking Time:- 50 mins

Total Time:- 1 hour 10 mins

Ingredients:-
450g or 1lb chopped smoked pork
200g or ¾ cup white rice
2 tablespoons oil
2 tablespoons plain flour
1 onion, chopped
1 green pepper, chopped
2 sticks celery, chopped
1 bulb fennel, trimmed and chopped
1 clove garlic, peeled and chopped
1 red chili chopped
1 can chopped tomatoes
1 small can sweet corn
½ litre (1 pint) vegetable stock
1 teaspoon dried thyme
1 bay leaf
Method:-
Place a large dutch oven over a low heat and pour in the oil and flour to make the roux. Mix all the flour to eliminate lumps and then let it boil for 5 minutes or so until the roux starts to go golden brown. Take it off the heat when it starts to colour otherwise you might burn it.
Now add all the chopped veg including the garlic and chili, and stir for about 5 minutes until the veg starts to soften, taking care to ensure that the pan doesn't burn.
Throw in the can of tomatoes, the veg stock, thyme and bay and stir until everything is thoroughly mixed. Allow to simmer for 30 minutes.
When your 30 minutes is up, add the rice and allow it to cook and absorb the moisture from the sauce. When the rice has nearly cooked, you should have a nice thick consistency and it's now time to add the chopped pork and sweetcorn to warm it through.
This has to be one of the best leftover smoked pork shoulder recipes for a Winter's evening.
See Also:-
Smoked Pulled Pork Recipe
Easy Pulled Pork Barbecue Recipe
Traditional Pulled Pork Barbeque Recipe
Crock Pot Barbecue Pulled Pork
Oven Pulled Pork Recipe
More Smoked Meat Recipes

Return to Water Smoker Recipes from My Best Smoked Pulled Pork Recipes