Thanksgiving Barbeque Menu
Thanksgiving Barbeque Menu Ideas

The obvious Thanksgiving barbeque menu ideas are going to involve Turkey but it's also about what you cook with it that makes the day. It's such a special occasion that it's worth planning and of course you can be safe in the knowledge that these recipes actually work.
The History

As a European barbecue enthusiast and website owner the fourth Thursday in the month of November has always been a significant time most notably because of the high volumes of people who visit my site. In addition, we live in a global community so the traditions of one country tend to mix.
The festival of Thanksgiving can be dated back to 1621 at the Plymouth Plantation when the earliest settlers invited native Americans to celebrate the harvest. The previous years harvest had failed, many had starved to death and it was only because the native Americans had shown the newcomers how to grow certain crops that 1621 became a turning point.
I guess that nearest we come to it in the UK is our harvest festival however this is more of a religious celebration.

Thanksgiving (or "Franksgiving") was moved to its current date (it was originally the last Thursday in November) and made a public holiday by Franklyn D Roosevelt in 1939 in part to boost the commercialism of the day. Certainly as a secular society, more Americans celebrate Thanksgiving than celebrate Christmas.
The BBQ community here in Europe respect American style low and slow barbecue and so whilst the religious significance of Thanksgiving is probably lost on us, it's still a good opportunity to cook a turkey.

It's Gotta Be Turkey!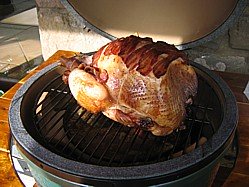 Well this is probably the grey area, there doesn't appear to be any common understanding of why turkey is traditionally served at Thanksgiving.
Many believe that it follows from a letter Pilgrim Edward Winslow wrote in 1621 which mentioned a turkey hunt before the dinner.
Alternatively the choice of turkey may have been inspired by Queen Elizabeth I who was eating dinner when she heard that Spanish ships had sunk on their way to attack England. She was apparently so delighted that she ordered another goose be served. So others believe that the early US settlers roasted turkeys as they were inspired by her actions.
I have to say that it's probably just as simple as wild turkeys being native to North America so they were a natural choice for early settlers.
So for our Thanksgiving barbeque menu I'm going to concentrate on turkey and I've got some easy grilled recipes so sit around the bird.

If you're into smoking then it's got to be the whole turkey and remember to get it under 13 pounds, any more than this and you'll find it difficult to guarantee the result. The great benefit of doing the main meat on the smoker is that once finished you can set it aside and quickly flash and tasty starter on the grill. This makes for a great meal but takes the pressure off the chef especially if the starter is as quickly cooked as seafood.
Before we go to the appetizers, you'll need to brine your turkey and I've got a multitude of turkey brine recipes for you.
For Your Appetizer:-
For The Main:-
If you haven't got a smoker and want to grill some turkey then it is possible to cook just a lobe of breast. 

Or for Queen Elizabeth how about Smoked Goose?

For Dessert:-
Grilled Woodland Fruit - The greatest of all grilled fruit recipes and perfect for this time of year.
Baked Camembert With Cranberry Sauce - the best way to serve cheese at Thanksgiving or Christmas.
And the last Thanksgiving barbeque menu idea is a glass of wine to wish you good health and a Happy Holiday!
See Also:-
External Links