Whole Barbecue Turkey Recipe
This easy whole barbecue turkey recipe delivers a wonderfully moist result every time so don't just leave it for Thanksgiving or Christmas.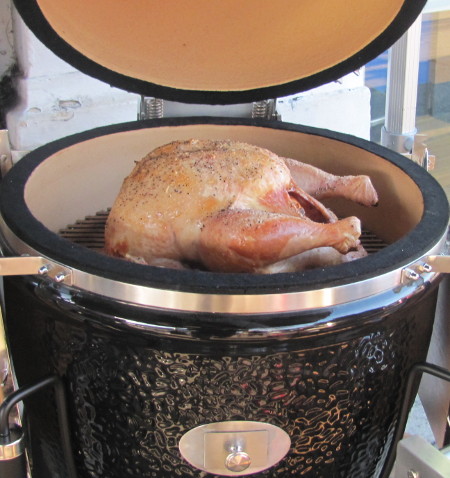 It's for the full bird so you'll need to prepare your barbecue for a monster cookout - it'll take about 4 hours to do a medium sized bird.
There are pro's and con's to cooking your turkey low and slow. Firstly the negative is that the skin will be tough and inedible, it's the same whether you do a chicken this way or a turkey.The reason why your skin isn't crispy is because you're cooking at a temperature below which the Maillard reaction doesn't take place.

For me it's not such a big issue with the turkey (but I do like crispy skin on my chicken) probably because cooking a whole turkey is much more of an event and there's usually so much more going on around my plate that the lack of skin really doesn't bother me.
In addition, the positive far outweighs the negative and that is that your bird will be supremely succulent. What I like best about this sort of cooking is that you afford to be flexible in your timing and within reason the bird won't dry out. So for me, low and slow is always the order of the day when it comes to the whole turkey.
For this particular barbecue turkey recipe I'm using a basic and mild seasoning so I don't want too much smoke, in fact I'm just going to set up my kamado for indirect cooking without the use of additional wood chips. (Other models such as the Weber kettle barbecue smokers work just as well).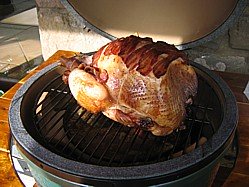 For added flavor and succulence I've also brined my turkey in this easy smoked turkey brine overnight prior to the cookout and then layered a few rashers of streaky bacon on the top to protect the breast.
So a low heat is required of about 225°F or 110°C, indirect heat, drip tray in the bottom filled with warm water and off we go.
TIP - It is important to get the full mass of your barbecue up to the right temperature and under control from the start, that way you know exactly how long your bird has been cooking for.
Serves:- 12 people

Preparation Time:- 10 minutes
Brine Time:- overnight + 24 hours to dry
Cooking Time:- 4 hours

Total Time:- 2 days
Allergens:
Just simple straight ingredients in this recipe so no allergens to worry about.

Ingredients:-
1 10lb turkey
100g / 4 oz butter
1 tablespoon cooking oil
salt and pepper
Method:-
Mix the brine recipe, ensure that all the solutes have dissolved and then chill in the refrigerator.
When cool you can add the turkey. The best way to do this is in a bucket, place the turkey in head first so that the cavity fills with brine. If you go in tail first then you risk an air pocket remaining in the cavity. Keep your turkey brine in the refrigerator throughout the brining time.

When ready, remove the turkey from the brine and rinse, this will wash away any salt particles that could crystallize on the skin. Dry the bird by covering it with paper towels and stuffing more paper towels inside the cavity. Leave it to dry for a further 24 hours.
When your turkey is dry it's time to add the seasoning. It's pretty simple, just sprinkle with salt and pepper and have some oil & butter mix on hand to start the basting process. Melt the butter in a pot and add a tablespoon of oil – this baste will give all the flavour of the butter without burning it.
Season and baste the skin of the bird and then lay breast side up on the barbecue. It may be necessary to use foil to shield the sides but that really depends on your barbecue. Put the cover on, cook at 225°F and baste every 30 minutes or so with your butter / oil mix and 3½ hours later you should have the perfect barbecue Turkey.
Test it with a skewer for clear running juice or a use a bbq thermometer to check both the breast and thigh meat for a temperature of 165°F (74°C). If it needs another 30 minutes then so be it.
Now this is one of the most important points about any barbecue turkey recipe; when you're happy that it's done, take it out of the barbecue and allow it to rest for at least an hour. This will give time for the juices to cool and settle in the flesh. Carve into it any earlier and you'll end up mopping the juice off the floor.
If you can wait longer then please do, I would normally let a bird of this size rest for about 3 hours. Even for this length of time you've got such a big mass of meat that it won't go cold and if you serve on hot plates with a hot gravy then no one will be any the wiser.
Serve my barbecue turkey recipe with all the trimmings and how about a few pigs in blankets too?

See Also:-
Smoked Turkey With Chili Sugar Rub


Christmas Barbeque Turkey Recipe
Tips For Cooking Smoked Turkey
Tandoori Grilled Turkey Breast
More Information On Indirect Cookers
Great Barbecue Turkey Recipes