Top 10 Best BBQ Grills And Smokers 2017 Review
My independently tested top 10 best BBQ grills and smokers 2017 UK review has been judged by 6 key criteria. My review is also segmented to cover the best fuel choice for your style of outdoor cooking.
Let's face it, there is a myriad of BBQ grill and smoker manufacturers out there all vying for your custom so choosing the right one can me a bit of a minefield.
You've maybe already gone down the the garden centre and seen a large display and can't find anything (or anyone) to help you differentiate one barbecue from another. That's because most garden centres stock the three mass produced brands (Weber, Outback and Landmann) becuase what these brands lack in construction quality, the garden centre translates into repeat sales year after year.

But now you can step off this money-go-round. Last year saw tremendous growth in the number of independent specialist BBQ shops in the UK. These shops are run by enthusiasts who know their products and will be happy to demonstrate why one barbecue is better than another depending on how you like to cook and how often you cook outdoors.
Use my top 10 best BBQ grills and smokers 2017 select the right barbecue for you and then call your local shop for their opinion (and best price!).
Note: You can now also use my updated review of the best value BBQ grills and smokers 2018.

Selection Criteria

My top 10 best BBQ grills and smokers 2017 review has been compiled using 6 key criteria. It has then been subdivided into 5 categories based on fuel type with one "entry level" selection and one "best buy". The criteria I used are as follows:-
Ease Of Set Up - We all want to start cooking right away so no complicated instructions and hours of putting together allowed.
Cooking Results - The ultimate test, does the grill deliver the cream or the cremation?
Versatility - The more styles of cooking you can do the better.
Quality Of Construction - If it's going to corrode and fall apart after one season then we're not interested.
Brand Back Up - There's a lot of product shipped in from China and badged with a "brand". We want after sales service, warranties and a wide variety of accessories.
Value For Money - Another word for price? It's more a judgement on the points above and how much does it cost.
Categories For The Best BBQ Grills And Smokers 2017

---
2017 Best Charcoal BBQ Grills (With A Lid)

If you're new to barbecue cooking, the first piece of advice I would give anyone is to buy a grill with a lid because it gives so much more flexibility in terms of cooking styles. But I can say it until I'm blue in the face, my Mum will always want to watch what's cooking so for that reason I've separated the charcoal grills category into those with a lid and those without. This first category covers the best of those with a lid.

Monolith Classic With Cart - £995
My Overall 2017 Winner!
The Monolith Classic is my overall winner of the best BBQ grills and smokers 2017 review because this kamado style barbecue scored top marks in all bar one of the six judging criteria. Open the box and the barbecue is already assembled so technically you can cook on it straight away. The cart that came with it did need assembly however but this was a 15 minute job with six screws.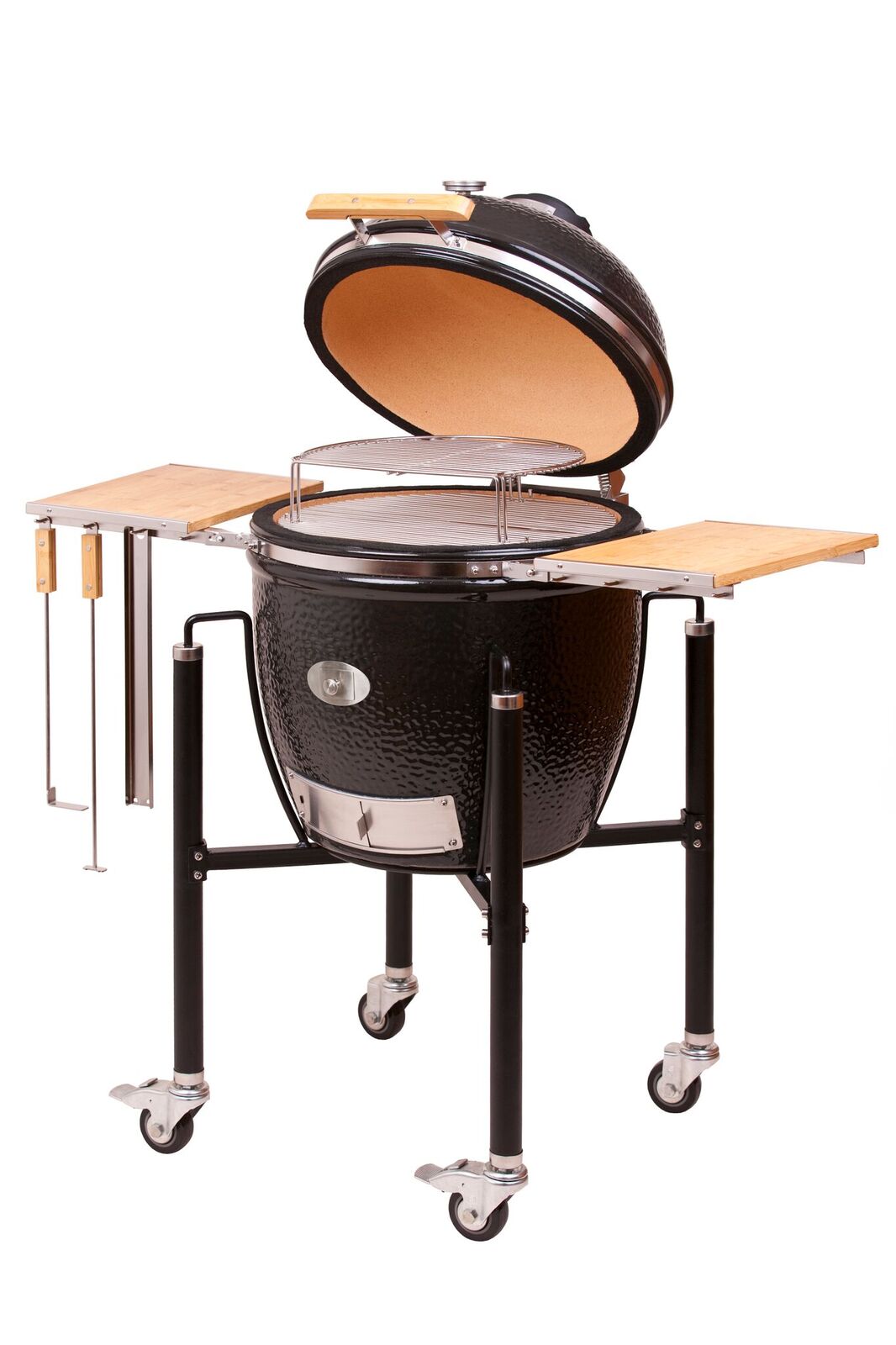 Most kamado grill manufacturers talk about the restricted airflow delivering juicier results... well they're right. Everything cooked in test turned out moist and juicy moreover Monolith have perfected airflow control with their charcoal firebox basket which doesn't clog up like some other brands which still have a cast iron firebox grate.

The Monolith has versatility in spades. You can smoke, grill, bake, sear, roast and make pizza so pretty much all bases covered. In addition the ceramic wall means very little heat loss, you can cook on a Monolith all year round no matter what the outside temperature.

Construction is ceramic with a stainless steel hinge and banding so nothing should rust. Monolith is the only top kamado brand that uses stainless steel so it scored higher than others on this point too.

Monolith is a German brand, the warranty on the product is 10 years and the range of accessories is extensive. You can even buy a rotisserie and a wok stand adding further cooking options.
The Monolith stands out when it comes to cleaning too. Just loosen up any food debris with a wire brush and then open the vents to deliver a high temperature. Any remaining debris chars and particulates out of the chimney.

On the face of it the £995 price tag might not seem to be the lowest of its peer group but when you bundle up all the accessories  that are included in this price (split heat deflector stones, 2nd tier cooking rack and a pizza stone) then it represents excellent value for money.
It's also pretty much a lifetime purchase. With the level of versatility of cooking styles and temperatures that you get with the Monolith you might never buy another barbecue in your life.
Moreover the Monolith Classic is supremely economic on charcoal consumption so overall lifetime cost has to be a factor worth considering.
| Scoreboard | Mark Out Of 5 |
| --- | --- |
| | |
| Ease Of Set Up | 4.5 |
| Cooking Results | 5 |
| Versatility | 5 |
| Construction Quality | 5 |
| Brand Back Up | 5 |
| Value For Money | 5 |
| | |
| Verdict | 4.9 |
Note:
If you can't stretch to the Classic but want to experience kamado cooking then the smaller Monolith Junior starts at £359.
Use this link to read my full review of the Monolith ceramic grill.

2017 Best Entry Level Charcoal Grill

Char-broil Kettleman - £200

If this is your first foray into the barbecue then I can understand you not wanting to spend £995 on your first grill. A good first time barbecue is a "kettle" style grill.
My pick for the best BBQ grills and smokers 2017 review is the Char-Broil Kettleman which at £200 represents excellent value for money.
The design is simple so construction at home doesn't take too long.
You'll get the opportunity to learn about direct and indirect cooking and the Char-broil Kettleman delivers excellent results albeit without such thick walls as the Monolith, it's harder to keep up to temperature in lower ambient temperatures.
The 360° air inlet system works well for long cooks (with the lid on) and the position of the air inlets (pretty much to the side of the charcoal) reduces the chance of airflow blockages compared to other kettles that have their air inlets in the bottom of the kettle.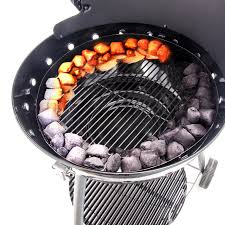 Most kettles are made from pressed aluminium so rust free... until you get to the legs & joints where cost cutting means that the joint screws will eventually rust. That said you'll still get a good few years out of a decent quality kettle.
Charbroil is a well respected American barbecue brand so expect good service and brand back up.
| Scoreboard | Mark Out Of 5 |
| --- | --- |
| | |
| Ease Of Set Up | 4 |
| Cooking Results | 4.5 |
| Versatility | 3.5 |
| Construction Quality | 3.5 |
| Brand Back Up | 4.5 |
| Value For Money | 4.5 |
| | |
| Verdict | 4.1 |
---
2017 Best Charcoal BBQ Grills (Open)

I've come to the conclusion that there needs to be a separate category in my best BBQ grills and smokers 2017 review for open charcoal grills (those without a lid) because there are plenty of people and cultures for whom the open style of cooking is a way of life.
There's something relaxing and soothing about seeing an open fire and when there's the smell of food cooking on too...

Megamaster 800 - £1,176 Overall Best Open Grill

The Megamaster 800 is a big piece of kit yet scored well on self assembly because it can be erected by a single person and no nuts or bolts are required.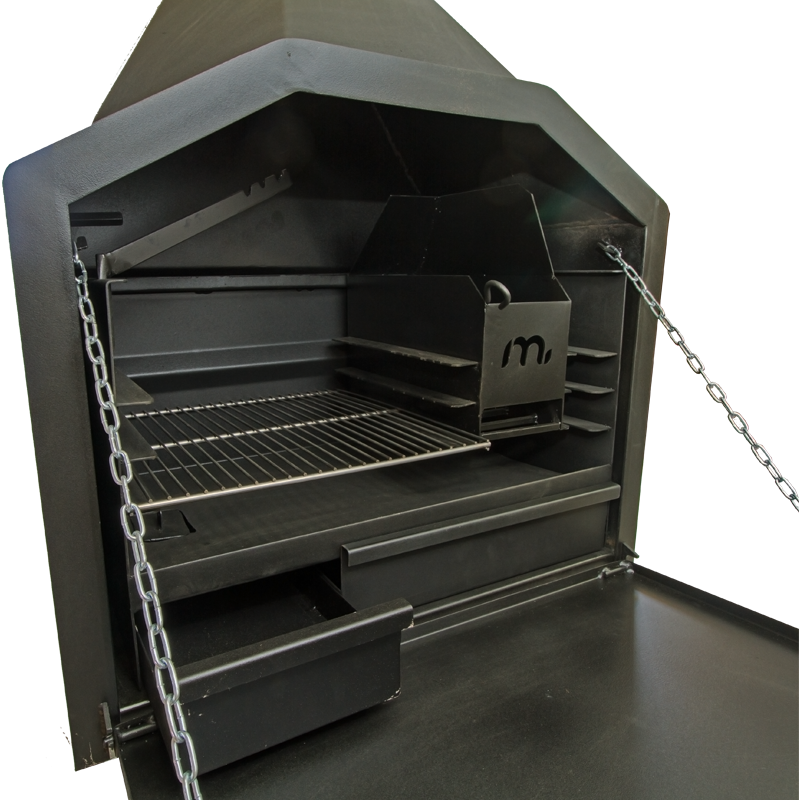 This South African BBQ grill known as a Braai is open fire cooking in the true sense of the word because you first burn your own wood to create the charcoal embers which you then use to cook.
The wood is burned in a basket (to the right side in the picture above). As the embers drop down you can either leave them where they are and cook indirectly or scrape them directly under your food for grilling.
Handy additions to the Megamaster 800 are the potje hook to the left side for dutch oven cooking and the warming drawers under the charcoal tray.

If I have one complaint it's that the Braai isn't stainless steel but then that is reflected in the price which retails at £1176 including the stand which doubles as a log store and the flue.
The freestanding Megamaster 800 is an imposing piece of kit but then that's what open fire cooking is all about - a bit of theatre!

| Scoreboard | Mark Out Of 5 |
| --- | --- |
| | |
| Ease Of Set Up | 4 |
| Cooking Results | 4 |
| Versatility | 3.5 |
| Construction Quality | 4 |
| Brand Back Up | 5 |
| Value For Money | 4 |
| | |
| Verdict | 4.1 |
2017 Best Entry Level Open Charcoal Grill

Thüros T1 Tabletop - £89

OK so I'm a sucker for stainless steel but this German baby grill also gets a top score for "no assembly needed". Just take it out of the box and you're ready to cook.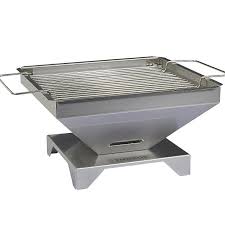 Thanks to the lower vent holes and charcoal tray which allows a good air circulation just a small amount of briquettes are required to give a nice heat and no flare ups.
Clean up is really easy too because everything is dishwasher safe.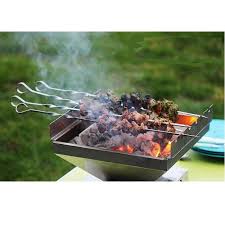 For me this portable charcoal grill scores highly most areas with the exception of versatility but then it's an open charcoal grill which by definition restricts versatility. That said, an optional lid, wind shield and skewer rack set make the most out of what the grill has to offer.
Cost for the basic grill is £89 and £275 with all the extras included.
| Scoreboard | Mark Out Of 5 |
| --- | --- |
| | |
| Ease Of Set Up | 4.5 |
| Cooking Results | 4.5 |
| Versatility | 4.5 |
| Construction Quality | 4.5 |
| Brand Back Up | 5 |
| Value For Money | 4.5 |
| | |
| Verdict | 4.6 |
---
2017 Best Gas BBQ Grills
Bull Angus - £2900 Overall Best Gas Grill

My general rule of thumb as to whether a gas grill is going to deliver and good result or just burn everything is to look at the distance between the burners and the cooking grate. The Bull Angus delivers a healthy 75mm.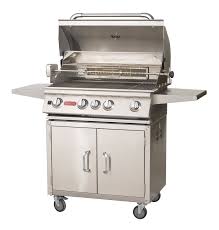 Construction time when you get your Bull Angus home is pretty slick for a gas grill thanks to the "snap on" fixing and fastenings for the burners.
The Bull Angus has 5 burners including an infra red burner at the rear, included in the price is a rotisserie so you the full versatility of a gas grill is available from day 1. You even get lights for night time grilling!
It's attention to detail that justifies the Bull Angus as top gas pick in my best BBQ grills and smokers 2017 review, for example the perforated flame tamers help even out the heat distribution across the cooking area. Many lower cost grills take no account of this and suffer from hot spots (usually at the front of the grill) but the Bull Angus doesn't fall foul of this common complaint.

With a gas grill it's always important to consider cleaning because you have to keep the burners from clogging up. Bull have properly thought through the design of the burners to ensure that they are easy to remove and clean.
Finally the Bull Angus is constructed from 100% type 304 stainless steel so there will be no rust and it'll look good for many a year.
Of course this all comes at a cost but the £2,900 price tag isn't expensive for this level of quality.
| Scoreboard | Mark Out Of 5 |
| --- | --- |
| | |
| Ease Of Set Up | 4 |
| Cooking Results | 4 |
| Versatility | 4 |
| Construction Quality | 4.5 |
| Brand Back Up | 4.5 |
| Value For Money | 4 |
| | |
| Verdict | 4.2 |
2017 Best Entry Level Gas Grill
Napoleon Rogue 4 - £649

Now that you've picked yourself up off the floor from the price of my best gas grill recommendation for 2017 let me be clear... there isn't such a thing as a good cheap gas grill.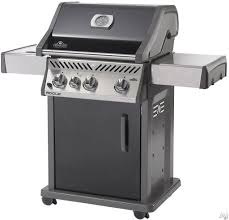 My entry level pick for best BBQ grills and smokers 2017 is the Napoleon Rogue 4 burner.
I can't rave about the construction quality but for the money, Napoleon have done a pretty neat job to balance quality with number of features such as the integrated side burner.
The lid is porcelainised and the cart is sheet steel (screwed together) so it won't last forever but you can eek out a few years more by investing in a cover to go with it.
The recommended retail price on this gas grill is £649 which to me is expensive compared to a Monolith Classic which does so much more but charcoal isn't for everyone and buy a gas grill cheaper than this at your peril.

| Scoreboard | Mark Out Of 5 |
| --- | --- |
| | |
| Ease Of Set Up | 3.5 |
| Cooking Results | 3 |
| Versatility | 3 |
| Construction Quality | 5 |
| Brand Back Up | 4.5 |
| Value For Money | 4 |
| | |
| Verdict | 3.8 |
---
2017 Best Combination Grill

JensenGrill Estate 3.0 - £3,795

Combination or dual fuel grills are pretty new on the scene. The concept is that you get the flavour of charcoal with the convenience and control of gas and really there's only one grill that delivers on all fronts and that is the JensenGrill Estate 3.0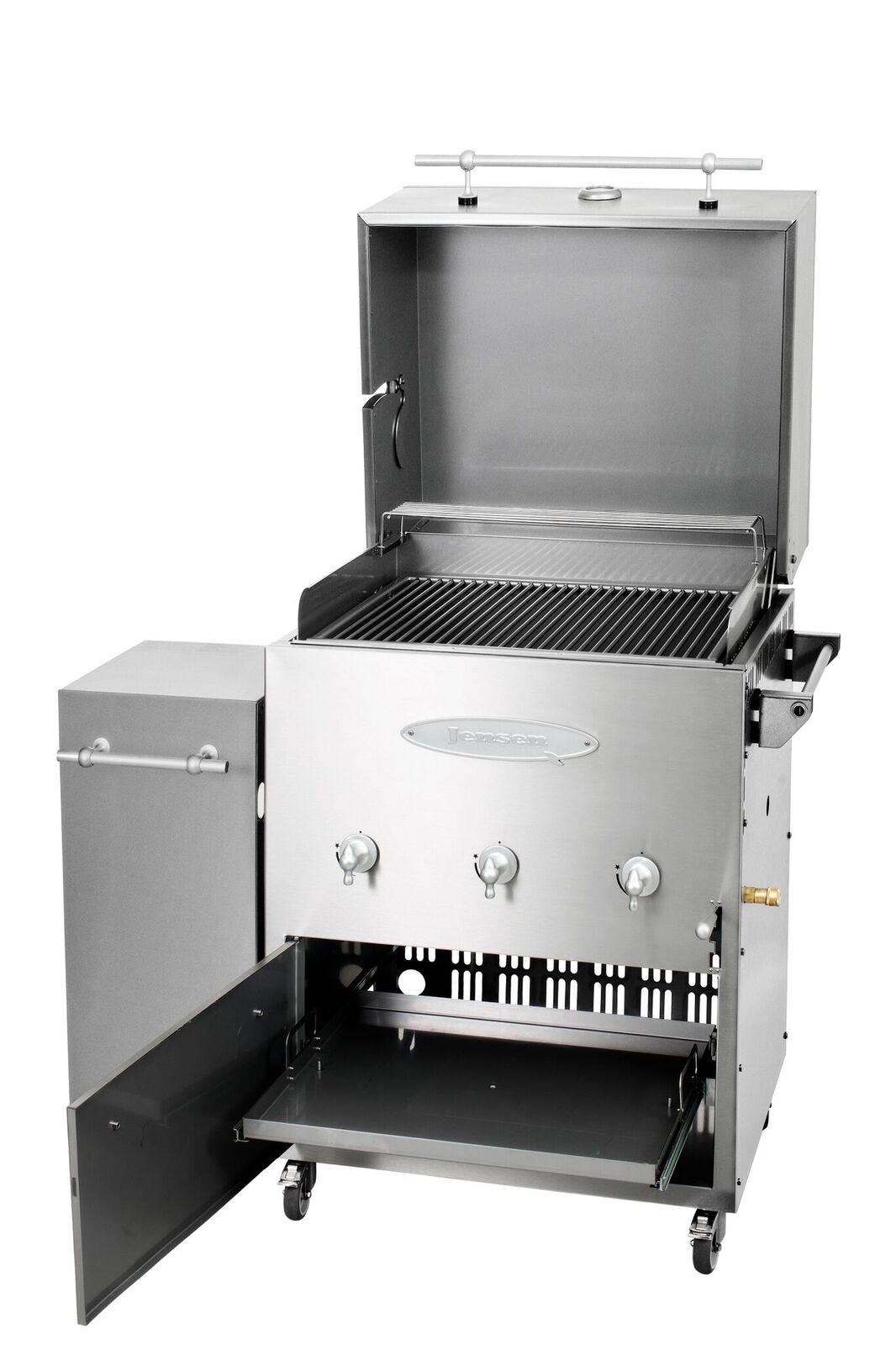 The JensenGrill scores well in terms of ease of set up because it's welded rather than screwed together (yes, even the cart is an integral part). All you have to do is connect the gas, screw on a knob to the height adjustment lever and you're pretty much ready to cook.
The ease of set up doesn't just relate to the first time either. The combination of charcoal and gas means that you have ultimate control of your grill. The gas burners ensure that your grill is up to temperature in 15 minutes without fail and most importantly all the charcoal is simultaneously at that perfect point ready to cook so no flare ups from unevenly combusted coals. This is why the JensenGrill Estate 3.0 is perfect for the professional chef as well as the enthusiast.

Cooking results are superb and by adding wood chips to the charcoal baskets you can add great smoky flavour to your food.
The JensenGrill Estate 3.0 scores well on versatility, especially for rotisserie cooking which can be done with the lid down to seal in the flavour. JensenGrill also offer a Sicilian lava stone for pizza which I have to say holds the heat better than any other pizza stone that I've used before. Low and slow cooking is possible thanks in part to the gas burner that gives you perfect control over the heat.
This is not a grill designed in Denmark and mass produced in China, it is hand made in Denmark too so the production run is limited to 500 per year. This means that joints are welded and finished, the entire grill (including the cart) is fabricated from 304 grade stainless steel so the JensenGrill Estate 3.0 gets top marks for quality.
The JensenGrill brand is backed up by a 2 year general warranty coupled to a 10 year rust warranty on selected parts.
The £3,795 price tag is not unreasonable for a quality piece of professional outdoor cooking equipment. No doubt the price coupled with the limited production run will guarantee exclusivity to the domestic buyer and maybe that's also part of the attraction.

| Scoreboard | Mark Out Of 5 |
| --- | --- |
| | |
| Ease Of Set Up | 4.5 |
| Cooking Results | 4.5 |
| Versatility | 4.5 |
| Construction Quality | 5 |
| Brand Back Up | 4.5 |
| Value For Money | 4.5 |
| | |
| Verdict | 4.6 |
2017 Best Entry Level Combination Grill

JensenGrill Estate 1.0 - £2,395

It's only category in my best BBQ grills and smokers 2017 review where my entry level brand is the same as my "best" pick and that's because there isn't another brand to compare. Yes there are other dual fuel barbecue grills out there but frankly all they are is a gas grill and a charcoal smoker bolted together.
Ok it might save you a bit of space but certainly I'd prefer to buy separate units and get the best of both worlds rather than what l think is trying to be a jack of all trades.
So that just leaves me to summarise the JensenGrill Estate 1.0 and that's best done as a comparison to the Estate 3.0
JensenGrill Feature


---

Estate 1.0


---

Estate 3.0


---

Cooking Area


---

430mm x 520mm


---

470mm x 600mm


---

Burners


---

3 x 4.5KW


---

3 x 5.1KW


---

Cart




---

Wheelbarrow style with undershelf & solid wheels



---

Full cart with locking casters and warming cupboard


---

Gas Bottle Container


---

Optional


---

Included


---

Price


£2,395


£3,795
---
Note: The table above doesn't cover all the differences but it gives you a flavour for balance between size and manufacturing cost.
Of course I accept that the £2,395 price tag is still a lot of money so the only solace you can take is having saved £500 over my best gas grill.
| Scoreboard | Mark Out Of 5 |
| --- | --- |
| | |
| Ease Of Set Up | 5 |
| Cooking Results | 4.5 |
| Versatility | 4.5 |
| Construction Quality | 5 |
| Brand Back Up | 4.5 |
| Value For Money | 4 |
| | |
| Verdict | 4.6 |
Use this link for my more in-depth JensenGrill road test.
---
2017 Best Pellet Grill

Electric pellet grills are relatively new to the UK and suit those outdoor chefs that want to set the temperature, walk away and come back when done. The purist may always be left wanting and they're relatively expensive to run but they make up for it in convenience. If you're thinking that a gas grill is the way to go then an electric pellet grill is worthy of consideration.
The grill is fired by wood pellets which are stored in a hopper to the side of the grill. The pellets are ignited and a fan distributes the heat and the smoke within the food chamber. A baffle plate sits over the pellet burner to ensure even spread of heat. The digital control then determines the rate at which the wood pellets are fed in and the speed of the fan
Traeger Timberline 850 - £1,850 Overall Best Pellet Smoker / Grill

New in the UK for 2017 the Traeger Timberline 850 is a well deserved new entry to my best BBQ grills and smokers 2017 review and it's going to take a lot of beating.
Set up took about 30 minutes but it's a two person job. Slide the box off, roll the grill on it's side and screw in the legs. That's it, lift it onto the legs and any remaining time in set up is just removing the packaging from the cooking grates.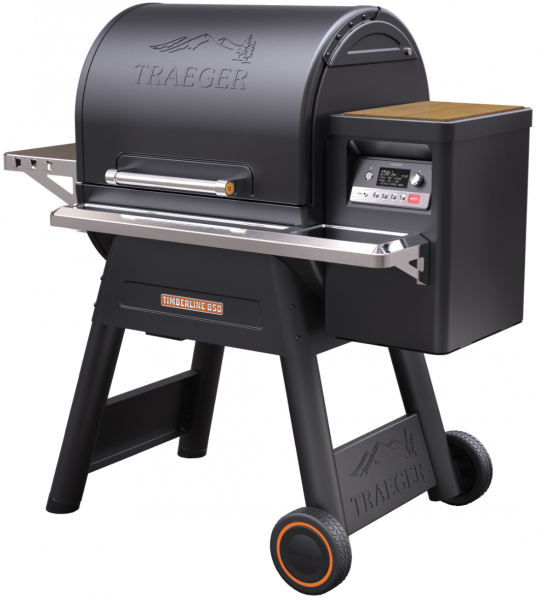 Cooking on the Traeger Timberline is easy because the thermal control is digital, all you do is set the temperature and pretty much nothing more. Moreover it's wi-fi controlled so providing your grill is connected to your router you can use the Traeger app on your Android or IOS phone to warm it up before you get home.
Overall heat distribution isn't bad but I guess it's inevitable that as the heat rises around the edges of the baffle plate then this is going to create a hot spot... and it does. Not a deal breaker but something you have to be aware of and get used to.

Pellet grills in general don't score well on versatility because the downside is that you really only cook in one way which is convection heat. If you want direct radiation heat or rotisserie cooking then look elsewhere.
Quality of construction looks good. Traeger have upped their game considerably with this new model which features a 2cm thick double skinned and wall (which will improve fuel efficiency) and 3 type 304 stainless steel grill grates.
Neat features also include a magnetic chopping board on top of the hopper lid. If ever you need to replenish the hopper then all your (metal) utensils are magnetically attracted to the lid and don't slide off.

Traeger have been around in the UK for a number of years but failed to break through into the mainstream. Certainly the supply back up is there so it's probably just now down to consumer demand for pellet grills to get them fully established.
The RRP is £1849 which pitches it right in among the quality gas grills and I dare say it's going to give a few of those a run for their money. Use this link to read my full Traeger Timberline 850 review.

| Scoreboard | Mark Out Of 5 |
| --- | --- |
| | |
| Ease Of Set Up | 4 |
| Cooking Results | 4 |
| Versatility | 4 |
| Construction Quality | 4 |
| Brand Back Up | 4 |
| Value For Money | 4 |
| | |
| Verdict | 4.0 |
2017 Best Entry Level Pellet Smoker / Grill

Green Mountain Grills Davy Crockett - £379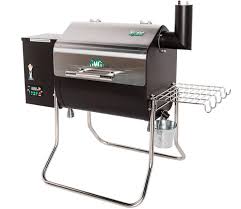 To be honest I'm new to pellet grills and as a backyard cooker I'd want to a lot more involvement in the cooking than this electric grill allows but when it comes to outdoor cooking on the move then this unit jumps to the head of the queue.
Initial set up was OK even if the instructions were a little confusing but we still managed to sort it out. I say we because despite what I said about this being a great grill for cooking on the move, it still takes two people to safely move it or load it into the back of the car.
Where it comes into its own is the simplicity of operation. You can run it from the car cigarette lighter and it has wi-fi control so you can play around with the settings on your phone.
The Davy Crockett lost some points because of uneven temperatures in the food chamber but I worked that to my advantage as you don't always want the same temperature everywhere - it's just a matter of knowing where the hot spots and cold spots are.

Green Mountain Grills have been around for 10 years in the USA but not as long in the UK. With pellet grills being a new and relatively small niche in the UK market it's fair to say that manufacturer support (relative to other pellet grills) is good but not up to the same presence as most of the other grills in my best BBQ grills and smokers 2017 review.

| Scoreboard | Mark Out Of 5 |
| --- | --- |
| | |
| Ease Of Set Up | 4 |
| Cooking Results | 5 |
| Versatility | 3.5 |
| Construction Quality | 3.5 |
| Brand Back Up | 4 |
| Value For Money | 4 |
| | |
| Verdict | 4.0 |
---
UK Independent BBQ Shops

This best BBQ grills and smokers 2017 review is based on models available in the UK and recommended retail prices quoted are Pounds Sterling
As I mentioned at the top, specialist barbecue shops are now establishing themselves in the UK so it makes much more sense to use these guys for advice and remove the "garden centre guesswork" from your next barbecue purchase.
All the shops listed below have excellent displays of product and most will deliver nationwide.

The North

Dawsons BBQ World - Clitheroe, Lancashire & Skipton, North Yorkshire.

Midlands
BBQ Store - Birmingham, West Midlands.

South
BBQ Land - Hichin, Hertfordshire.

BBQ Barn - Sidcup, Kent.

The Alfresco Shop - East Grinstead, Surrey.

Living Outside - Wimborne, Dorset.

Northern Ireland

The Great Outdoors BBQ Company - Moira, Craigavon.

See Also:-

Barbecue Grill Comparisons
Gas Grill Reviews
Meat Smokers Guide
Kamado Guide
Accessories And Gifts


Return To Recipes Home From UK Best BBQ Grills & Smokers 2017