Best BBQ Grills And Smokers 2018 UK Review
My best BBQ grills and smokers 2018 review unveils the top 3 best value gas grills, charcoal grills and wood fired pellet grills to suit every budget.
Every BBQ grill and smoker in this list has been thoroughly tested and after each selection you'll find a link through to the full test report.

This best BBQ grills and smokers 2018 UK review has been judged by 6 key criteria. It's then also segmented in to the 3 most popular fuel choices - charcoal, gas and electric wood pellet grills.
There is a wealth of BBQ grill and smoker manufacturers out there all trying to persuade you to buy their product so I'm here to help you choose the best value grill / smoker.
If you've been down your local garden centre you'll probably be none the wiser because most garden centres stock the three mass produced brands (Weber, Outback and Landmann) and none of the staff will know one from the other.

But good news is here! For the last few years we've seen a tremendous growth in the number of independent specialist BBQ shops in the UK. These shops are run by enthusiasts who know their products, will be happy to demonstrate them and let you cook on them. They can explain why one barbecue is better than another depending on how you like to cook and how often you cook outdoors.
Use my best BBQ grills and smokers 2018 review to select the right barbecue for you and then call your local shop for their opinion (and best price!).
Selection Criteria
My best BBQ grills and smokers 2018 review has been compiled using 6 key criteria. It has then been subdivided into 3 fundamental fuel type categories. The criteria I used are as follows:-
Ease Of Set Up - How much assembly work is there? What about a good set of instructions and how many people are needed?
Cooking Results - The ultimate test, does the grill deliver the cream or the cremation?
Versatility - Is it just a grill or can you smoke on it? How about both at the same time and can you cook pizza?
Quality Of Construction - If it's going to corrode and fall apart after a couple of seasons or is it built to last? It may be an attractive price but if it's not going to last the distance then it's a false economy.
Brand Back Up - There's a lot of product shipped in from China and badged with a "brand". We investigate after sales service, warranties and a wide variety of accessories.
Value For Money - OK so we can't all afford to buy the best there is so we've included options to suit all pockets.

Categories For The Best BBQ Grills And Smokers 2018
For 2018 I'm going to focus on the Top 3 best value BBQ grills and smokers by the three different fuel types:
Top 3 Best Wood Fired Pellet Grills / Smokers

Top 3 Best Charcoal Grills / Smokers

If you've read my section on fuel choice then you'll probably already pretty clear which way you want to go. If not then I've put my quick guide to the pros and cons of each fuel choice at the head of the section.

After that the single biggest deciding factor is budget so to determine the best value BBQ grills and smokers by budget I've put together the running order in each category is as follows:
Simply the best that money can buy
The best mid priced performer
The best entry level 
---
Top 3 Best Gas Grills 2018
Reasons To Buy A Gas Grill
The single biggest reason who people buy a gas grill is for ease. Fire it up and you're ready to cook in about 10 minutes, you also get good control over the heat intensity at the turn of a nob.
At the top end of the market, gas grills also give loads of cooking space and some good versatility (eg a rotisserie) with a multitude of burners.
Reasons To Check Out The Alternatives
Gas grills can be difficult to clean so while start up is immediate, the clean down can be a pain. You need to keep the burners free from grease to maintain gas flow and efficiency.
Gas is a fossil fuel - if care for the environment influences your buying decision then look elsewhere.
A quality gas grill is going to cost you significantly more money than say a charcoal grill. 
At a friends BBQ party earlier this year I overheard one of his neighbours ask:
"Why does the food that comes off your gas grill taste so much better then when I cook at home?"
My friend simply replied: "Because I spent more money on my grill".
My friend maybe a little forthright in making the point but he is absolutely bang on and there's a very easy way to tell which gas grill is going to deliver better results.
That said, there is an excellent value unit in my top 3 best gas BBQ grills 2018 but it still follows these essential design features: 

Look at a cheap gas grill and you'll see that the burners are located 25 - 50mm (1" - 2") below the grill grate. Look at a quality grill and you'll see that the burners are located 100 - 150mm (4" - 6") below the grill grate and this is the difference that determines whether your food is charred on the outside and raw in the middle or beautifully cooked through with a crisp exterior.
In short there is a straight relationship, the more money you spend, the greater the distance between your burners and your food.
Of course there are other factors to look at such as build quality, cooking space, warranty etc. but you can have the largest of cooking areas and still deliver a burnt offering if the burners are too close to the cooking grate. Here's my choice of the best gas grills 2018:-

1. JensenGrill Estate 1.1  - RRP £2,395

It's not often that the grill which I regard to be simply the best gas grill that money can buy isn't actually the most expensive of the top 3 gas grills so it has to take the best value gas grill accolade. 

The JensenGrill Estate 1.1 scores well in terms of ease of set up because it's welded rather than screwed together (yes, even the cart is an integral part). All you have to do is connect the gas, screw on a knob to the height adjustment lever and you're pretty much ready to cook.
In addition to running on gas you also get the option to add charcoal trays included in the standard price which gives you superb versatility. The powerful gas burners ensure that your grill is up to temperature in 15 minutes without fail and most importantly all the charcoal is simultaneously at that perfect point ready to cook so no flare ups from unevenly combusted coals. You now have the flavour of charcoal with the total control of gas.

Cooking results are superb and by adding wood chips to the charcoal baskets you can add great smoky flavour to your food.
JensenGrill also offer a Sicilian lava stone for pizza which I have to say holds the heat better than any ceramic pizza stone that I've used before. In fact I've never had success cooking pizza on a gas grill until now.
Low and slow cooking is possible thanks in part to the gas burner that gives you perfect control over the heat.
You can even fill the charcoal trays with wood dust and cold smoke, not something that other gas grills are renowned for.

This is not a grill designed in Denmark and mass produced in China, it is hand made in Denmark too so the production run is limited to 500 per year. This means that joints are welded and finished, the entire grill (including the cart) is fabricated from 304 grade stainless steel so the JensenGrill Estate 1.1 gets top marks for manufacturing quality.
The JensenGrill brand is backed up by a 2 year general warranty coupled to a 10 year rust warranty on selected parts.

| Scoreboard | Mark Out Of 5 |
| --- | --- |
| | |
| Ease Of Set Up | 5 |
| Cooking Results | 4.5 |
| Versatility | 5 |
| Construction Quality | 5 |
| Brand Back Up | 5 |
| Value For Money | 4.5 |
| | |
| Verdict | 4.8 |
Read my full JensenGrill review here.

2. Broil King Imperial - RRP £3299.95

The Broil King Imperial is well deserving of the No2 spot in the best gas grills section of my best BBQ grills and smokers 2018 review primarily because of the amount of equipment and cooking space that you get. On this basis it offers excellent value for  money.

It features two lids giving you two discrete cooking areas, a side burner for warming sauces and the rotisserie with real flame burner to the rear. There are ample drawers for storage and condiment racks to the front for your rubs, herbs and spices so if you're looking to take your kitchen stove outside then this is as good as it gets.
There are two colour options, black or stainless steel.
The Broil King Imperial scores well for assembly, you just have to add the side shelves and the rotisserie although it's definitely a two person job as this grill is a heavy beast.

| Scoreboard | Mark Out Of 5 |
| --- | --- |
| | |
| Ease Of Set Up | 4.5 |
| Cooking Results | 4.5 |
| Versatility | 4.5 |
| Construction Quality | 4.5 |
| Brand Back Up | 4.5 |
| Value For Money | 4.5 |
| | |
| Verdict | 4.5 |
3. European Outdoor Chef Ambri 480 - RRP £299

Here's the exception that proves the rule, there really is a low cost gas grill that delivers on cooking quality and the Outdoor Chef Ambri is a worthy new entrant to the best BBQ grills and smokers 2018 review.

Let's face it, it resembles a Weber kettle yet down in the bowels of the black bowl sits a single circular gas burner that provides good heat and excellent direct grilling capability.
What sets this grill apart is the ingenious conical heat deflector funnel that creates interesting versatility for indirect cooking. There are 4 different ways to set up the heat deflector system and each one delivers heat in a different way.
Cooking versatility aside, build quality is also excellent because many who've bought an Outdoor Chef before just keep coming back to buy another... the interval between purchases however is over 10 years so these things are built to last. 

| Scoreboard | Mark Out Of 5 |
| --- | --- |
| | |
| Ease Of Set Up | 3.5 |
| Cooking Results | 4 |
| Versatility | 4.5 |
| Construction Quality | 4 |
| Brand Back Up | 3 |
| Value For Money | 5 |
| | |
| Verdict | 4 |
---
Top 3 Best Wood Fired Pellet Grills And Smokers 2018
Reasons To Buy A Wood Pellet Grill
Electric pellet grills are relatively new to the UK and suit those outdoor chefs that want instant, convenient clean cooking. All you do is set the temperature, walk away and come back when done - the phone app alarm goes off when your food is ready! 
Warm up takes about 15 minutes (depending on the grill), clean and easy so if you've been a gas griller in the past and are looking for something new then a wood pellet grill is worth of consideration.
Wood pellet grills are also environmentally friendly burning wood, a sustainable fuel rather than gas which is a fossil fuel. In addition, there's no open fire so often wood pellet grills can be used in areas where more traditional barbecues are not allowed.
The grill is fired by wood pellets which are stored in a hopper to the side of the grill. The pellets are ignited and a fan distributes the heat and the smoke within the food chamber. A baffle plate sits over the pellet burner to ensure even spread of heat. The digital control then determines the rate at which the wood pellets are fed in and the speed of the fan.

Reasons To Look At The Alternatives
Most wood pellet grills actually heat the food chamber like a convection oven so searing a steak is not its forte. 
The maximum temperature achieved by most wood pellet grills is about 250°C (480°F) which isn't really sufficient for pizza.
So whilst convenience and cleanliness remains paramount, most wood pellet grill fans will accept that searing steaks and baking pizza, while possible is not the forte of a standard wood pellet grill. That is, until now... My No.1 choice for best pellet grill 2018 is Leif Grillson.

1. Leif Grillson - RRP £2499
Rarely do I get so excited about a new entrant but Leif Grillson takes wood fired pellet grills to a new level. Not only do the contemporary lines make Leif look different, the patented wood fire technology is completely different to any other wood pellet grill on the market.

What this means is that the Leif Grillson is capable of cooking styles that most other wood pellet grillers would accept is part of the compromise.
You can take the cooking temperature up to over 400°C (750°F) and coupled with the optional Sicilian lava rock pizza stone you can bake the most phenomenal pizza in minutes.
Add the perforated diffuser and you can flame grill steaks and get perfect sear marks from the cast iron grill grates.
In addition you have the option to split your grill 50:50 direct / indirect or use the smoke diffusor to cook low and slow for up to 15 hours on one fill of the pellet hopper.
To finish of it also has a "clean function". Just set the dial, close the dual skinned lid, sit back and relax. The temperature rises to 450°C (840°F) and all the debris from your cookout pyrolysis.
I've got so excited writing about this grill I almost forgot to mention that Leif Grillson is designed and built in Germany and we all recognise German engineering quality standards. Your Leif Grillson is delivered fully assembled on a pallet so all you have to do is wheel it off the pallet, plug it in and you're ready to play.

Note: Grillson were the pioneers of WiFi technology for wood pellet grills. There is a WiFi option for Leif, just ask for the Leif Grillson Premium.

| Scoreboard | Mark Out Of 5 |
| --- | --- |
| | |
| Ease Of Set Up | 5 |
| Cooking Results | 4 |
| Versatility | 4.5 |
| Construction Quality | 5 |
| Brand Back Up | 5 |
| Value For Money | 4 |
| | |
| Verdict | 4.6 |
Sadly no longer available.

Read my full Grillson review here.

2. GMG Daniel Boone - RRP £759

Green Mountain Grills (GMG) have been around in the States for many years and are now starting to make headway in the UK.
The pellet feed / fire pot mechanics are well established, reliable capably deliver heat up to 260°C (500°F) which is more than enough for roasting and smoking.

So the GMG Daniel Boone is a pellet grill much like any other standard pellet grill, and it performs much like any other standard pellet grill but what makes it No.2 best pellet grill 2018 is that it has WiFi technology and all for less than £800.
WiFi allows you to control your Daniel Boone remotely by use of a phone app. You can set the temperature, insert the probe into your meat and then use the app to determine the ideal core temperature of the meat so that everything is cooked just as you like it.
Note: For the WiFi technology to work you must ensure that both your grill and your phone are WiFi connected to your home network.
It's a single skin uninsulated design as you'd expect at this price point but there is the option to buy an insulated external blanket so you can continue to use your Daniel Boone in the colder months of the year.

| Scoreboard | Mark Out Of 5 |
| --- | --- |
| | |
| Ease Of Set Up | 4 |
| Cooking Results | 4 |
| Versatility | 3.5 |
| Construction Quality | 4 |
| Brand Back Up | 4.5 |
| Value For Money | 4.5 |
| | |
| Verdict | 4.1 |
Read my full Daniel Boone review here.

3. Traeger Bronson 20 - RRP £399
The best value entry level wood pellet grill in my best BBQ grills and smokers 2018 review is the Traeger Bronson 20

At under £400 you're getting a classic wood fire pellet grill that will give you all the convenience, cleanliness and moist, juicy cooking results that you're looking for.
If you wanting to just dip your toe into the water and understand why folks are raving about wood pellet grilling then the Traeger Bronson 20 has to be worthy of consideration.
Set up and assembly is easy and can be done by a single person. Build quality is acceptable but not exceptional but at this price you can't expect a whole lot.
Possibly the biggest compromise is the power of this unit. It'll warm up to about 200°C (390°F) which is comparable to most ovens so you're going to be able to cook the basics but with a thin metal skin, fuel consumption is high, especially as ambient air temperatures lower. For me this is a Summer barbecue and that's it but it's still worth of being in my top 3 best pellet grills 2018 simply by virtue of the price tag.

| Scoreboard | Mark Out Of 5 |
| --- | --- |
| | |
| Ease Of Set Up | 4 |
| Cooking Results | 4 |
| Versatility | 3 |
| Construction Quality | 3.5 |
| Brand Back Up | 4.5 |
| Value For Money | 5 |
| | |
| Verdict | 4 |
Read my full Traeger Bronson review here.

---
Top 3 Best Charcoal Grills And Smokers 2018
Reasons To Buy A Charcoal Grill or Smoker
A charcoal barbecue grill is generally cheaper than an equivalent gas or wood fired pellet grill.
Flavour is fantastic and you have the fun of cooking over a "real fire".
Clean down is easy. Just wire brush the grill grates, put the lid back one and leave the embers to burn off any debris. 
Charcoal is renewable and therefore a sustainable source of energy. 
Reasons To Look At The Alternatives
Charcoal takes a little longer to ignite although that's less true with modern ceramic grills.
It's not a clean as the other fuel options.
If you're new to barbecue cooking, the first piece of advice I would give anyone is to buy a grill with a lid because it gives so much more flexibility in terms of cooking styles. That said, there are always times when the theatre of being able to look at the food and hear it sizzle as the fat drips down onto the coals so with this in mind I've tried cover all the bases.

1. Monolith Classic With Cart - RRP £995

The Monolith Classic continues to be not just No.1 best charcoal grill 2018 but also my overall first choice of outdoor cooking equipment simply because it gives you everything:
Smoky flavour
Moist, juicy meats
Supreme range of cooking temperature
Amazing fuel economy
Speedy set up and easy clean
It'll last me a lifetime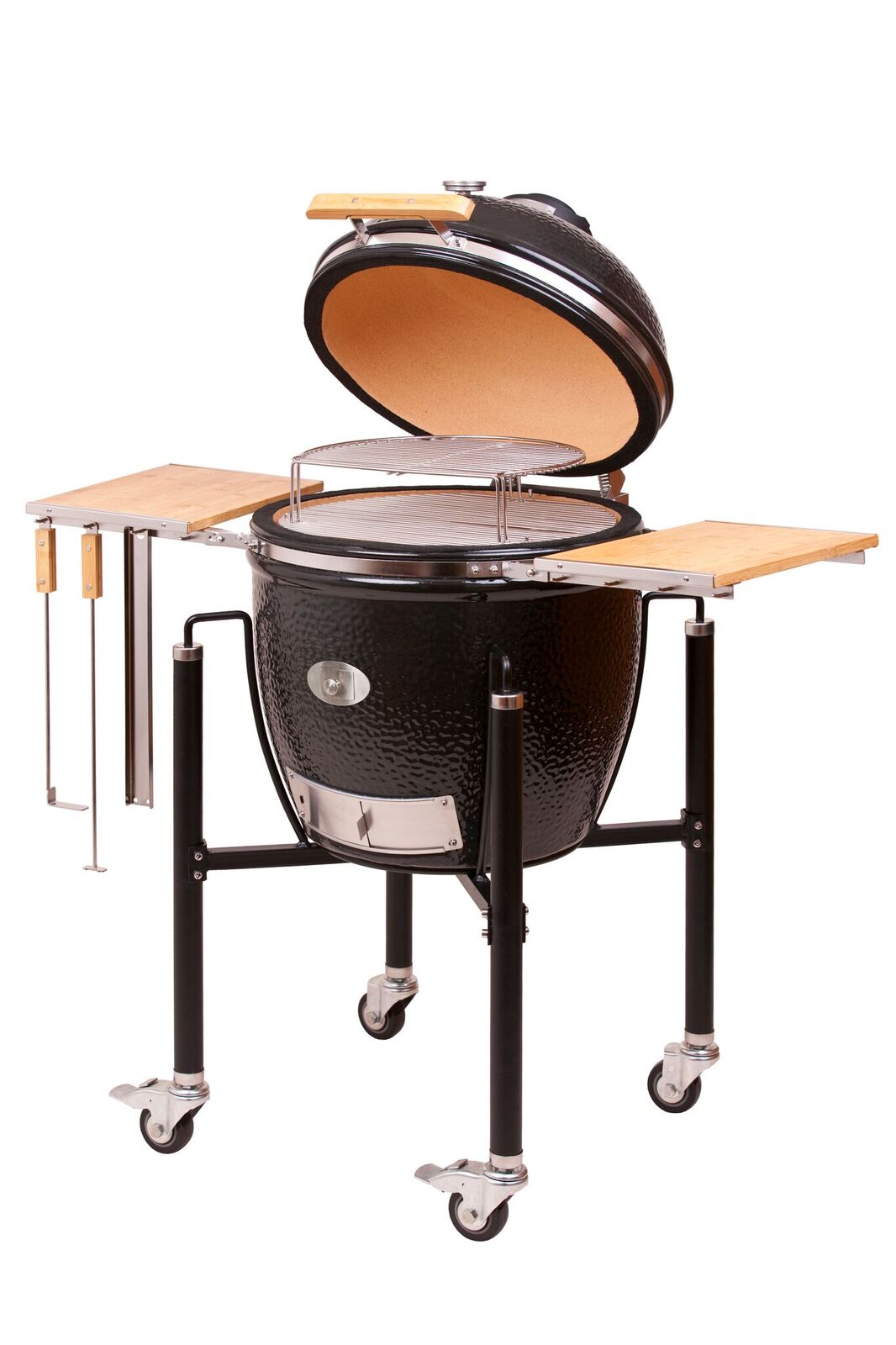 Monolith Classic kamado in black with cart and side shelves
No.1 Charcoal Grill & Smoker
Best BBQ Grills and Smokers 2018
There are three other respected brands of ceramic grill out on the market but the Monolith stands out in my view for three reasons:-
The stainless steel banding and hinge make it truly rust free
The unique wood chip feeder allows you to add smoke flavour at any point during to cook without disturbing your set up
The bundle of accessories that comes in the standard price make the Monolith excellent value
Ceramic cooking is all about airflow... or lack of it. It's the fine control of air through the charcoal fire that regulates temperature. Monolith have perfected airflow control with their charcoal firebox basket which doesn't clog up like some other brands so air flow is maintained throughout the cook.

Versatility is the key to why ceramic grills are so popular. You can smoke, grill, bake, sear, roast and make pizza so pretty much all bases covered. In addition the ceramic wall means very little heat loss, you can cook on a Monolith all year round no matter what the outside temperature.
For the reasons above the Monolith pretty much scores a clean sweep. The only area I marked down on was assembly because while the ceramic unit comes fully assembled in the box you still have to make up the cart. That said it's only 16 bolts and 20 minutes of your time.

Monolith is a German brand, the warranty on the product is 10 years and the range of accessories is extensive. 

| Scoreboard | Mark Out Of 5 |
| --- | --- |
| | |
| Ease Of Set Up | 4.5 |
| Cooking Results | 5 |
| Versatility | 5 |
| Construction Quality | 5 |
| Brand Back Up | 5 |
| Value For Money | 5 |
| | |
| Verdict | 4.9 |
Read my full Monolith review here.

2. The Ultimate Drum Smoker - RRP £680

Hand made using an extra thick bespoke virgin drum, an ugly drum smoker this is not.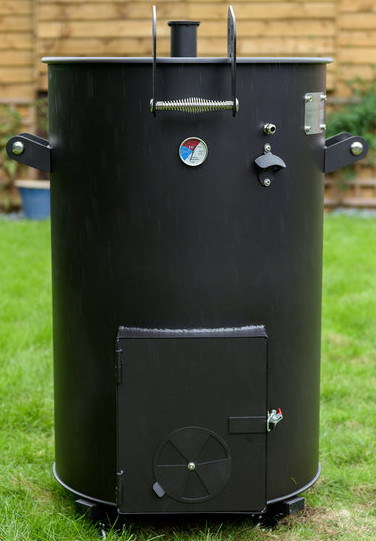 The thought and design that's gone into the Ultimate Drum Smoker is making this unit a firm favourite on the competition circuit and justifying the No 2. best charcoal grills & smokers slot for 2018. 
It's not the cheapest of our best charcoal grills and smokers but then it's not the most expensive either. A large volume of cooking space, good thermal stability and control coupled with the convenience that you don't find in any other drum smoker make this unit a worthy entrant into my best BBQ grills and smokers 2018 review.
That said, it still looks like an oil drum and that's not going to be to everyone's taste and maybe not to everyone's budget.

| Scoreboard | Mark Out Of 5 |
| --- | --- |
| | |
| Ease Of Set Up | 5 |
| Cooking Results | 5 |
| Versatility | 3.5 |
| Construction Quality | 5 |
| Brand Back Up | 4.5 |
| Value For Money | 4 |
| | |
| Verdict | 4.5 |
3. Thueros T2 Pedestal Charcoal Grill - RRP £184.99

Last year I included the Thueros table top T1 in my best BBQ grills and smokers review so I thought I'd ring the changes for this year but I've stayed with Thueros because frankly these grills offer excellent value for money.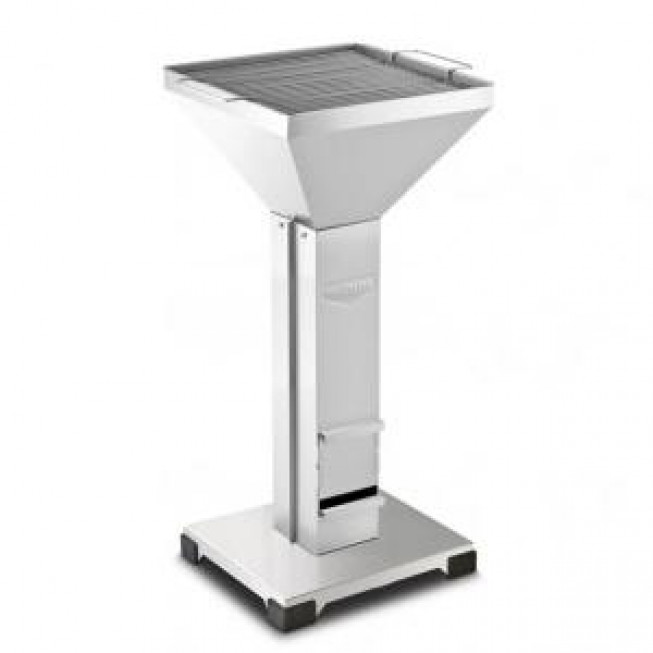 Thueros T2 stainless steel pedestal charcoal grill
No.3 Charcoal Grill
Best BBQ Grills and Smokers 2018
So why is the Thueros the No 3. best charcoal grill 2018?
German design and quality
Stainless Steel construction
It's Portable
The T2 is an open charcoal grill so you're not going to be able to smoke on it but this is all about the theatre and the sizzle of open fire cooking.
Being lightweight you can pretty much take it anywhere and you don't have to worry about a long set up or cool down time.
The adjustable air vent at the bottom of the column provides a good airflow and you coals will be ready to cook on in about 25 - 30 minutes. There's also an ash tray in the bottom of the column so when you've finished cooking simply lift out the charcoal grate and the hot embers drop into the tray so all you need do now is throw some water down the column and your fire is extinguished.

Clean up is really easy too because everything is dishwasher safe.

This pedestal charcoal grill scores highly most areas with the exception of versatility but then it's an open charcoal grill after all. That said, an optional wind shield and shish kebab skewer rack set make the most out of what the grill has to offer.
Cost for the basic grill is £184.99 and £289.97 with all the extras included.

| Scoreboard | Mark Out Of 5 |
| --- | --- |
| | |
| Ease Of Set Up | 4.5 |
| Cooking Results | 4 |
| Versatility | 3 |
| Construction Quality | 5 |
| Brand Back Up | 4.5 |
| Value For Money | 4.5 |
| | |
| Verdict | 4.25 |
See Also:-

2017 Best Value BBQ Grills and Smokers UK Review