Tasty Barbecue Christmas Recipe Ideas
So it might be cold where you and I are but that doesn't mean that there aren't folks out there looking for tasty barbecue Christmas recipe ideas. Then there's also the likes of you and me who are such enthusiasts of the smoker and grill that we'll fire up at any time of year.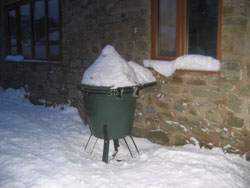 Don't make the mistake that I did and wait until Christmas day to open up my kamado – the lid had frozen! A combination of moisture in the felt seal after a lot of rain followed by a very sharp plunge in temperatures. It caused for a mild panic on my part but after some thought I managed to save the day and serve up a beautifully succulent turkey.
Note: - If it ever does happen to you there's two options:-
Take a firelighter and some kindling and start a fire under the firebox via the lower draft vent. Open both top and bottom drafts and the felt will defrost pretty quickly.
Via the top draft, throw in a lighted firelighter cube and some paper, open top and bottom drafts. This only works if you have your cooking grid removed otherwise the fire won't take hold in the firebox.
The recipes will grow over the years as I try more things but Christmas only comes once a year so don't expect any updates in the middle of June! Here are the recipes so far:-
Christmas Smoked Turkey Recipe
More traditional than turkey but now not as popular is goose. If you're game to try something different then here's my Smoked Goose Recipe
See Also:-
Fathers Day
Independence Day
Thanksgiving

Return to Home Page from Tasty Barbecue Christmas Recipe Ideas